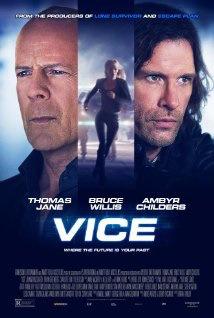 Director: Brian A Miller
Writer: Andre Fabrizio, Jeremey Passmore (Screenplay)
Starring: Ambyr Childers, Thomas Jane, Bryan Greenberg, Brue Willis, Johnathon Schaech, Charlotte Kirk, Brett Granstaff
Plot: Bruce Willis stars in this Sci-Fi thriller about ultimate resort: VICE, where customers can play out their wildest fantasies with artificial inhabitants who look like humans.
There may be spoilers the rest of the review
Verdict: Been Here Seen This
Story: Vice starts by showing a bank robbery before showing Julian (Willis) explaining about 'Vice' an experience where you can do anything you want. Detective Roy (Jane) is working on finding a criminal which takes him to Vice but all he does is walk around. Next we meet Kelly (Childers) being awaken who is trying to start a new life. When Roy catches up with the man he is looking for inside the artificial world he captures him. Kelly celebration night takes a turn for the worse when a stranger kills her friend before turning his sights on her.
Kelly is just part of the artificial experience world created to be in the good mood every night in the world. When Kelly starts gathering memories from the previous night something is starting to go wrong with her and the technicians have to try and figure out why. Kelly escapes the facility entering into the real world leading to Roy coming along to investigate what is happening and Julian arranging for his team to look for her to make sure it never leaks that she got out. Kelly struggles to find anywhere safe but a familiar face fills in the blanks about who she really is while detective Roy is trying to uncover what happened at Vice.
Vice comes off like a mix of films, it has part A.I. I, Robot, Westworld and Blade Runner where it uses small parts of all of them to make an unoriginal storyline. It gives us the creation of a Westworld going rogue maybe not evil like I, Robot and getting hunted down like Blade Runner. It all comes down to how moral the creation of artificial intelligent models are, when it comes to being made for our own pleasure. The problem is it doesn't offer enough of that, we will get a surprise ending leaving it open for any potential sequel which is a nice touch. In the end it is a rather plain sci-fi thriller that will easily go under the radar. (6/10)
Actor Review
Ambyr Childers: Kelly artificial person created for the world where any dream can come true. When there is a fault with the memories she escapes into the real world going on the run from the people who built her. Ambyr does do a good job stepping into the lead role opposite more accomplished stars with ease and easily out shines the two of them. (8/10)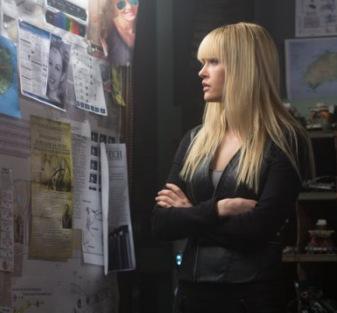 Thomas Jane: Roy no-nonsense detective who doesn't like the resort but does like that it brings the criminals to the city for him to capture. Thomas continues his downward spiral in the action world here with an average performance. (5/10)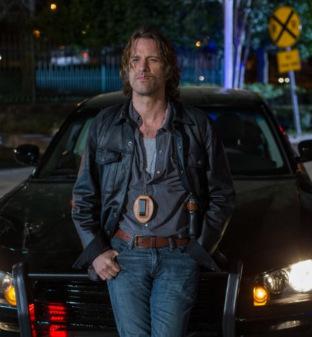 Bruce Willis: Julian owner of Vice who offers the world a chance to do whatever they want inside the world he has created. Bruce continues to prove that he isn't the star he once was here. (5/10)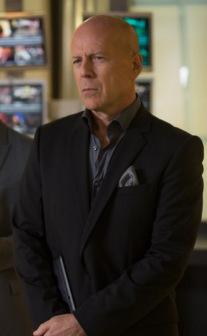 Support Cast: Vice has the people helping Kelly who all are very genetic, we have the cops all by the books except Roy and the people who work for Vice again all very generic.
Director Review: Brian A Miller – Brian does a a basic job here creating an average sci-fi thriller. (5/10)
Action: Vice has action scenes that will make you watch but nothing original to the ideas. (7/10)
Sci-Fi: Vice enters an interesting sci-fi world for the story to take place in. (7/10)
Thriller: Vice doesn't keep you guessing you know what will happen in the end. (5/10)
Settings: Vice creates a very dark future setting where this reality is the best place to be. (7/10)
Suggestion: Vice is one to try if you like simple sci-fi action. (Try It)
Best Part: I like the end of the film because it changes the direction it could go.
Worst Part: It was a shame it was the end because it could have made it more interesting earlier.
Action Scene Of The Film: The escape.
Believability: No (0/10)
Chances of Tears: No (0/10)
Chances of Sequel: It is left open for one but I don't think we will get one.
Post Credits Scene: No
Oscar Chances: No
Budget: $10 Million
Runtime: 1 Hour 36 Minutes
Overall: Sci-Fi Simple
Rating