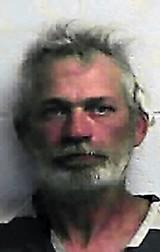 via knoxnews.com
John Homer Moyers, 50, was shot to death after he fired a gun at officers outside his home at 345 Cline Road following a domestic disturbance, said Claiborne County Sheriff David Ray.
Moyers went to prison in 1988 at the now closed Brushy Mountain Correctional Complex in Wartburg for a manslaughter conviction after fatally shooting a man with a pistol, Ray said.
Most recently, Moyers served time in the Kentucky State Penitentiary for felony convictions that included escape.
There's certainly nothing to complain about here, if anything the cops waited too long to take him down. He was asking for it and his record indicates he was probably a hopeless case. Plus, there was no indication that the cops shot him 73 times. So, about the shooting, I have no complaints.
What I do have a complaint about is the fact that a guy like Moyers was able to get a gun. I'll bet it wasn't hard either. That's the problem. Because of weak and ineffectual gun control laws in places like Tennessee, dangerous guys like this have no difficulty getting their hands on guns.
It may seem overly optimistic, but I believe with proper gun control properly enforced, this could change.
What do you think? Please leave a comment.