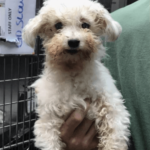 At Evolution Dog Wash we've always had a real passion for dogs that extends throughout our personal lives.
One of the reasons we created our revolutionary self serve dog wash was to make washing a dog easier for the many dog shelters and veterinarians who most often encounter neglected dogs. When we went to sell dog washes and wash shelter dogs at NAVC Conference for veterinarians in Florida earlier this year – our owner's family, wound up adopting Riley and Napoleon, two of the shelter dogs we washed.
Riley and Napoleon both happen to be Yorkies which are one of the pure-breeds most exploited by puppy mills and often neglected by those who are only interested in having the latest trendy breed or exotic mix. Many of the people who buy dogs have good intentions, but don't know how to love and care for a dog. We feel it's important that people know that "owning" or more appropriately "adopting" a dog is a life-long commitment to love, train, and tolerate personalities just like you would for any living being.
It's estimated that there are 2.11 million puppies sold that came from puppy mills each year, and 3 million are killed in shelters annually because they can't find homes.
Now onto the newest members of our dog family.
Riley was abused by his previous owner, but just look at his recovery! https://quik.gopro.com/v/7CXHDOJk2n/
Napoleon has bad teeth, vision issues, and bad knees and just needed a loving home to finish out his golden years. Staring into his eyes, you can see he's an old soul with a happy easy-going personality.
Gary M. Sherman, Founder and Creator the Evolution Self Serve Dog Wash also created and lobbied for
The Adopt A Shelter Pet License Plate which is the second largest revenue grossing license plate in Colorado's history, and it's all for the animals!
Gary's wife Tiffini is Founder and President at www.yorkierescueofamerica.org
@WesternVeterinaryConf #veterinarians  #adoptashelterpet #adoptapet