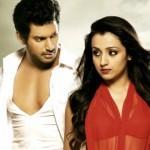 Story:
Shankar (Vishal) is a trekker in forest. On one of his trekking assignments a girl Roopa (Sunaina) falls for her. However they later break up as Shankar (Vishal) is not able to spend enough time with her. After the break up she goes to Bangkok. One fine day Shankar (Vishal) receives a letter from her saying she wants him back. Shankar (Vishal) immediately leaves to Bangkok. What happens in Bangkok, who is Maaya (Trisha) and how and why, she enters into Shankar's (Vishal) life forms the rest of the story.
Performances:
Vishal has to look tough and act confused through out. He doesn't need to specially act this part it comes naturally to him.
Trisha has a good role where has to act lovey-dovey for the most part. Again she is a natural at this and does well. There are few emotional moments during the final hour and she does well when compared to the hero.
JD Chakravarthi and Manoj Bajpay get roles that given them scope to play it to the galleries and both does it with aplomb. While JD Chakravarthi overacts sometimes, Manoj Baypayee is perfect.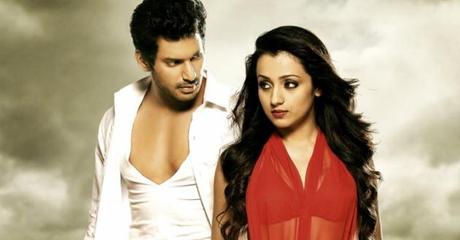 Others have minuscule roles and also don't have anything memorable. But whoever has done the casting for the film deserves applause as even for a small role, they have cast the actors perfectly.
Positives:
Interesting concept
Action sequences
Negatives:
Music
Execution
Climax
Analysis:
The film begins slowly on a predictable note but gets interesting half way through. As the film progresses towards interval things only get exciting although it starts to feel repetitive at times.
In the second half this repetitiveness becomes a common thing making the supposed surprises less effective. Also like some of the chase sequences in the film which go on endlessly the film in the second half feels dragged to the maximum after revealing the suspense. A tight narration which was required post the revelation is completely missing.
Director Thiru should be applauded for coming with interesting plot for the film but there are some loopholes that haven't been answered satisfactorily and even leaving that aside the film isn't that gripping as one expects it to be when making a film on such premise.
Music by Yuvan Shankar Raja is poor although a couple of songs have been picturized very well. Background music is much effective in comparison.
Cinematography is excellent through. It gives the film a rich look through out. Editing could have been better.
Bottom-line: The game looses excitement mid way.
Rating: 2.25/5