I was recently invited by the folks with Tetley USA to participate in an Iced Tea Contest celebrating National Iced Tea Month. Now I'm not much of a 'contester' but with a very limited number of participants being invited, the carrot dangled in front of me that included a trip for two to London in the mix and a HUGE yearning to take advantage of some new-found freedom and escape somewhere I decided to give it a shot. It does not hurt that I love iced tea in the summer. I've never been a hot tea drinker; unless you count those hot toddy beverages that we all hope will help us recuperate from a chest cold; yes, I've done that but the truth is that this Very Berry Iced Tea with Honey Mint Syrup was SO much better.
I invited a friend of mine, Sandy, to come over and help me test three different varieties on a theme that I had in mind. I knew I wanted something with a fruit forward element; now is the perfect time to experiment with berries while they are in abundance at the market. Still I wanted to add one more flavor that was compatible with the tea and the strawberries and blueberries I planned to use. To help with my decision Sandy and I had our own iced tea tasting. The main recipe was pretty straightforward; multiple fruits are muddled in a glass, topped with tea that has been chilled and to finish a simple syrup is added and stirred into the mix (flavor to be determined!). Simple yet perfect for this time of year.
While my sous chef (HA…now I hope she doesn't quit me since I called her that!) Sandy chopped and muddled strawberries and blueberries, I prepared three syrups. A ginger simple syrup, one combining orange juice and orange rind and the one I felt almost requisite; a mint syrup. Mint and tea are so ubiquitous that I made that syrup feeling I must but certain that it would not come close to adding the uniqueness of either ginger or orange. We sampled the ginger version first; using a simple syrup that I had made using fresh, grated ginger and sugar. While we thought it tasted fine, the ginger was quite obviously not the best fit; maybe if I had doubled the ginger but it didn't appeal enough to warrant that effort so we moved on.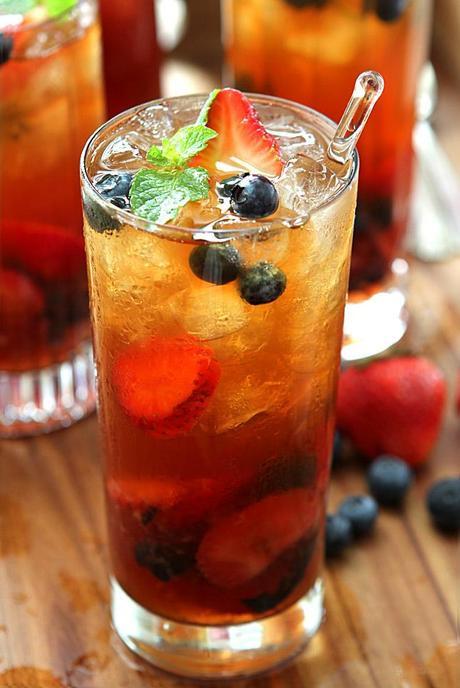 Next up was a fresh glass of tea using a simple syrup made with orange rind and orange juice. Admittedly that one had us more excited; we could really taste the orange and it was much more complementary to our other flavors and we felt certain we had a winner. Poor mint; relegated to being tried just because it would be unfair not to and lo and behold Sandy and I learned something big. There is a reason the first person to ever combine tea, sugar and mint shouted it from the rooftops; it is a marriage that is simply meant to be. Hands down, pom poms up…this was our winner and while I had SO hoped for something more unique than mint I could not deny that more than unique I wanted something that tasted like my mind had imagined. Adding some lemon and honey to the mint syrup provided what I was hoping for; fruity, sweet and with a nose of something fresh and obvious. Mint it was. Adding those ingredients to a balanced and yet not too assertive tea to bind it all together resulted in a most enjoyable combination of flavors.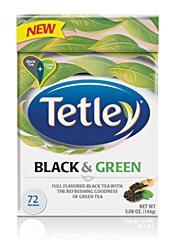 The tea that I used for this
'London on Ice'  Iced Tea Recipe Contest
was Tetley USA's new Black & Green Tea. This is a tea that offers the combined benefits of full flavored black tea with the health benefits of green tea without the bitter taste that can be present. For more information visit
Tetley USA
or on Facebook at http://Facebook.com/TetleyUSA.
There are three steps to this recipe and it's helpful to make both the tea and syrup ahead of time and allow it to cool. I've included a little tip that I've used for years to insure your resulting tea will be clear (well, until you start to muddle it with fruit!). Has anyone heard of using a small amount of baking soda in your iced tea to keep it clear. It is a very small amount that in no way affects flavor but the resulting tea is so much more appealing. Whether making this recipe or any other; simply adding it to the tea bags and hot water makes for a miracle!
Have you ever combined iced tea with other components? I'm on a roll and would love to try more combinations; let me know in the comments if you have a favorite recipe! And cross your fingers that I'll be writing a post one day in the next few months while standing in front of Big Ben!


Very Berry Iced Tea with Honey Mint Syrup
Prep Time: 20 minutes
Cook Time: 10 minutes
Yield: 8 servings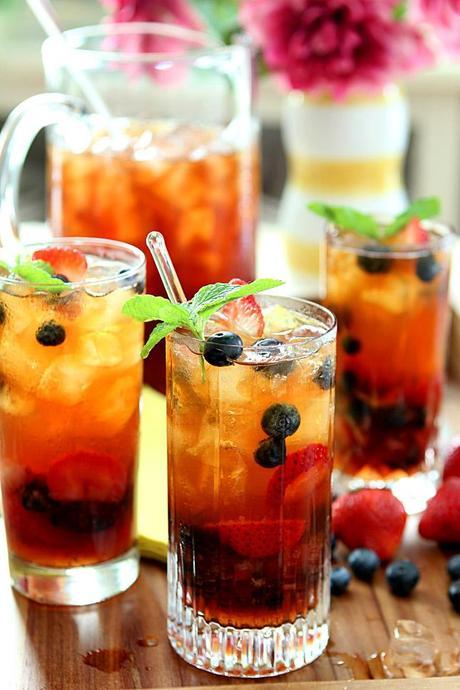 Ingredients
For the Tea:
8 Tetley Green and Black tea bags
8 cups cold water, divided
1/4 tsp baking soda
For the Mint Syrup:
3/4 cup sugar
1/4 cup honey
1 cup water
1 1/2 cups mint leaves, coarsely chopped
6 Tbsp lemon juice (takes approximately 1 & 1/2 lemons)
For the Muddled Fruit:
1 cup sliced strawberries
1 cup blueberries
1 tsp sugar
Garnish:
Strawberries
Blueberries
Mint
Preparation
Boil 4 cups of water; turn off heat as soon as water starts to boil and add tea bags and baking soda; let steep for 5 minutes. Put 4 cups cold water in a pitcher and add the tea. Refrigerate until cold.
To Make the Honey Mint Syrup:
Combine sugar, honey, water, mint leaves and lemon juice in a medium size pan over medium heat; stirring well until all of the sugar and honey is dissolved. Continue to simmer for 2 minutes to extract mint flavor; remove from heat and cool thoroughly.
To Make the Muddled Fruit:
Put the strawberries and blueberries into a medium bowl and gently muddle with a muddler or a large spoon. Sprinkle with 1 tsp of sugar, mix well and let sit for at least 10 minutes.
To Prepare the Tea:
Spoon 1/4 cup of fruit and juices into the bottom of a tall glass. Fill the glass with ice and pour tea into glass until about an inch from the top.
Measure 2-3 Tbsps of the Honey Mint Syrup into the tea and stir to combine. Garnish with mint, strawberries and blueberries.
2.5
http://www.creative-culinary.com/very-berry-iced-tea-with-honey-mint-syrup/
This recipe brought to you by Creative Culinary | A Food and Cocktail Blog | Website: www.creative-culinary.com