The highly anticipated Versace for H&M collection is only 14 days away from its retail debut! If this collection is anything like the madness of Missoni x Target, we can expect to see these designer pieces fly off the racks in a matter of minutes! I love designer and retailer collaborations like this because they bring the world of high-fashion to every day fashionistas like you and me. The exorbitant price tags are gone but the style, quality and glamour remain. Especially in this Versace for H&M collection which exudes all the Italian confidence and feminine allure that is Donatella Versace.




Previously, fast-fashion retailer H&M has done designer collaborations with labels such as Lanvin, Jimmy Choo, and Stella McCartney, all which have been huge hits. But what I find most exciting about this collection with Versace is how true each piece sticks to the Versace image, as opposed to toning it down for the public. Italian fashion is known for pushing the boundaries and bringing us the most fashion forward trends. Fur stoles, large hats, ankle breaking stilettos, jewel encrusted gowns- they are all styles we've seen come from some of the great Italian labels like Gucci, Roberto Cavalli, Armani, Dolce & Gabbana and of course Versace.
This collection was inspired by some of the fashion house's greatest moments and pieces and even has all of the label's favorite models show off the collection in their ads and look book. Supermodels Abbey Lee Kershaw (one informal step away from being the face of Versace), Daphne Groeneveld, Lindsey Wixson and Sasha Pivovarova bring a couture edge to the photos snapped by famous fashion photographers Mert & Marcus. In other words, there was no holding back with this collection; it is every bit a reflection of the modern Versace label.
Styled by editorial stylist Joe McKenna and Donatella herself, here are some of the looks straight out of the look book and ad campaign. We've picked some of our favorite 1928 pieces that will give you the same daring Italian passion for fashion that is so prevalent through the whole collection.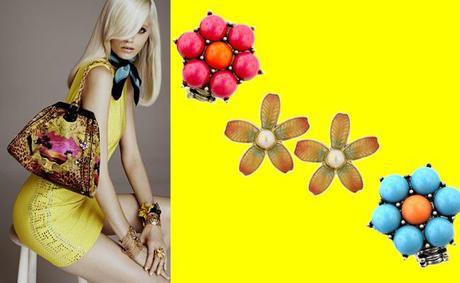 Wearing a little leather dress is already a confident move, but the stunning yellow color of this Versace for H&M dress takes it one step further! Since yellow is a hard color to match with, keep your accessories just as bright and bold as opposed to toning it down with black, silver or gold. It may be autumn, but that doesn't mean you can't be as sunny as the summer!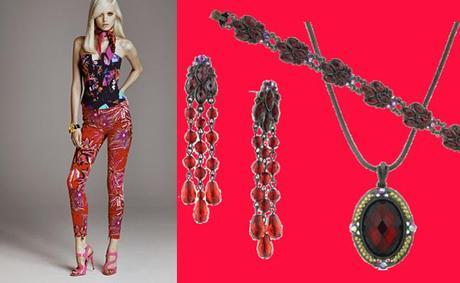 Crimson hues are here to stay! In fact, Versace was one of the major fashion houses to make red such a popular color this year. These wild printed pants look even better with a printed top if you want that Italian look. Pull your look together with ruby red accessories.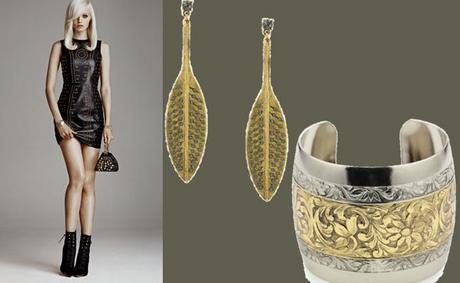 If there is one piece from the entire collection that I would brave the crazy lines for to get, it would be this black leather cut out dress! The ultimate LBD, Donatella has worn this dress herself so you know it's fashionable! Bold yet simple, strong yet soft, this dress looks like it came off the real Versace F/W 11 runway. Think statement making metal hardware as the perfect way to compliment this killer dress.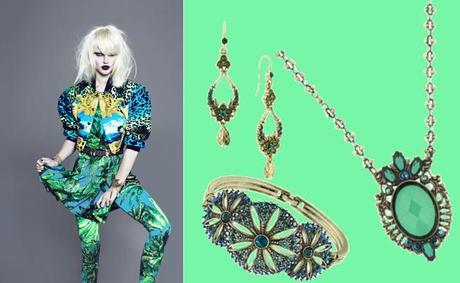 Now maybe we wouldn't wear this entire ensemble all together but the colors and print of each piece have us going wild! 1928 pieces designed in peacock hues seem to be very popular styles on our site. Even with a simple, neutral outfit these jewelry pieces add that same pop of rich color that this Versace for H&M look has.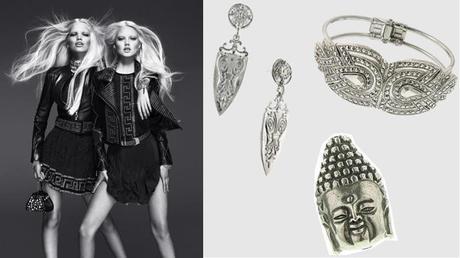 Styled to look like mini versions of Donatella, Daphne and Lindsey make this black and white photograph buzz with energy! These looks from the collection have a tough-girl attitude and sultry silhouettes which would make any girl here in the US look like she just got off a plane from Milan. Pewter accessories have that same juxtaposition- delicate with a little bit of edge.
So which pieces are you most excited to get your hands on? Expensive for H&M but the steal of a lifetime for Versace, prices will range from $149- $299. Available in select stores November 17th!