Vermicelli Pulao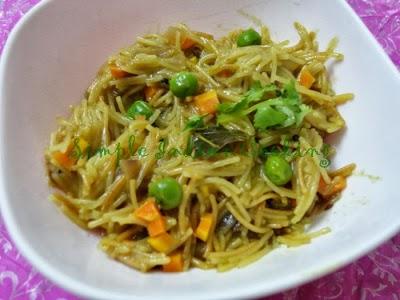 Vermicelli Pulao
Like upma Vermicelli Pulao is a quick and no fuss breakfast option. All you need is vermicelli, some vegetables and some masala. I like eating it as it is nutrisious and quick and easy to make. Just throw in some chopped vegetables, roasted vermicelli and masala in the kadai and it is ready. There is a slight variation of how I make rice pulao and vermicelli pulao. In rice pulao I add some cardamom, cinnamom stick and cloves but in vermicelli pulao I refrain myself in adding the whole spices and my daughter is not found of whole spices. If it is in powderd form she barely notic them. Let's see how it is made
Prep time: 15 min
Cook time: 20 min
Serves: 4
Ingredients:
200g Vermicelli (Semiya)
2tsp Oil
1 Onion, sliced
300g Mixed Vegetables(like french beans, carrot, cabbage, peas), chopped
2 tbsp Ginger Garlic psate
2 Green chilli
1tsp Garam / Pulao / Biryani masala powder
1/2tsp Turmeric powder
1 Bay leaf or 5-6 Curry leaves
1tsp Mustard seeds
Corriander leaves for garnishing
Salt to taste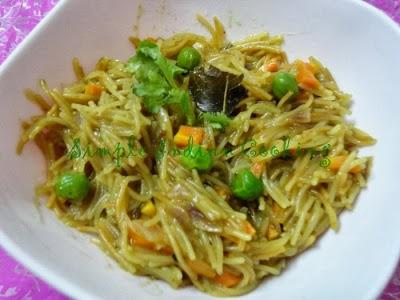 Vermicelli Pulao
Method:
Heat 1 tsp oil in a heavy bottom pan or kadai and add vermicelli, roast it till ot changes it color to light golden brown.
Take the roasted vermicelli out of the kadaui and heat 1 tsp oil in it
Add the mustard seeds when it starts crackling add the bay leaf or the curry leaves whichever suits you.
Add the onions and saute in medium flame till it becomes transparent, now add the ginger garlic paste and turmiric powder and fry till the onions becomes light brown.
Add the garam masala and mix well, next add the vegetables and cook for 5-6 minutes with the lid on the kadai and keep the flame low.
Add salt and the vermicelli and mix well all the ingredients.
Add water so that everythind is submerged in water. Keep the flame on highalso do not add too much of water and bring the water to boil.
When the water starts boiling reduce the flame and put the lid on the kadai and cook till vermicelli and the vegetables becomes tender.
Check from time to time and stir the pulao so that it doesn't get stick to the kadai.
If you need more water to cook you can add. When the pulao is cooked switch off the flame and transfer it to a bowl and garnish it before serving.