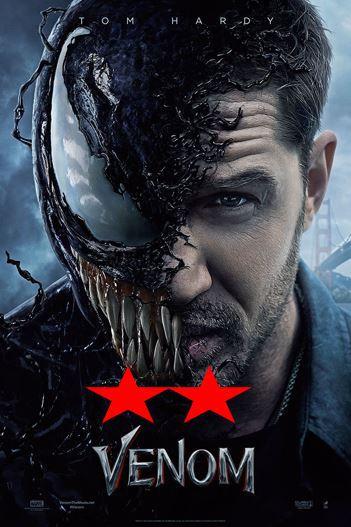 Director: Ruben Fleisher
Writer: Scott Rosenberg, Jeff Pinkner, Kelly Marcel, Will Beall (Screenplay) Todd McFarlane, David Michelinie (Comic)
Starring: Tom Hardy, Michelle Williams, Riz Ahmed, Jenny Slate, Marcella Bradio
Plot: When Eddie Brock acquires the powers of a symbiote, he will have to release his alter-ego "Venom" to save his life.

Tagline – The world has enough Superheroes.
Runtime: 1 Hour 52 Minutes
There may be spoilers in the rest of the review
Verdict: Starts Way Too Slow
Story: Venom starts we hotshot San Francisco reporter Eddie Brock (Hardy) goes to far trying to hatch a story about ultra-rich scientist and visionary Carton Drake (Ahmed), this leaves him fired, his fiancée Anne (Williams) fired and him dumped.
6-months later, Eddie is still feeling the effectives with his career down the toilet, he drinks his life away until one of the scientists working for Drake offers him a scope to the new symbiote research, to which Eddie gets too close to and becomes Venom. The two must learn together to work as one to achieve their own goals in survival with Drake wanting his property back.
Thoughts on Venom
Characters – Eddie Brock is an unlikable reporter rushing in head first for stories, which he believes he is helping people, he never worries about the consequences of his reporting. His latest attempt to get a story leaves him with nothing and his last attempt to redeem himself leads him to attack the person who killed his career, only he must learn to work with Venom a symbiote that fuses with him. Eddie becomes the good and calm side while Venom is out for destruction willing to kill anyone that gets in his way or just bite their heads off. The two have back and fourth conversations which are more comical than anything showing the balance between good and evil I guess. Anne is the fiancée that loses her job because of Eddie's action and moves on with her life, though she will always be there to support him once he comes looking for help, most just the love interest she doesn't really do much in the film. Dr Carlton Drake is a genius who can see the problems in the world being over-population, he has been searching for solutions and believes with the symbiotes he has one, he will give up human lives to make this happen, while keeping a positive face to the public, most a powerful businessman villain.
Performances – Tom Hardy, well this is one of his weaker outings, he struggles to make us care about Eddie, we don't quite get convinced with his Venom side either, the accent doesn't help either. Michelle Williams is wasted in this role, sure she will have got paid well which gives her more time to do Oscar bait movies, but this should have been more for her to work with. Riz Ahmed is hot stuff in Hollywood right now, his performance however isn't great, it feels generic, he doesn't give us anything we haven't seen from a villain before either.

Story – The story is the origin of Venom, it follows the mad scientist idea who is popular to the public but behind closed doors he conducts experiments ethnically wrong. Nosey reporter gets infected and it is a race to stop him becoming too powerful and save the world. this is simple origin storytelling for a Spiderman villain, well this is confusing, wait no, this is an origin for a villain who will not have a hero to face, but he might be good, well Deadpool good. The pacing of this story is all over the place, we spend so much time going through the introduction and we only have three characters, its not like an X-Men film, that we start to lose interest before any of the fun stuff happens. The problem is nothing surprising happens in this story and we are left by the ending thinking about the next comic book movie over the next Venom movie.
Action/Horror/Sci-Fi – The action when it happens is a complete mixed bag, the car chase is great fun as we can do things you simply can't do with humans chasing, the weakness comes from the messy final fight which just becomes confusing in a Transformers way. The film could have a wonderful horror element, it wants to and you can see this, but it just doesn't follow through. The sci-fi side of things well the ideas are all there to make this stand out more, the problems come by not making too much of the chances given to them.
Settings – We are set in San Francisco, which is the same location we just saw in Antman and the Wasp, we need more cities in America to set superhero movies if we are having this many a year.
Special Effects – The effects are yet another mixed bag here, we do have some wonderful uses of the effects, then like with the action the final battles is too messy to be enjoyed.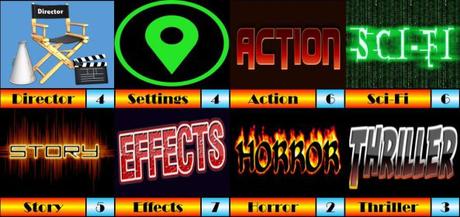 Scene of the Movie – Car Chase.
That Moment That Annoyed Me – Just why would a secret meeting in the streets lead to sneaking on the base if you were worried about your family? Sure Drake has camera that would show him around his own techno base.
Final Thoughts – This is a weak comic book movie, giving us an origin for a villain that will never have a hero to face (Due to who owns Spiderman) it is so by the book it feels like the 90's called and want their movie back.
Overall: Forgettable by all accounts.
Rating

Advertisements