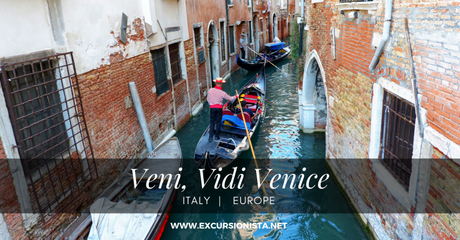 I was supposed to go to Venice the first time I went to Italy. But because of poor planning, I didn't have enough time and budget. Good thing I was able to squeeze it in this time during my last trip to Europe. As I took buses instead of trains while traveling in the Balkans, I found that one can easily go to Venice from Ljubljana, Slovenia via Trieste.
Unfortunately, there was a transport strike when we arrived in Venice, so we just spent our first day shopping at SPAR. LOL The following day, we bought a 1-day pass so we can take advantage of unlimited vaporetto rides.
The Grand Canal
Cruising along the Grand Canal was a surreal experience. And yes it does look like what you see in the movies. Imagine how fancy it must be to be whisked away in a water taxi or speed boat on the way to your 19th-century palazzo converted into a hotel. Ahh a girl can dream!
Unfortunately, I lost my Grand Canal pictures. They accidentally got deleted because I thought I had already transferred them from my camera to my laptop. 🙁 The pictures above are just screenshots from the videos I took.
Piazza San Marco
Naturally, our first stop had to be Piazza San Marco or St. Mark's Square. It was a good decision to go there first to avoid the crowds.
Some of Venice's most popular attractions can be found in this area like St. Mark's Basilica, Doge's Palace, and the Bridge of Sighs.
Then we started wandering the labyrinthine alleys of Venice until we stumbled upon a shop that sells cheap coats. My friend and I got one each for only EUR10! And just a few minutes away, we found a snack bar that sells pasta and drink, also for EUR10, so we thought it was a good deal.
Libreria Acqua Alta
With full stomachs, we then searched for the famous Libreria Acqua Alta. Surprisingly, we didn't get lost and found it using Google Maps. What took us a long time though was waiting for our turn so we could take pictures at the famous book steps.
Burano
There are several islands that you can visit but we chose Burano which is famous for lacemaking. I think the boat ride took about an hour or more because there are several stops on the way there.
Burano is also famous for its brightly painted houses. Legend says the vibrant hues helped the fishermen find their way home when fog blanketed the lagoon. Each house is painted differently and needs special permission and color approval from the local government.
You know how some places are overrated? Well, not Venice. It's really picturesque, and you have to visit it at least once in your life.