While the word "lent" actually comes from the Old English word: lencten meaning "springtime," the term most commonly refers to the 40-day fast in penitential preparation for Easter which has been observed by many Christians since apostolic times. This time of fasting and alms giving is meant to remind the faithful of Christ's fasting in the dessert. Traditional Lenten rules stipulated that only one meal a day was allowed in the evening, and that meat, fish, eggs, and butter were forbidden. These rules were gradually relaxed.
Present-day fasting laws are very simple: On Ash Wednesday and Good Friday, the faithful have only one full meal (abstaining from meat) and smaller snacks to keep up one's strength, and; on the other Fridays of Lent, the faithful abstain from meat. We get in the habit of having fish on Fridays and often continue to have seafood on Fridays long after the Lent period has ended especially as the springtime weather turns muggy and hot.
Not being big fans of the frozen, pre-breaded fish by-products commonly included in TV dinners since the 1950s, we are always looking for ways to avoid getting into a Lenten rut. Earlier in the week, Dom had fired up the Big Green Egg and grilled some cedar-planked salmon of which there were some leftovers. This creamy salmon alfredo is rich and flavorful. We might not mind getting in a rut if this dish becomes a regular on the Friday menu!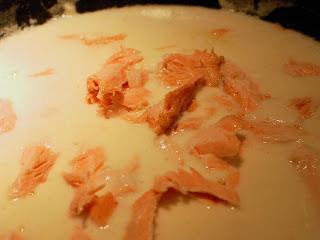 1 pound pasta of choice (we used farfalle)
1 ½ cups low-fat milk
1 tablespoon flour
1 tablespoon Dijon mustard
1 tablespoon lemon zest
2 tablespoons cream cheese (light is fine)
¾ cup Parmesan cheese
1 pound cooked salmon (smoked or canned both work as well)
Salt and pepper to taste
Capers, drained and patted dry (optional)
Prepare a non-stick skillet with cooking spray and heat over medium. Add shallot and cook until soft. (You may add a few drops of water to help soften if needed.) Sprinkle flour over softened shallots and mix well. Add milk a little at a time and mix until flour has completely dissolved. Cook on medium heat stirring continuously for 8 minutes, then add cream cheese and mix until incorporated. Simmer for 2 more minutes before adding Parmesan cheese and salmon. Reduce heat to low and simmer until pasta is done.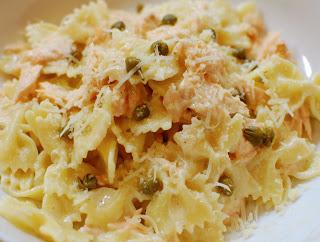 Cook pasta in a large pot of salted boiling water and cook for about 10 minutes. Be sure to check the package instructions as the times may vary depending on the type of pasta (e.g. the farfalle package says 12 minutes rather than 10.) Do not overcook the pasta or it will be soggy and break apart when tossed. Drain the pasta without delay in a large colander remembering to save some of pasta water to help hydrate the pasta and sauce if needed later. While some recipes may tell you to rinse the pasta in cold water, we do not recommend it as cold pasta does not absorb the sauce as well.
Transfer the cooked, drained pasta to a mixing bowl and pour the salmon sauce over the top. Gently toss the pasta and sauce together to combine fully without breaking up macaroni. If the sauce seems thick and hard to mix, add some of the reserved pasta water a ¼-cup at a time. Serve the salmon alfredo immediately with a garnish of drained capers and an extra sprinkling of grated Parmesan cheese.