Vellayappam brings back the best memories of every occasion, be it a festive gathering or a family get-together.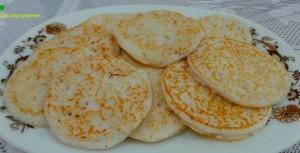 These are traditionally made with toddy which acts as a fermenting agent. When Grandma mixes the appam batter on the previous evening, we all used to queue up to get a sip of the fresh toddy, which would always be under Grandma's watchful custody.
Semi tender coconut is also used to make this appam. And the whole process has this beautiful heady aroma around the kitchen. I remember large (both round and rectangular shaped) tavas on which few people join together to make a set of appams in a single go.
Vellayappams are also often made in huge numbers as an offering at church festivals. These are widely served as a starter at all special lunches and dinners. These soft white round pleasures are served with meat or fish stews. Needless to say, they make perfect marriages!!.
Recipe:
Ingredients:
Rice powder – 3 cups
Yeast – ½ tsp
Sugar – 4 tbs
Coconut – 1 (Medium tender coconut preferred)
Water – as required
Salt – ¼ tsp
Method:
Take 2 tbs rice powder, mix with 2 cups of water and cook till it is thick. Keep aside to cool.
In ¼ cup lukewarm water to ½ tsp yeast and 1 tsp sugar, mix well and set aside to rise.
Grind tender coconut to a coarse mix.
Mix the balance rice powder, cooked rice powder mix, and yeast, and combine it well. Add the ground coconut mix to this and mix well. Keep aside closed in a warm palce for 6 to 8 hours to ferment and rise. Once risen add salt and 4 tbs sugar and combine well. Add required water to make a batter of idly batter consistency.
Heat a tava, add little oil. Add 1 big spool full of batter and spread lightly to form a round shape. After a minute flip over and cook the other side. Ensure that both sides are slightly golden in color. Repeat for the whole batter.
Soft and yummy vellayappams are ready. Serve hot with Fish Mollie or Meat stews.
Try this out and you would love it.
- Courtesy Bava Sunny