This post may contain affiliate links. Please read my disclosure.
This veggie shawarma is stuffed with crispy savory tofu, chopped greens quick pickled onions and a super creamy yogurt sauce. Everything is tightly tucked into a soft and pliable whole wheat naan bread warmed to perfection. The perfect recipe to make on hectic weeknights or when you are craving something different!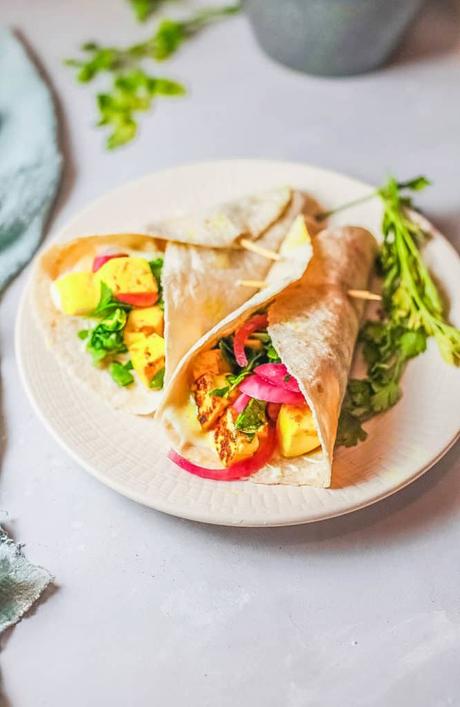 I'm not sure why we usually associate weeknight dinners with bland and boring recipes. Weeknight dinners can be just as quick and easy as we want them to be while still packing a bunch of flavors!
These veggie shawarmas are just like that! Made in less than 30 minutes they are perfect for those hectic nights we need to put food on the table in as little time as possible while also being incredibly flavorful and oh so delicious.
The secret? The marinated crispy tofu we are using as the star of this recipe is TO DIE FOR. Seriously, even if you are not a huge fan of tofu or don't know how to cook it, you are going to love it here. And hey, it's so so good even the pickiest of eaters will totally love it.
Tools and Equipment You'll Need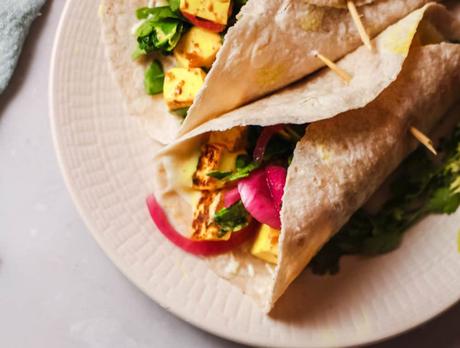 How to Make Veggie Shawarma - Step by Step
Step 1: In a bowl combine tofu with olive oil, lemon juice, curry, paprika, garlic powder, coriander, oregano, ginger and salt and pepper. Marinate for 10 minutes.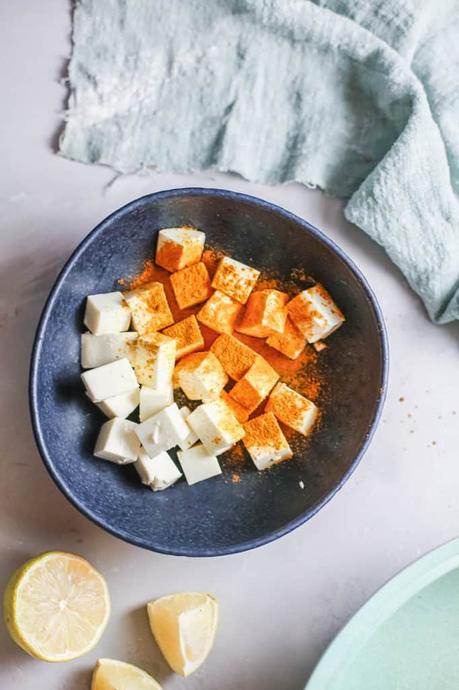 Step 2: While tofu is marinating, thinly slice onion. Submerge onion in 1/2 cup of white vinegar. Allow to sit for at least 10 minutes.
Step 3: Make the yogurt sauce. Combine yogurt, tahini, lemon juice, garlic powder and salt. Whisk together to combine.
Step 4: Heat a large saucepan over medium heat. Add the marinated tofu and juices and cook for 10 minutes or until crispy and golden brown. Remove from heat.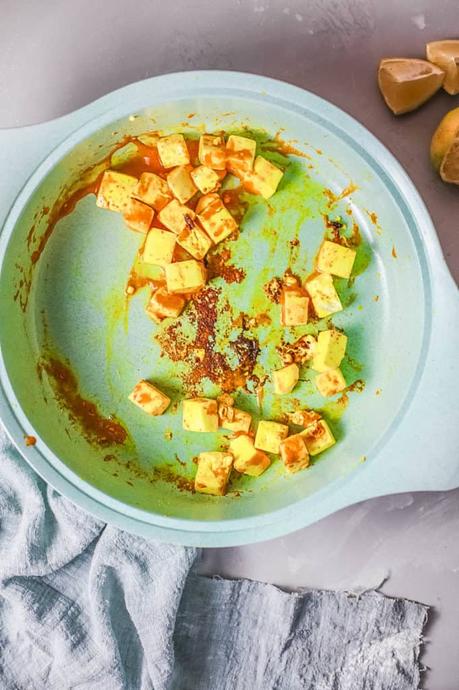 Step 5: Massage greens with olive oil and sprinkle with salt and pepper. Spread yogurt sauce over the wheat tortilla/naan.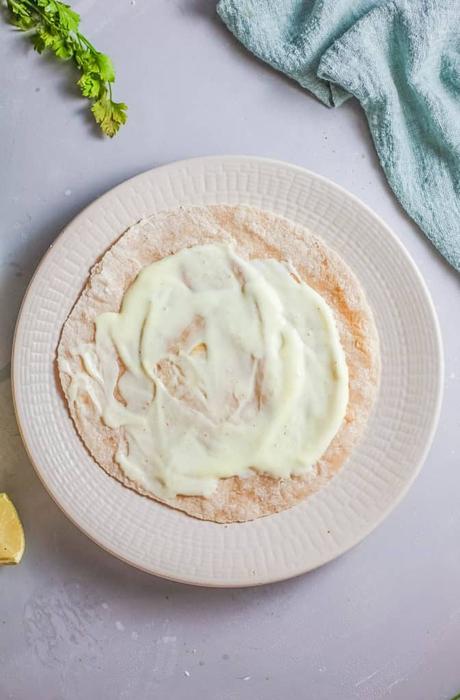 Step 6: Add crispy tofu and top with the greens and quick pickled onions. Roll into a wrap and serve!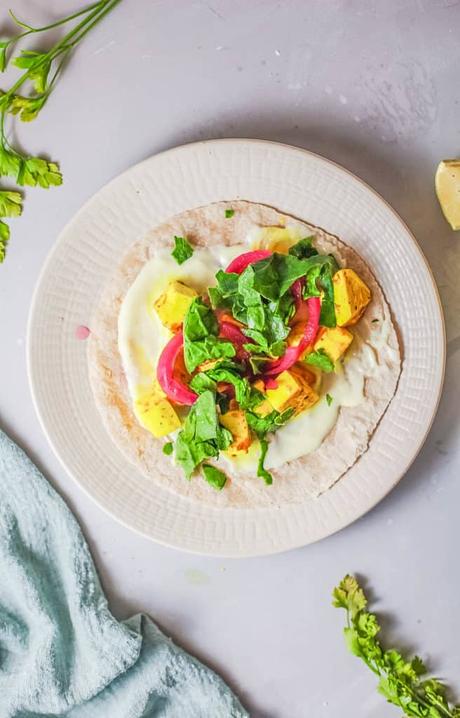 What makes this Veggie Shawarma healthy?
High in Protein: The tofu in this shawarma gives this sandwich plant-based protein. Using the greek yogurt dressing also adds protein.
Healthy Greens: This sandwich is packed with healthy greens. You can use the greens of your choice, however I recommend spinach. It's a delicate leaf full of vitamins nutrients. It's recommended you get 1 1/2- 2cups of greens a day!
Low in Saturated Fat: Using olive oil to marinate the shawarma reduces the saturated fat content of this sandwich.
Will kids enjoy this Veggie Shawarma?
My kids loved this shawarma! There's something about a wrap sandwich that appeals to everyone. They enjoy the soft naan bread/tortilla, and seasoned tofu. Kids might not love the pickled onions, so you can leave this off their serving.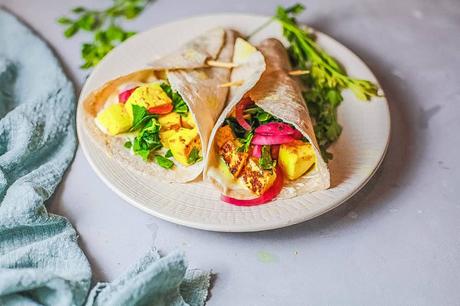 How do you cook tofu that is super flavorful?
There are a million different ways to cook tofu, however if you want to make sure everyone loves it at the table (even little ones!) you need to infuse it with all the flavors possible.
I actually like to keep marinate tofu in my refrigerator at all times. That way I give the spices all the time they need to work their magic, but even a short couple of minutes will work.
Then we cook it in a super hot pan, which makes sure we get that crispy, golden outer layer that everyone loves.
How do you assemble a Veggie Shawarma?
After you have your crispy marinated tofu done. Warm your naan bread or tortilla for a couple of minutes in the oven until pliable and soft.
Spread some yogurt sauce over them (I like to mix Greek yogurt with lemon, salt, tahini and garlic powder). Add your tofu and top it off with chopped greens (kale and spinach are amazing!) and some quick pickled red onions. Then just wrap and serve.
Trust me when I say everyone will love this recipe!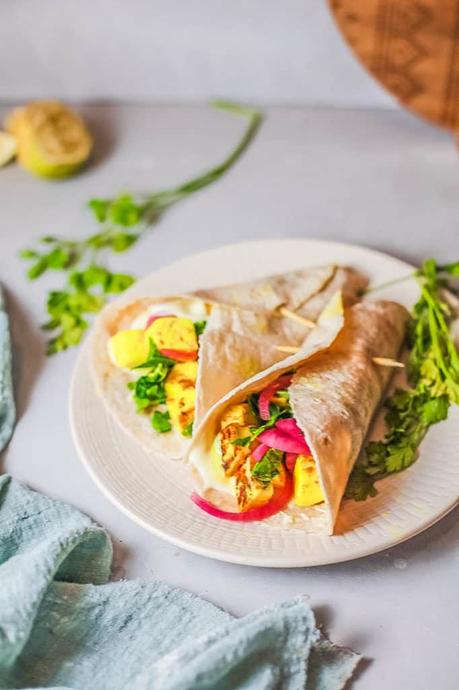 What do you serve with Veggie Shawarma?
Veggie Shawarma tastes fantastic with other Mediterranean and Middle Eastern dishes. A light cucumber tomato salad, pickled vegetables, tabouli, and hummus would pair nicely. A traditional rice pilaf is another perfect accompaniment.
Top Tips for Making the Best Veggie Shawarma
Marinate the tofu for a minimum of 10 minutes. The longer you're able to marinate the tofu, the more flavorful it will be!
Use extra firm tofu, and press the tofu prior to marinating. This helps eliminate the access water in the tofu and produces a firmer texture.
Prepare on medium high heat. Allow tofu to get crispy.
If you don't have whole wheat naan bread you can also use whole wheat pita bread. For the most amount of fiber and complex carbs, use a sprouted wheat tortilla.
If you don't like onions, add any additional veggies you like, or make your own variety of pickled vegetables. Pickled carrots would pair well with this sandwich.
Warm the bread in the oven prior to serving to help make the bread more pliable.
To make this gluten-free, just use a gluten-free tortilla
Check out these other simple vegetarian sandwich recipes!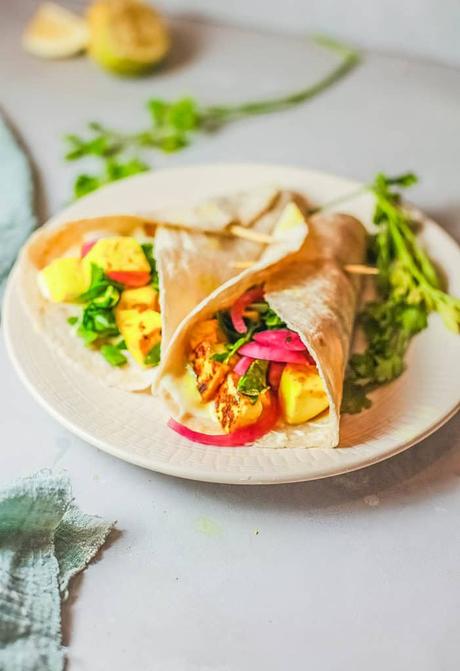 If you have tried this Veggie Shawarma recipe, or any other recipe on my blog, then please rate it and let me know how it turned out in the comments below! You can also FOLLOW ME on
FACEBOOK
,
TWITTER
, INSTAGRAM and
PINTEREST
to see more delicious, healthy, family friendly food!
Veggie Shawarma with Marinated Tofu