This post may contain affiliate links. Please read my disclosure.
This Veggie Gnocchi with Spinach and White Beans is the healthy gnocchi recipe you have been waiting for! It's the perfect, easy comfort food to warm you up and keep you satisfied.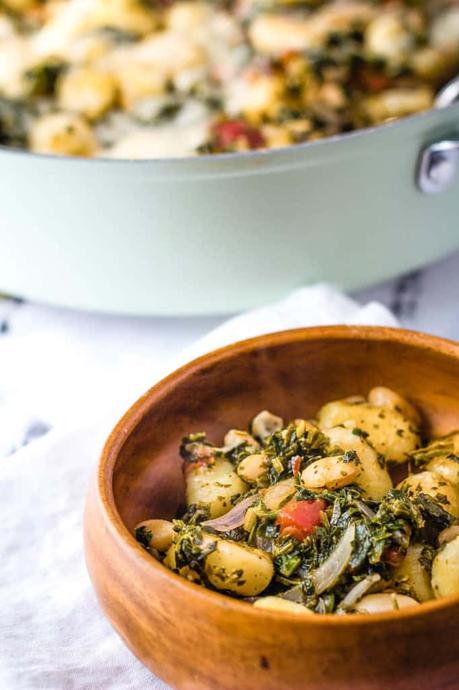 We seriously can't get enough of this comforting meal. It's so flavorful and delicious, and I have been making it for years and years.
It's one of those meals that we crave because the combination of ingredients is seriously out of this world. Whole wheat gnocchi, spinach, diced tomatoes, white beans, crushed red pepper, fresh basil, lots of garlic and gooey cheese is the reason why we love it so much.
You can serve this healthy gnocchi recipe for pretty much all occasions. It's perfect for lunch or dinner, or as a packed meal to take to school or work. It's also great when you have friends over and want to serve them a hearty meal or when you are heading to a big potluck. So, if you are looking for something that's extra special, consider this veggie gnocchi!
Tools and Equipment You'll Need
Recipe Ingredients & Notes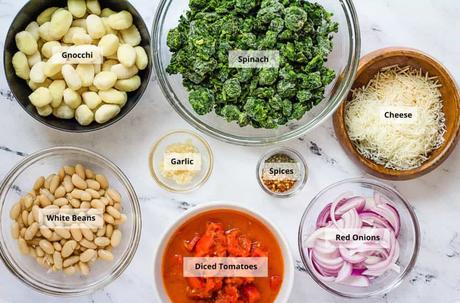 Gnocchi: Look for whole wheat gnocchi if you can find it. Trader Joe's has a great one, and most other grocery stores do too. That way you can increase the fiber and whole grains in your meal!
Olive Oil Cooking Spray: Pan frying the gnocchi is critical to getting a great texture and outer crust - and you need extra virgin olive oil cooking spray for that!
Greens: You can use any greens you like (chard, kale, etc). I chose frozen spinach to cut down on prep time.
White Beans: Cannelini, Navy or Great Northern would all work.
Spices: Italian herbs and spices add a ton of flavor without any calories or fat! Don't skimp on them, and definitely season to taste with salt!
Step by Step Instructions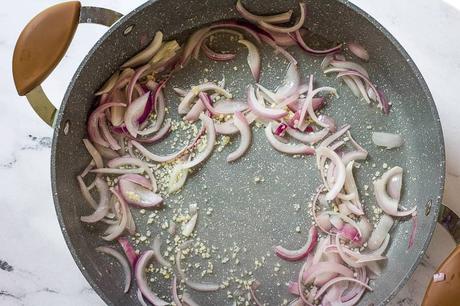 Step 1: Cook the gnocchi in boiling water according to package directions. Drain, cool, set aside. Heat 1 tsp oil in a large skillet, and add the onion and garlic - cook for a few minutes until the onions are soft and translucent.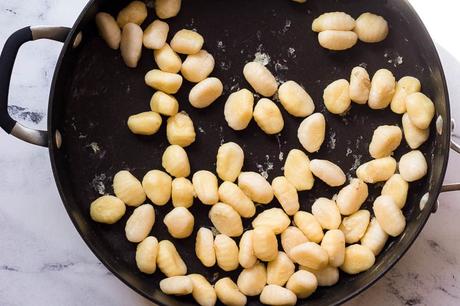 Step 2: Meanwhile, using olive oil cooking spray, pan fry the gnocchi in a separate skillet until lightly browned.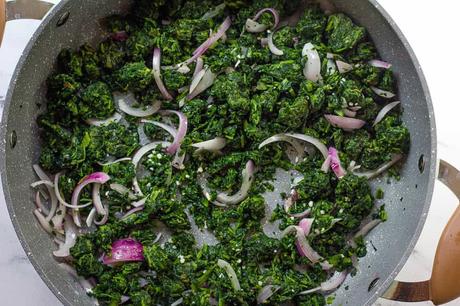 Step 3: Add the spinach to the skillet with the onion in it, and cook until the spinach defrosts/starts to wilt.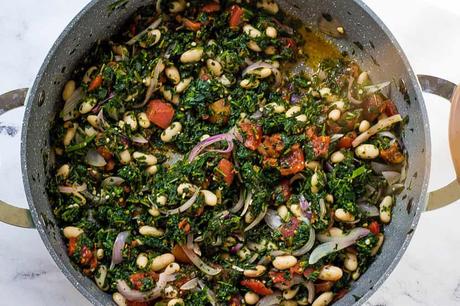 Step 4: Stir in the tomatoes, beans, pepper, Italian seasoning, basil, crushed red pepper and salt to taste - bring to a simmer.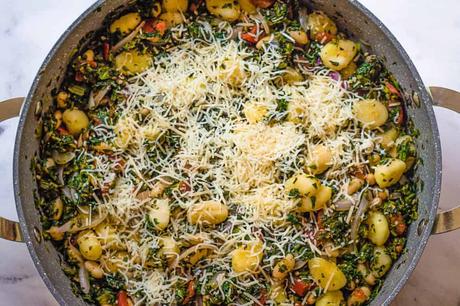 Step 5: Stir in the gnocchi and sprinkle with the Mozzarella and Parmesan cheese.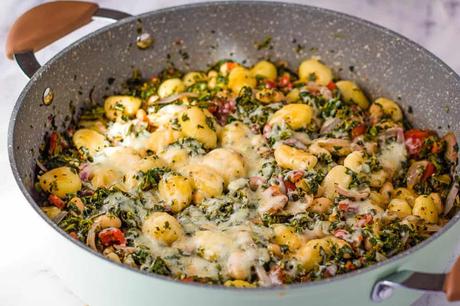 Step 6: Cover and cook until the cheese is melted and bubbling, about 3-5 min.
Low-Calorie: You can enjoy a large serving of this healthy gnocchi recipe, and it's only about 300 calories! Consider that with the fact it's hearty and loaded with nutrients and you have a huge win.
Protein: Another great reason to munch on this vegetarian gnocchi is the fact that it has 15 grams of protein in every serving. Protein helps keep you full and satisfied, and is one of the building blocks for your body's health!
Vitamins and Minerals: Folate, copper, iron, manganese, fiber, potassium, phosphorus, calcium, vitamin A, magnesium, and selenium are just a few of the nutrients that you get in this dish. It's amazing that it tastes this good, and it's also super nutritious for you too.
What Makes This Veggie Gnocchi Healthy?
Will Kids Enjoy This Veggie Gnocchi?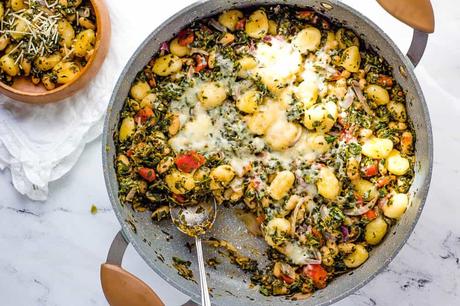 The fact that it has lots of gooey cheese on top for sure helps kids love it! Kids also tend to like the texture of gnocchi, similar to how most kids like pasta. They will be drawn in by how good it looks, the aroma of it, and the fact that it tastes really good too. The gnocchi, cheese, and beans are all ingredients that many kids love.
What is Gnocchi?
Recipe FAQs
What Do You Serve With Vegetarian Gnocchi?
Gnocchi is an Italian dish that is typically made with potato dumplings. It's very flavorful and has gained lots of popularity over the years. While there are TONS of different recipes out there, I chose to use whole wheat gnocchi to make it extra healthy. Traditional recipes aren't always the best for you, so that's why I wanted to prepare something that worked for our lifestyle and tasted good too.
You can serve all sorts of dishes with this healthy gnocchi recipe. Sometimes we eat it plain without anything else with it. Other times we add some tasty sides to complete the meal. Here are a few ideas that I think you may enjoy.
Salad: The perfect way to complete your dinner table is always a tasty salad. It goes with almost anything, and you can make a variety of flavors with few ingredients. Try this Spinach and Arugula Salad.
Bread: Dinner rolls, pita, garlic bread, toast, or anything else you enjoy is a great fit. You can also serve it alongside this Mushroom Flatbread as part of a bigger spread.
Roasted Veggies: I know there are a lot of veggies in this spinach gnocchi recipe, but we love to eat roasted vegetables too. They are so delicious we feel like you can never have too many!
Consider adding a different variety of cheese on top. Swiss, gouda, cheddar, provolone, and asiago are a few options that would be good.
Sun-dried tomatoes would be a love twist of flavor to add to the homemade gnocchi. Add ¼ - ½ cup to the mixture and enjoy!
Sprinkle any of your favorite fresh herbs on top before serving. Oregano, parsley, or rosemary would all be suitable options to consider.
Try any combination of veggies you like! Asparagus, carrots, zucchini or summer squash, sweet potatoes, chard, kale, and butternut squash would all work well.
Recipe Variations
Don't over boil the gnocchi, or it will end up with more of a slimy texture that's not too appealing.
Make sure you pan fry the gnocchi! That's critical to maintaining it's texture when it's added to the other ingredients.
Another thing not to overcook is the spinach. Once it has defrosted and barely starts to wilt, it's good.
To make this spinach gnocchi gluten free, substitute a cauliflower gnocchi or gluten free gnocchi instead of the whole wheat variety.
To make this skillet gnocchi vegan, just omit the cheese or use a vegan alternative.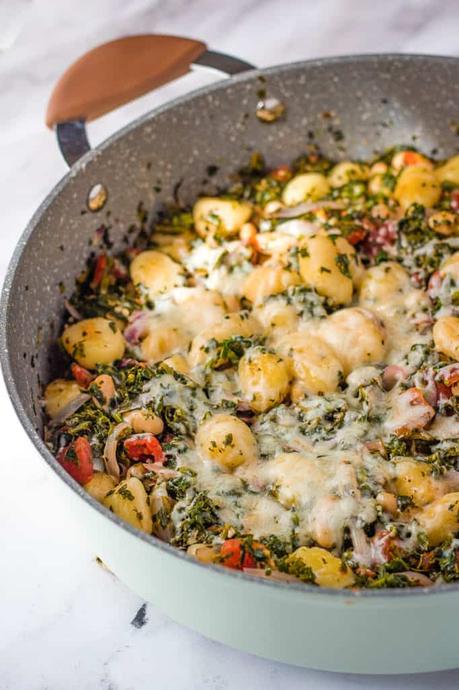 If you have tried this Veggie Gnocchi or any other recipe on my blog, then please rate it and let me know how it turned out in the comments below! You can also FOLLOW ME on
FACEBOOK
,
TWITTER
, INSTAGRAM, and
PINTEREST
to see more delicious, healthy, family friendly food!
Top Tips For Making The Best Veggie Gnocchi
Check Out These Other Tasty Dinner Recipes!
Veggie Gnocchi with Spinach and White Beans