This post may contain affiliate links. Please read my disclosure.
This Vegetarian Wonton Recipe is filled with delicious Asian inspired ingredients including tofu, cabbage, carrots, ginger, mushrooms, and spring onions and served with a soy and sweet chili dipping sauce. Wrapping wontons is easier than you think, and you'll be ready to serve this simple appetizer or light dinner in just 30 minutes!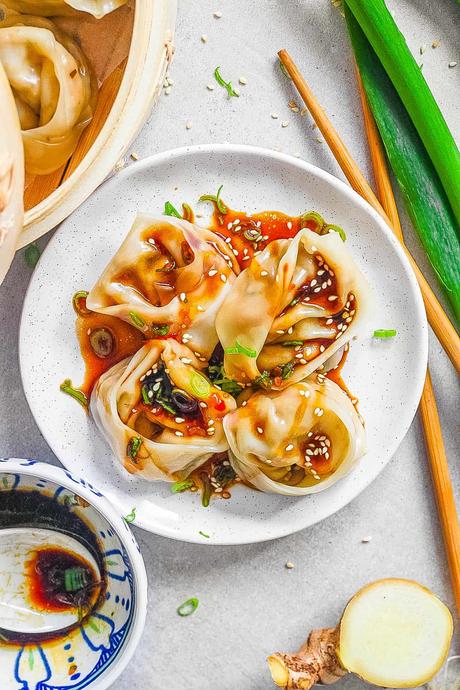 Who doesn't love Chinese food?? This veggie wonton recipe is fun to make with kids and easy to pull together on a weeknight. You can find the wonton wrappers in Asian grocery stores, Asian markets, or on Amazon. All the other ingredients can be found right in your local grocery store. The next time you're in the mood for Chinese cuisines, make this recipe and skip the takeout.
Vegetarian wontons are made by filling soft rice wrappers with a vegetable mixture of small diced vegetables tossed in a sauce. They are then folded in the classic wonton shape and then steamed, boiled, or pan-seared. Serve them with a dipping sauce and a side of fried rice, roasted broccoli, or sweet and sour soup. I guarantee, they will quickly become one of your favorite appetizers, light lunches or easy dinner options!
Latest Recipe Video!
👩🏽‍🍳 Why This Recipe Works
Weeknight meal
Gluten-free
Vegetarian and vegan
30-minute meal
Freezer friendly
Quick and easy
🥘 Ingredients
This recipe calls for simple ingredients easily found at most grocery stores! See the recipe card below for exact ingredient amounts and detailed instructions.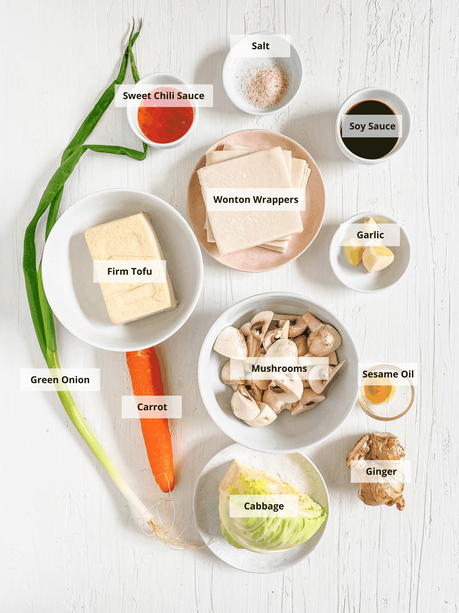 Veggie Wonton Filling
Firm tofu: Firm tofu is best since it holds its shape well and doesn't fall apart easily.
Carrot, Spring onions, Garlic, Ginger, Cabbage, Mushrooms: The wonton filling includes classic
Soy sauce, Sweet chili sauce, Sesame oil: Toss the veggies in this sauce for a moist and delicious filling.
Wonton wrappers: Square wonton wrappers or round wrappers fold over the filling to make these vegetarian wonton appetizers.
Dipping Sauce
Soy sauce, Sesame oil, Sweet chili sauce, Spring onions: A dipping sauce from the same ingredients used to coat the filling adds layers of flavor to the dish.
🍽 Equipment
📖 Variations
Here are some different ways you can make these delicious vegetable wontons.
Vegetarian wonton filling ideas: Try using different vegetables and filling ingredients like wood ear mushrooms, shiitake mushrooms, sesame seeds, red pepper flakes, green onions, ginger, a drizzle of chili oil, crispy napa cabbage, or bok choy. You can also add in black pepper or white pepper to make Sichuan spicy wontons.
Sauces: Some other options to include in the sauce are rice vinegar, avocado oil, olive oil, mirin, or oyster sauce.
Wrapping: These little parcels can be made with square wrappers and folded into a diamond shape. You can also use round wrappers, or Nasoya wrappers which come in a variety of sizes and shapes!
Cooking method: This easy vegetarian wonton recipe gives instructions on how to steam the dumpling wrappers, but you can also deep fry, pan fry, boil, bake, and add them to a broth to make a vegetarian wonton soup.
Homemade vegan wontons: If you use vegan wonton wrappers, this recipe will automatically be vegan! Nasoya makes a great vegan wonton wrapper that I love.
🔪 Instructions
The first time I made veggie wontons, it was a little tricky to fold the wonton wrappers perfectly. If you haven't made wontons before, I recommend buying a few extra wrappers to test out on your first batch, just in case you need to rewrap the wontons the next time!
Get the tofu ready: Drain the tofu, press firmly in between 2 pieces of paper towel to remove any excess liquid. Using a fork, mash the tofu until it resembles breadcrumbs.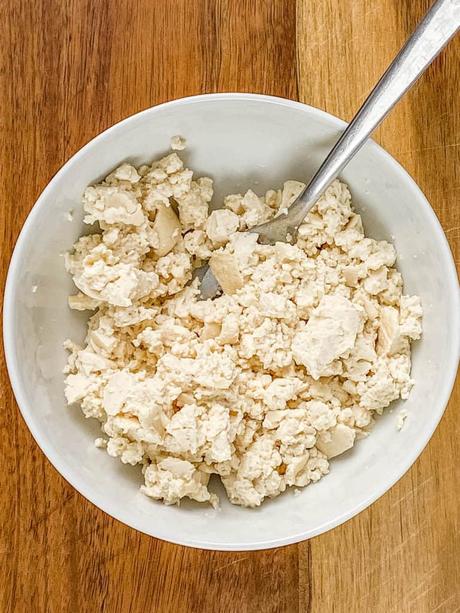 Pulse the carrots: Place carrot, white of the spring onion, garlic and ginger into a food processor and pulse several times to chop finely, ensuring not to make a paste. Scrape out and set aside.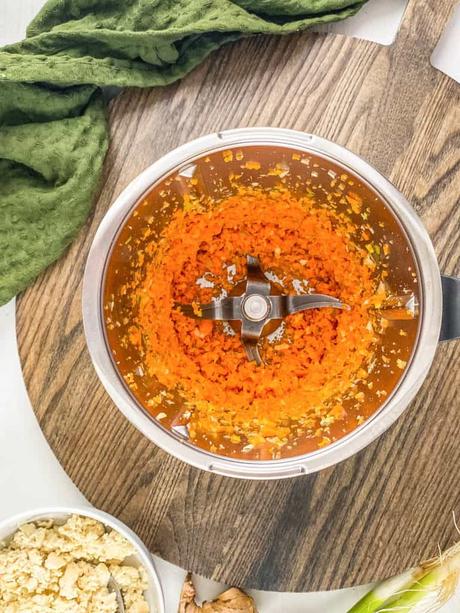 Pulse the rest of the veggies: Place the cabbage pieces and mushrooms into the same food processor bowl and pulse several times. Remove and set aside.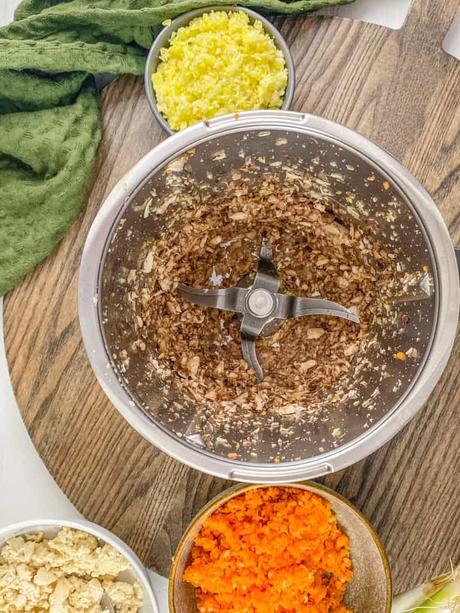 Saute the vegetables: Heat a skillet over medium heat, add the carrot mixture and cook, stirring, for 2-3 minutes. Add the cabbage and mushroom and cook for a further 3 minutes. Remove from the heat and allow to cool. Remove to a large bowl.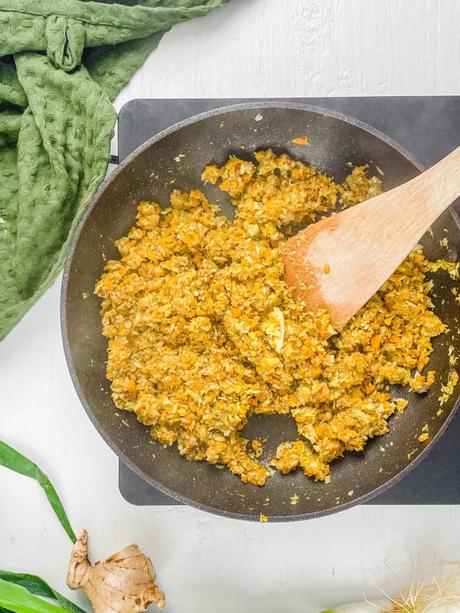 Add in the wet ingredients: Combine the crumbled tofu, cooked vegetable mixture, and the remaining filling ingredients in a large bowl. Stir until everything is combined.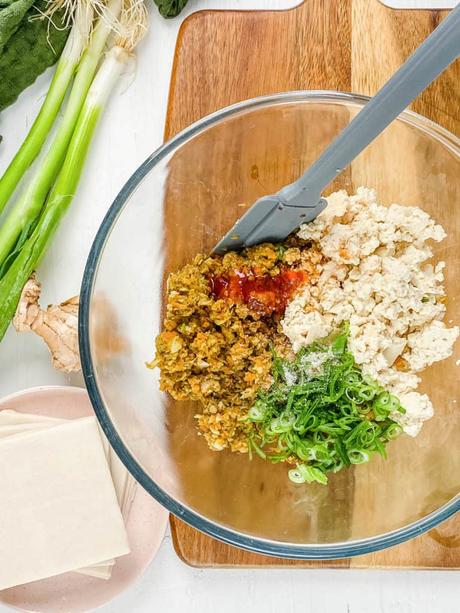 Assemble the wontons: Place a wonton wrapper on a flat work surface, spoon a bit of the mixture into the middle of the wrapper, removing any air bubbles.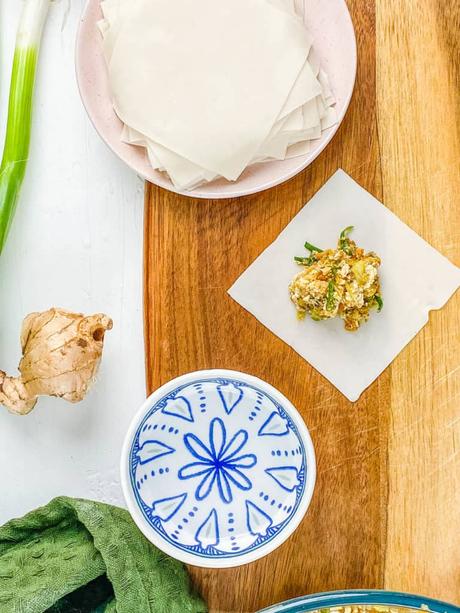 Wrap the wontons: Using a small bowl of water or vegetable broth, brush around the edges of the wrapper or bottom corners. Fold into a wonton shape.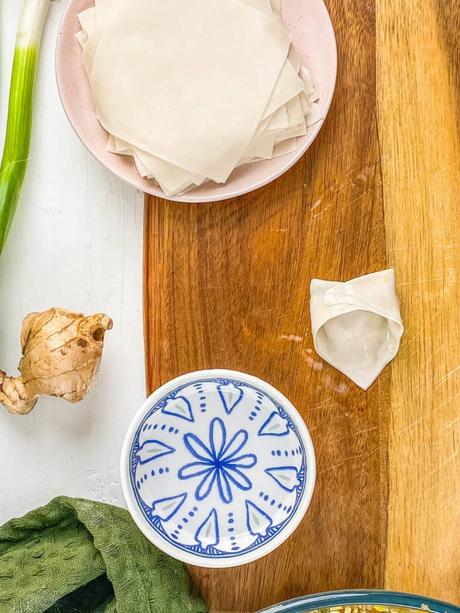 Steam: Bring a pot of water to simmering over medium-high heat. Arrange the wontons in a steamer basket lined with baking paper over a pot of water in a single layer and steam for 15 minutes. You may need to steam half of the wontons and then the other half if the basket isn't big enough.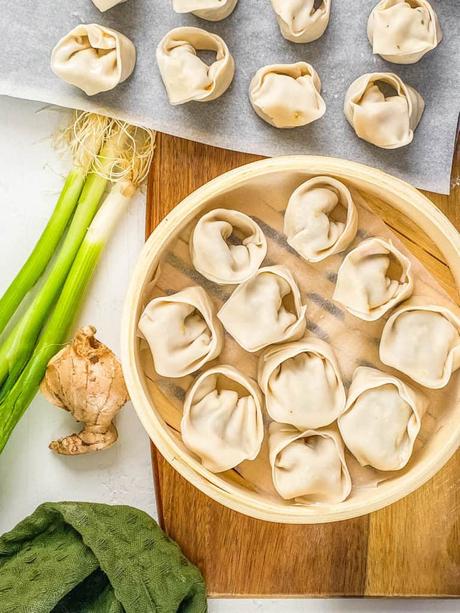 Make the dipping sauce: While wontons are cooking, mix together all sauce ingredients together in a small bowl.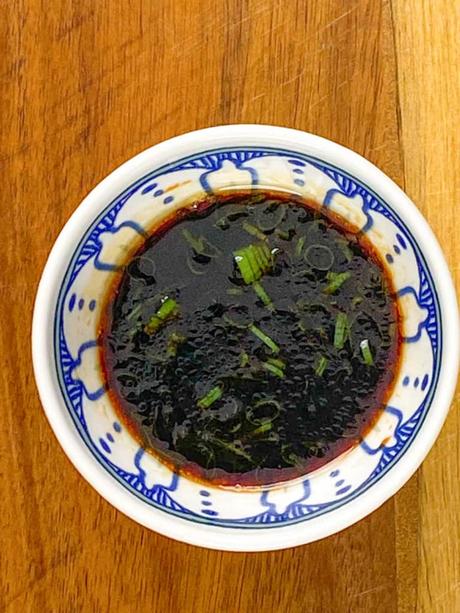 Serve: Serve the cooked wontons with the dipping sauce.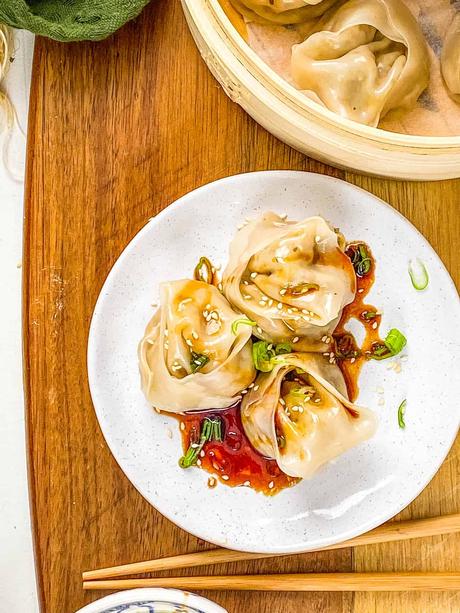 ❓Recipe FAQs
What is wonton filling made of?
Vegetarian wonton filling is made from all types of vegetables like carrots, mushrooms, cabbage, and ginger. You can mix and match to make any veggies you have on hand
Are wontons the same as dumplings?
Not quite - wontons are a type of dumpling, but dumplings are a broader category of food characterized by dough wrapped around a type of filling. Dumplings may or may not be filled, but homemade wontons always have a filling enclosed in a wrapper made from rice.
What's the difference between wontons and Rangoons?
Rangoons are like crispy wontons filled with crab and cream cheese. They are usually deep-fried and you can sometimes find them at your favorite Chinese restaurants.
Are wontons healthy?
There are many great recipes for wontons, and depending on the filling and the preparation, wontons may or may not be healthy for you.
In this vegetarian wonton recipe, we steam the wontons - making them a healthy appetizer, snack or meal! If wontons are fried, they aren't healthy because they will be high in added fat and calories. Steaming or boiling wontons is the healthiest preparation. Additionally, this recipe has a filling made with plant protein and veggies; whereas a meat heavy filling wouldn't be as healthy.
👨‍👩‍👧 How To Serve
Wontons can be a great appetizer, main dish, or added to a gingery broth to make vegetarian or vegan wonton soup. Here are some ideas on what to serve with them.
🧊 How To Store
You can keep wontons in an airtight container in the refrigerator for up to five days after cooking them.
You can also freeze them and thaw them in the refrigerator to eat later. They will keep in the freezer for up to 3 months. The best way to do this is to lay them out on a baking sheet and freeze them for 15 minutes. Then remove them from the baking tray and put them in a large freezer bag back in the freezer.
This will keep them from sticking to each other and allow you to take them out one at a time when you're ready to eat them.
💭 Expert Tips
Here are some important tips and simple steps to make sure your vegetarian wontons turn out perfectly on your first attempt.
Cut the vegetables and get everything ready before filling the wontons and cooking them. This will help streamline your prep time.
The cooking time will doesn't vary much when you use different methods. They cook quickly, so keep an eye on them to ensure they don't overcook and get mushy.
If the veggie mixture ends up with extra water after sauteeing, squeeze the vegetables in a paper towel to remove any extra liquid so the wontons stay tightly sealed, before adding to a bowl with the tofu.
Make sure to remove as much liquid as you can before filling the wrappers and then seal the bottom corners with a little water.
Remove as much air as you can when folding the wontons so they won't form bubbles while cooking.
Wontons can be steamed, fried or boiled.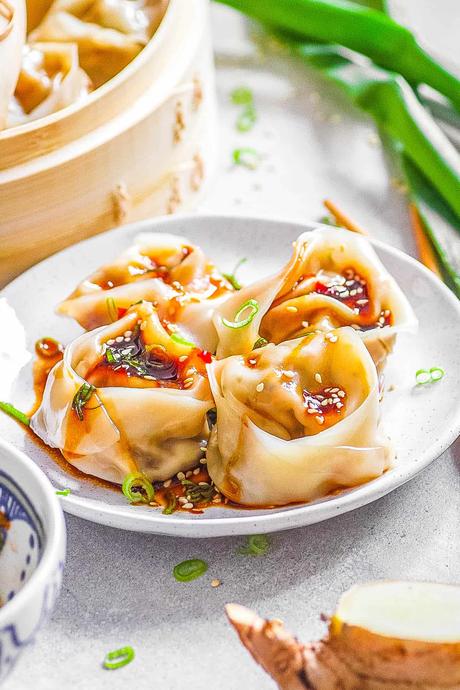 🍲 More Delicious Asian Recipes!
📋 Recipe Card
Vegetarian Wontons