This post may contain affiliate links. Please read my disclosure.
This Vegetarian White Bean Soup with Pumpkin is healthy, delicious and really easy to make! The white beans give the soup a creamy taste and the pumpkin delivers a rich warmth that'll have you coming back for more!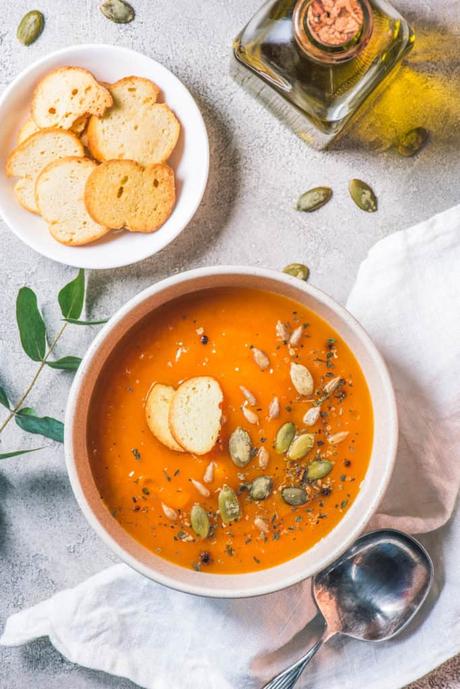 When the temperatures drop and the snow begins to fall there's nothing like a warm bowl of soup to heat you from the inside out!
I make soups and stews a lot in general - mainly because I absolutely love the idea of throwing a bunch of delicious and healthy ingredients into a pot and not having to think about making sides/salads/etc. to accompany it. They are so easy to make, don't take a lot of time, are full of flavor, and have a balanced combo of protein and fiber to keep you full and satisfied.
My soups and stews are truly one-pot meals.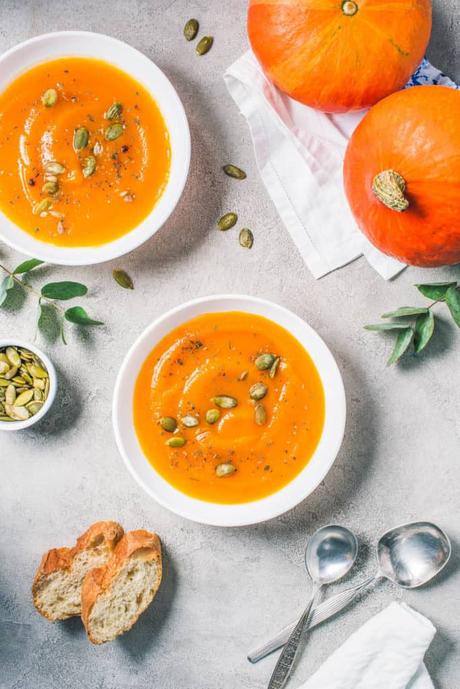 Pumpkin and squashes are in season and so beautiful this time of year, and I love the idea of using white beans as a secret healthy way to make the soup creamy and thick without using cream.
I had enough for leftovers, and since my kids loved it so much I decided to freeze mini portions of the soup in these handy to-go containers from OXO Tot. That way I have something on hand in the freezer when I need a healthy meal for them but don't have time to cook!
Tools and Equipment You'll Need for this Recipe
How To Make White Bean And Pumpkin Bisque - Step By Step
Step 1: Add olive oil to a large pot over medium heat. Add onion, 1 tablespoon sage, and garlic to pan. Sauté until lightly browned. Add cayenne pepper and cumin. Sauté 20 seconds.
Step 2: Stir in 1/2 cup stock; cook 1 minute. Add remaining stock, beans, pumpkin, and salt, simmer for 10 minutes.
Step 3: Using an immersion blender, puree soup until thick and creamy. (You can also transfer the soup to a regular blender and blend, and then return the soup to the pot). Stir in milk, bring to a simmer, cook 5 minutes. Stir in vinegar, and let the soup warm with the stove off.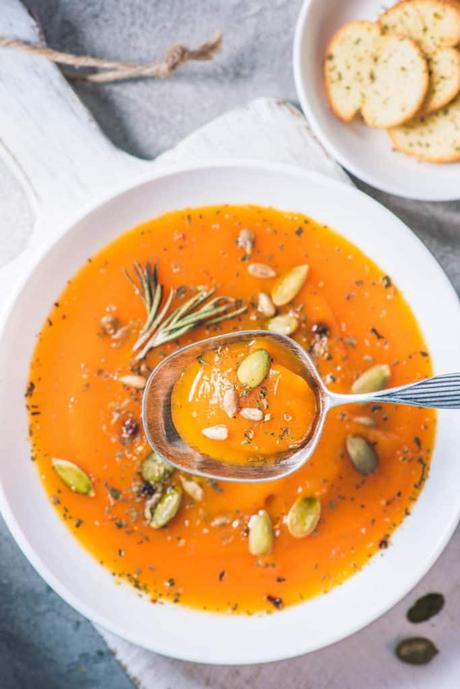 What makes this Vegetarian White Bean Soup healthy?
Rich in Vitamins and Minerals: Pumpkin is a great source of potassium, beta-carotene, calcium, magnesium, as well as Vitamins E, C and some B vitamins.
High in Plant Protein: White beans are high in plant-protein making this a healthy and filling soup. One serving has 7.2 grams of protein.
High in Fiber: Both pumpkin and white beans are high in fiber, which helps with digestion and keeping you feel fuller longer. One serving has almost 9 grams of fiber. That's nearly 30% of your recommended daily fiber.
Low in Fat and Calories: While this soup is hearty and filling it's not high in calories or fat. One big serving of this soup contains 151calories and 3.5 grams of fat.
Will kids enjoy this Vegetarian White Bean Soup with Pumpkin?
This soup is smooth and creamy making it a kid friendly recipe. Some kids may not like the spice from the cayenne. If making at home for the kids omit the cayenne, and sprinkle on top of the adult portions before serving.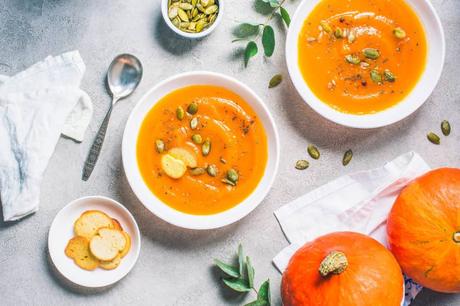 How do you thicken bean soup?
One way to thicken bean soup is to blend the beans using an immersion blender. This gives it a nice rich consistency. If you prefer an even thicker soup you can make a roux by combining 2 tablespoons of flour (I prefer using whole wheat flour) and adding that to a small bowl of water about 1/4 cup. Whisk the flour together until combined and add it into to the soup - stirring until combined. This technique will create a thicker consistency if desired.
How do you cook dried white beans?
Step 1: Rinse beans well in water.
Step 2: Remove any pebbles, dirt, or discolored or broken beans.
Step 3: In a large bowl cover beans in 4 inches of water. Soak overnight or for 8-24 hours.
Step 4: Drain and rinse well.
Step 5: Add beans to stock pot. Cover with 4 inches of water. Bring water to a boil. Cover and cook for 60-90 minutes on low heat.
How do you make this soup vegan?
To make this soup vegan use unsweetened dairy free milk of your choice in place of the milk, and eliminate the parmesan cheese for garnish.
Can you freeze Vegetarian White Bean Soup with Pumpkin?
Yes, you can freeze this soup! Use these handy these handy to-go containers from OXO Tot to freeze mini portions for the kids.
You can also transfer to an air-tight freezer-safe container (leaving a couple of inches for expansion), cool to room temperature, then cover and place in the freezer. This soup will keep for at least 2-3 months.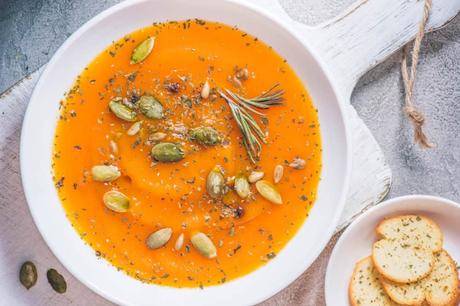 What do you serve with Vegetarian White Bean Soup with Pumpkin?
Crusty whole wheat bread
Mini toasts
Roasted pumpkin seeds
Crispy fresh sage
Shredded parmesan cheese
Grilled cheese sandwiches on sprouted grain bread
Side salad with fresh greens and a vinaigrette
Steamed broccoli or other vegetables
Kale salad with cranberries
Tortilla Chips
Top Tips For This Vegetarian White Bean Soup Recipe
Soups are great for batch cooking, double the ingredients to make a bigger batch!
If possible use an immersion blender to mix the soup. You can also transfer your soup from the pot, to a blender and transfer back to the pot.
Use low sodium broth.
Increase, decrease, or eliminate the cayenne pepper to create the amount of heat you prefer.
Dial back the cayenne and sage, if you want it more kid friendly.
Serve with crusty bread and/or a nice and crunchy side salad.
Garnish with crispy sage, roasted pumpkin seeds, mini toasts, fresh herbs, or freshly grated parmesan cheese!
Check Out These Other Vegetarian Soup Recipes
If you have tried this Vegetarian White Bean Soup with Pumpkin recipe, or any other recipe on my blog, then please rate it and let me know how it turned out in the comments below! You can also FOLLOW ME on
FACEBOOK
,
TWITTER
, INSTAGRAM and
PINTEREST
to see more delicious, healthy, family friendly food!
Vegetarian White Bean Soup with Pumpkin