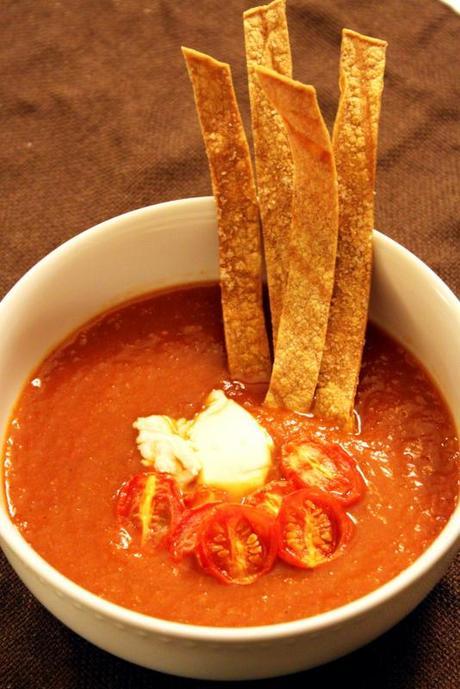 The husband loves tortilla soup.
He'll often ask that I make it for dinner, but I've never thought that tortilla soup is that filling on its own, so I always suggest making something else – because between the two of us we can't finish an appetizer and an entree without having tons of leftovers.
Then the husband gets disappointed, because if I don't make it for a meal, we probably won't end up eating tortilla soup, like, ever.
That's because most restaurants make tortilla soup with Chicken Stock, which makes it not really veggie-friendly.
Oh and most tortilla soups aren't that healthy because they have tons of oil added, and no veggies. So after searching for a good recipe that would be filling and veggie-friendly, I decided to try this one from 101cookbooks. The key to this recipe are all of the creative toppings/add-ins to the soup – which makes it much heartier and a more complete meal. I modified the original recipe slightly to make it a bit healthier so my modified version (and toppings I used) are below.
The Ingredients: Soup
1/2 Tbsp extra virgin olive oil
3 cloves garlic, chopped
1 large red onion, chopped
1 teaspoon ground cumin
2 teaspoons ground coriander
1/2 tsp chili powder
1/4 tsp cayenne pepper
1 14-ounce can crushed tomatoes
2.5 cups vegetable broth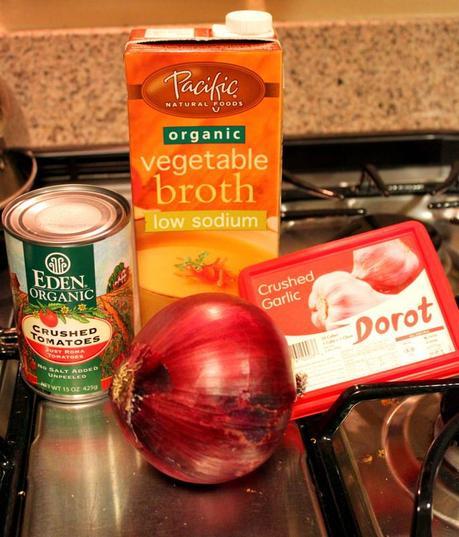 The Ingredients: Toppings
6 corn tortillas, cut into matchstick chips
Olive oil spray
Salt (to taste)
1/4 cup of goat cheese, crumbled
30 small yellow or red grape tomatoes
Mexican shredded cheese blend
1 avocado, diced
Diced yellow onion
Cilantro (chopped)
Lime juice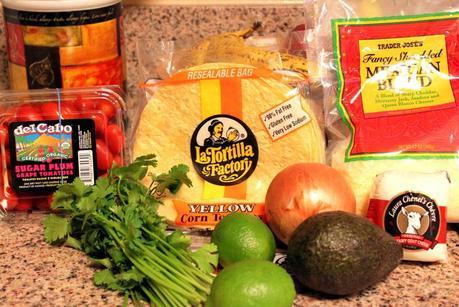 The Directions

Step 1: Tortilla Strips Spray the tortilla strips/quarters with olive oil spray and salt. Turn them out onto a baking sheet, arrange them across the pan and bake in a 350F degree oven for 10 minutes or until golden and crispy. (Mine might have taken a little longer than 10 minutes to get fully crispy). Set aside when done. (You can also just leave them in the turned-off oven to keep them warm and crispy!)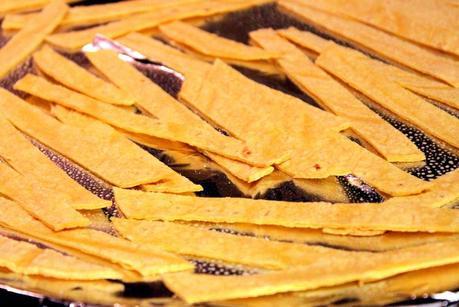 When the tortilla strips are done, they will look like this: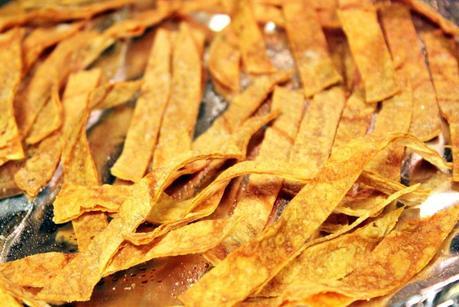 Perfectly baked, totally crispy, and tastes just like tortilla chips but way healthier!
Step 2: Roasted Tomatoes Halve the tomatoes lengthwise and put them in a small roasting pan, oven proof dish, or rimmed baking sheet. Spray lightly with olive oil and season with salt. Bake in a 350F degree oven for 40-45 minutes (less time if you use smaller tomatoes), or until the tomatoes are shrunken and golden around the edges. Set aside.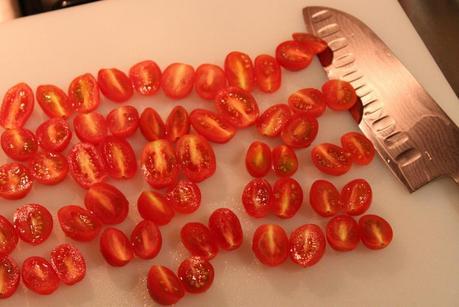 When the tomatoes are done, they'll look like this: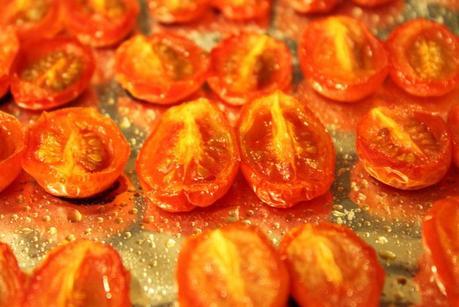 Delicious!
Step 3: The Soup. In a big pot over medium-high heat cook the garlic and onions using 1/2 Tbsp olive oil along with a couple pinches of salt for just a minute or so. Stir in the spices and then the tomatoes. Cook down for about five minutes or so, it should thicken a bit.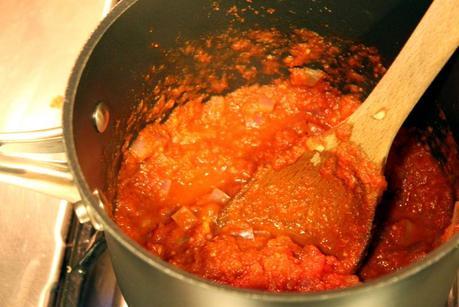 Step 4: The Soup Continued. Remove from heat, add two cups of the broth and puree with a hand blender (or puree in a traditional blender). Add the remaining 0.5 cups of broth (you can add more if you want a thinner soup) and puree until smooth. Bring the soup back up to a simmer and cook for another 10 minutes. Season with salt to taste.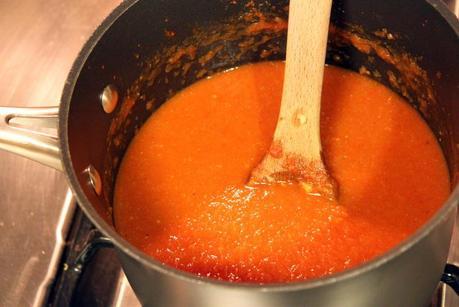 Step 5: Avocado Salsa. Create the "avocado salsa" by mixing the avocado, red onion, cilantro and lime juice in a bowl. Super easy and takes 2 minutes!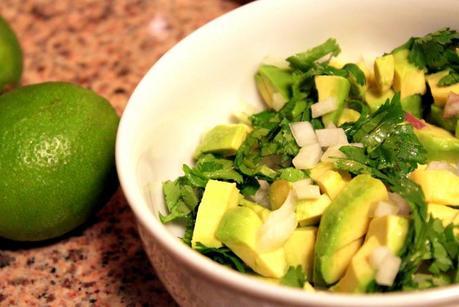 Ideas for Serving:
Option 1: With Mexican Shredded Cheese and Avocado Salsa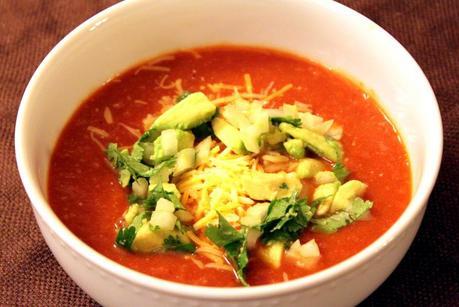 Take some soup in a bowl, top with 1 Tbsp shredded mexican cheese blend, and 1-2 Tbsp of the Avocado Salsa. This combination is great because the cheese melts into the soup, and the avocado salsa has a creaminess and a crunch that gives the soup amazing texture.
How good does that look?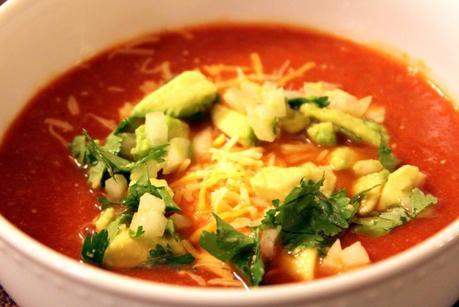 Option 2: With Goat Cheese, Roasted Tomatoes, and Tortilla Strips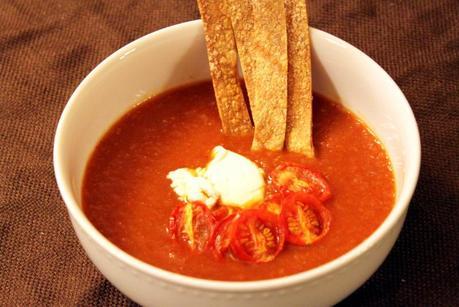 Top soup with 1-2 Tbsp goat cheese, a handful of roasted tomatoes, and a handful of tortilla strips.
The goat cheese makes the soup rich and creamy – kind of like a spicy creamy tomato soup. The tomatoes are perfectly tart, and the tortilla strips give it a great crunch. I liked dipping my tortilla strips in the goat cheese and the soup – it felt like a fancy take on chips and salsa!
Alternatively, you can take all of the toppings: goat cheese, tomatoes, avocado salsa, tortilla chips, and just throw them all on top of the soup. I did that for my second helping and it tasted delicious too!
Either way you eat it, this soup is absolutely perfect. Spicy, creamy, crunchy, tart – you get so many flavors in this dish your palate will be satisfied for a long time. The husband ate so much of this soup that he was totally stuffed at the end of dinner. I hope you like it as much as we did!