This post may contain affiliate links. Please read my disclosure.
This creamy vegetarian taco soup is packed full of Mexican flavors and is less than 250 calories per serving. This easy tomato based soup is the perfect guilt-free, healthy, comfort food!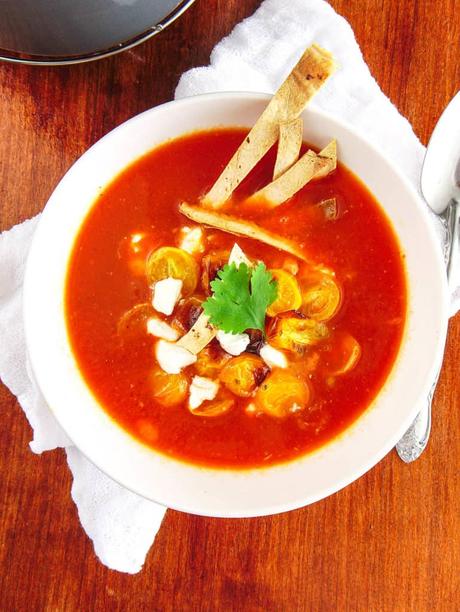 My husband and I love tortilla soup but we almost never order it when we're eating out. That's because most restaurants make tortilla soup with Chicken Stock, which makes it not really veggie-friendly.
On top of that, most tortilla soups aren't that healthy because they have tons of added oil, and no veggies. So after searching for a good recipe that would be filling and veggie-friendly, I reinvented tortilla soup into this vegetarian taco soup! It's a hearty vegetarian main dish, with creative toppings that makes it more of a complete meal.
Tools and Equipment You'll Need for this Recipe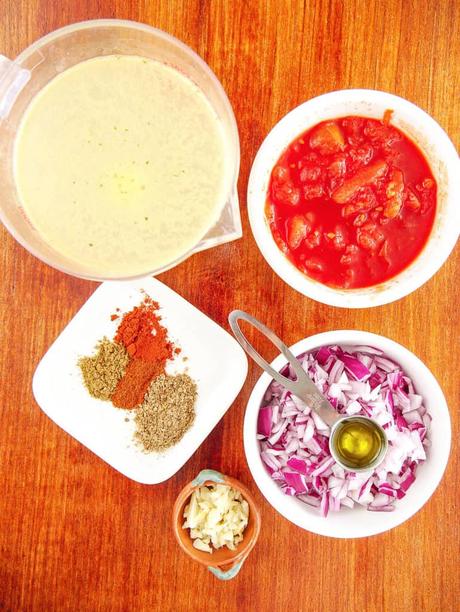 .How to make Vegetarian Taco Soup - Step by Step
Step 1: Prepare the Tortilla Strips - Spray the tortilla strips/quarters with olive oil spray and salt. Turn them out onto a baking sheet, arrange them across the pan and bake in a 350F degree oven for 10 minutes or until golden and crispy. (Mine might have taken a little longer than 10 minutes to get fully crispy). Set aside when done. (You can also just leave them in the turned-off oven to keep them warm and crispy!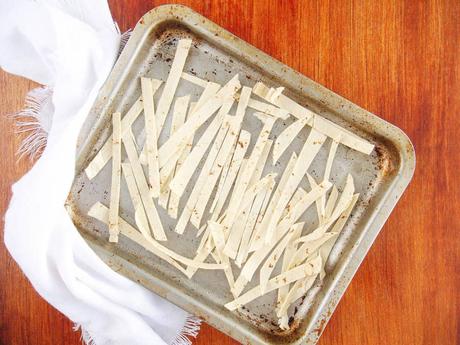 Step 2: Roast the Tomatoes - Halve the tomatoes lengthwise and put them in a small roasting pan, oven proof dish, or rimmed baking sheet. Spray lightly with olive oil and season with salt and pepper. Bake in a 350F degree oven for 40-45 minutes (less time if you use smaller tomatoes), or until the tomatoes are shrunken and golden around the edges. Set aside.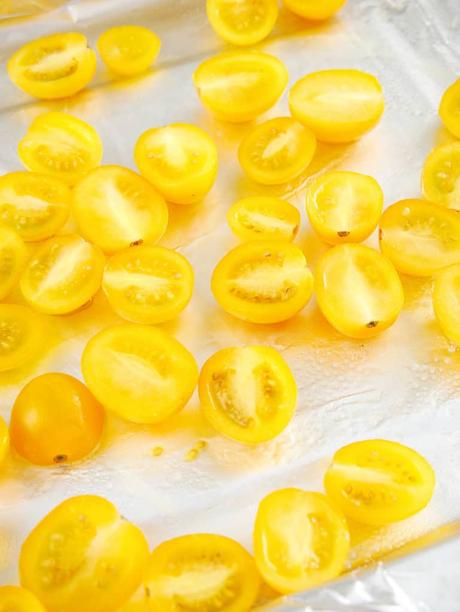 Step 3: Make the Soup - In a big pot over medium-high heat cook the garlic and onions using 1/2 Tbsp olive oil along with a couple pinches of salt for about a minute.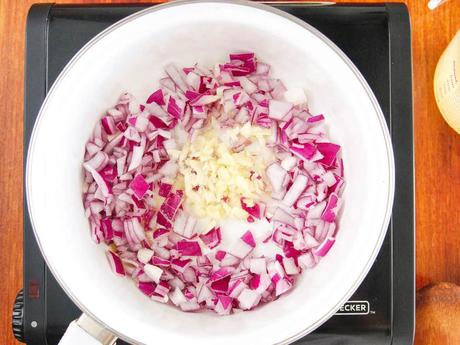 Step 4: Stir in the spices and diced tomatoes. Cook down for about five minutes. It will thicken.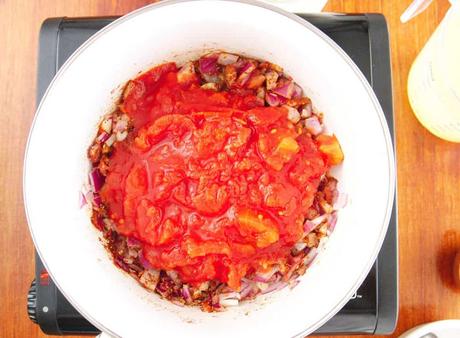 Step 5: Remove from heat, add two cups of the broth and puree with a hand blender (or puree in a traditional blender).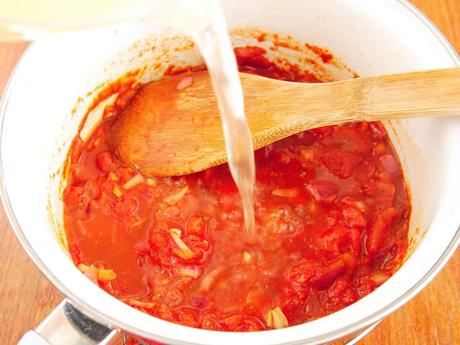 Step 6: Add the remaining 1/2 cup of broth (you can add more if you want a thinner soup) and puree until smooth. Bring the soup back up to a simmer and cook for another 10 minutes. Season with salt to taste.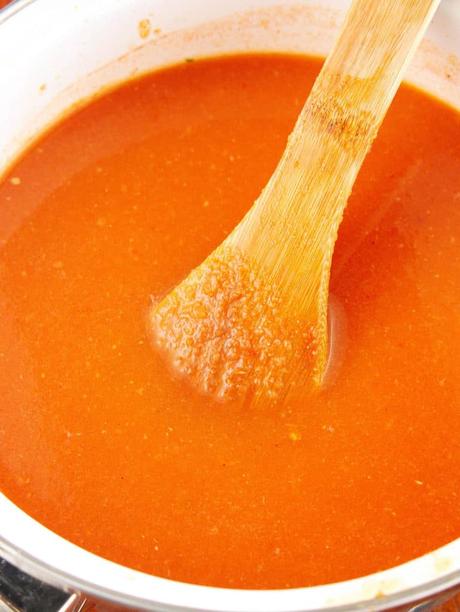 Step 7: Top with 1/4 cup roasted tomato "salsa", 1-2 tbsp crumbled goat cheese and a handful of tortilla chips before serving.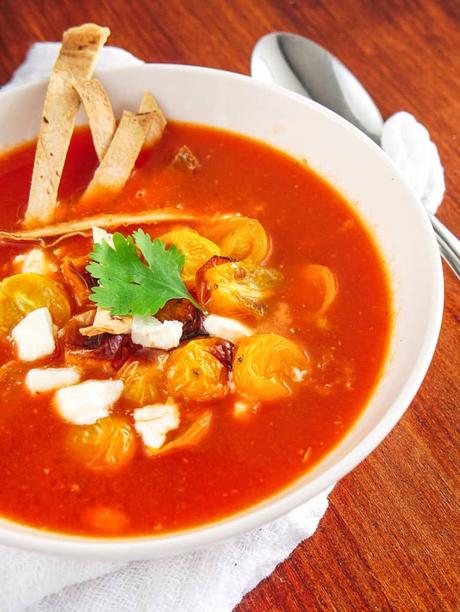 The goat cheese makes the soup rich and creamy - kind of like a spicy creamy tomato soup. The tomatoes are perfectly tart, and the tortilla strips give it a great crunch. I enjoy dipping my tortilla strips in the goat cheese and the soup - it felt like a fancy take on chips and salsa!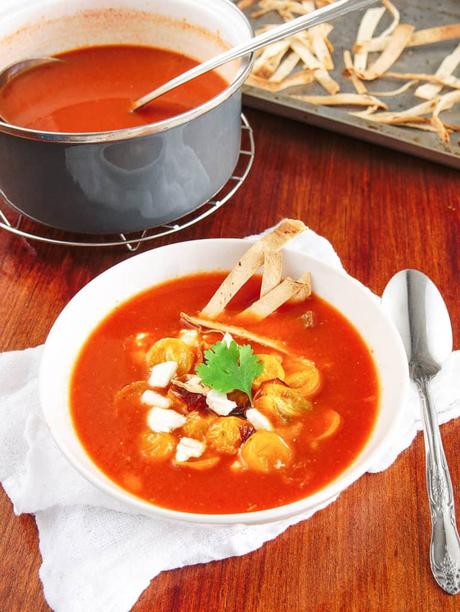 What makes this Vegetarian Taco Soup healthy?
Low in Calories: This taco soup is lower in fat and calories than the usual tortilla soup, and it's heartier and more filling. The reduction of oil and increase in fresh ingredients lowers the fat and calories. One serving has only 219 calories.
Low in Sodium: Using low sodium vegetable broth, and reducing the added salt creates a low sodium soup.
Rich in Fiber: Tomatoes are naturally rich in fiber. Fiber helps with digestion, and helps you fell fuller longer which also gives this soup it's heartiness.
Rich in Vitamins and Nutrients: Tomatoes are also rich in potassium, vitamin C, and choline which support heart health. They also contain lycopene - a powerful antioxidant!
Will kids enjoy this Vegetarian Taco Soup?
Kids love tacos, and they'll also love this taco soup! They'll enjoy customizing their soup with all their favorite toppings, as well as the added crunch from the tortilla strips.
If your kids are sensitive to spice you can decrease the chili pepper, and eliminate the cayenne or ladle a few servings into a separate pot and add the spices at the end.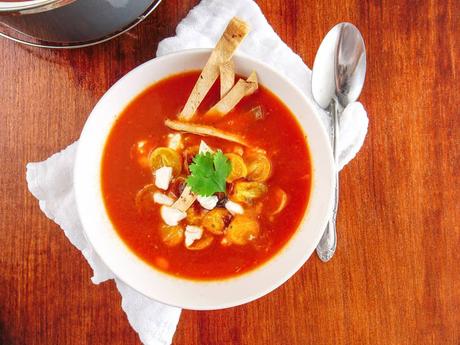 What's in Taco Soup?
Many variations of vegetarian taco soup include different types of beans, and corn, along with taco seasoning. My version of vegetarian taco soup include the traditional spices, but has a creamy tomato base, and the texture comes from the toppings.
If you'd like to make this soup heartier add a 15 oz can of drained and rinsed low-sodium black beans, and 1 cup of frozen corn.
How do you make this soup vegan?
To make this soup vegan all you need to do is leave the goat cheese off as a topping. You can sub with a vegan variety, or top with some diced avocados along with the roasted tomatoes (instead of the cheese).
Can You Freeze Vegetarian Taco Soup?
I love batch cooking soups as they are great to freeze. Simply let the soup cool completely after cooking and then pour into a sealable freezer container. The soup will keep for 3 months in the freezer, fully defrost before gently reheating. The topping you'll want to prepare fresh.
What do you serve with Vegetarian Taco Soup?
Serve with a light and crispy side salad or some homemade quesadillas, and top with some of these leftover soup toppings.
Crispy tortilla strips
Goat Cheese
Roasted Tomatoes
Mexican Shredded Cheese
Guacamole or diced avocados
This soup would also taste delicious with a side of cornbread.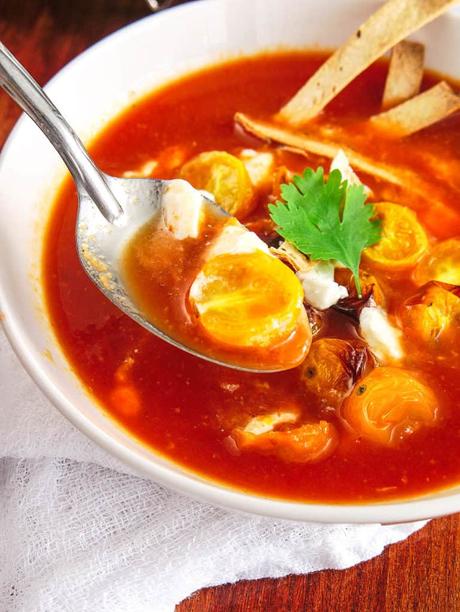 Top tips for making Vegetarian Tortilla Soup
Use a hand blender to blend the soup - if you have a stand blender, it's best to blend in batches.
Make sure the oven is preheated before baking the tortilla strips for the ultimate crunch.
Try adding corn or beans as additions to this soup.
Use a low sodium vegetable broth.
For a more complex broth, toast dry chilies on the stove for a few minutes to amp up their flavors, then re-hydrate in warm water before pureeing them with roasted tomatoes and garlic.
Add more water or broth for a thinner soup.
To meal prep, you can make the soup in advance and store in the refrigerator for up to 3 days, then prepare any toppings you're using as well as the tortilla strips when you're ready to serve.
Freeze this soup for up to 3 months.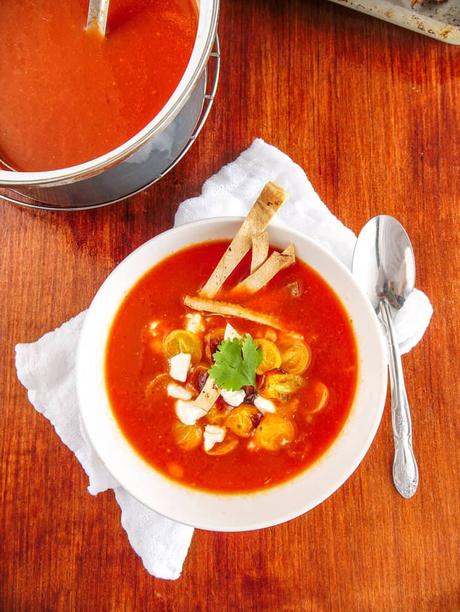 Be sure to check out these other healthy vegetarian soup recipes!
If you have tried this vegetarian taco soup recipe, or any other recipe on my blog, then please rate it and let me know how it turned out in the comments below! You can also FOLLOW ME on , , and to see more delicious, healthy, family friendly food!
Vegetarian Taco Soup with Roasted Tomato Salsa