This post may contain affiliate links. Please read my disclosure.
Vegetarian Quesadillas with Cumin and Lentils is a simple weeknight meal you can pull together in 30 minutes or less. Tortillas are stuffed with toasted cumin seeds, lentils, corn, cheese, then topped with fresh pico de gallo. It's a kid friendly meal your family will love!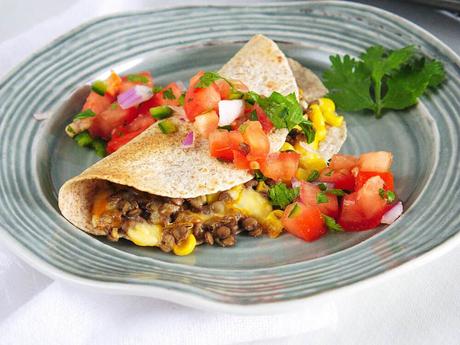 This vegetarian quesadilla recipe makes a perfect meal when you are short on time but still want something nutritious. They are baked in the oven so you can easily make them for a crowd (in bulk!), and are high in protein to keep everyone full and satisfied.
Kitchen Tools and Equipment You'll Need to Make Vegetarian Quesadillas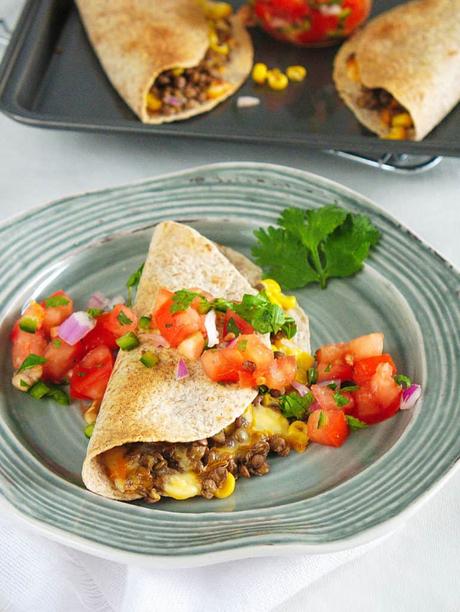 How to make Vegetarian Quesadillas with Cumin and Lentils - step by step
Step 1: Preheat oven to 350 degrees. Toast cumin seeds in large, dry skillet over medium heat 2 to 3 minutes, or until fragrant, shaking pan constantly. Transfer to small bowl, and set aside.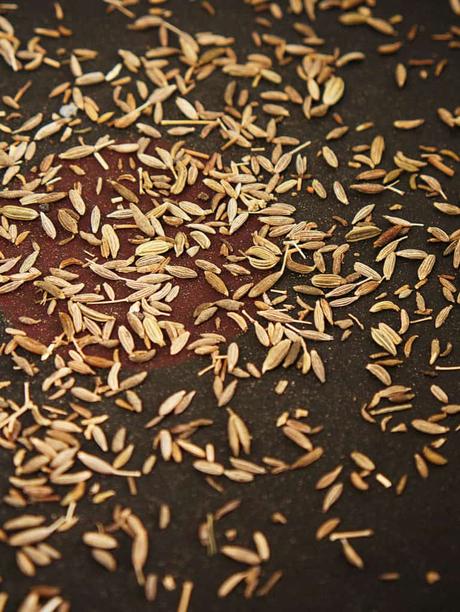 Step 2: Toast the corn in the same skillet, shaking the pan for about 5 min or until cooked through. Transfer to small bowl, set aside.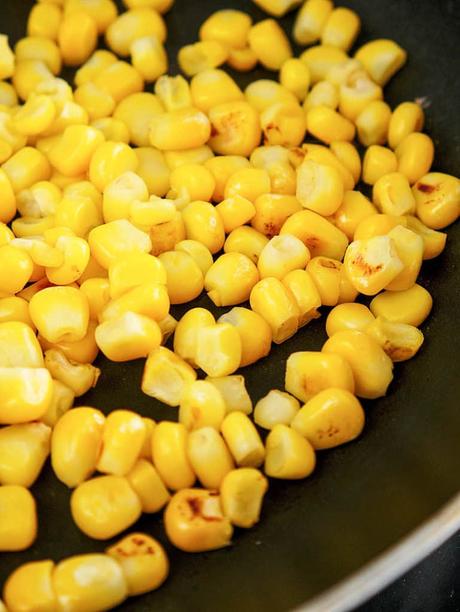 Step 3: Arrange 4 tortillas on a baking sheet sprayed with olive oil cooking spray. Sprinkle half the tortilla with ~2-3 Tbsp grated cheese, and 1/4 tsp toasted cumin seeds. Top with 1/4 cup lentils, 1/4 cup corn, and fold the other side over.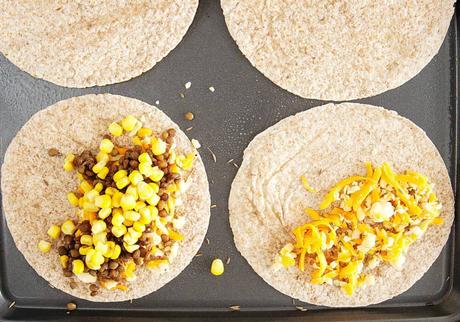 Step 4: Repeat for the next 3 tortillas.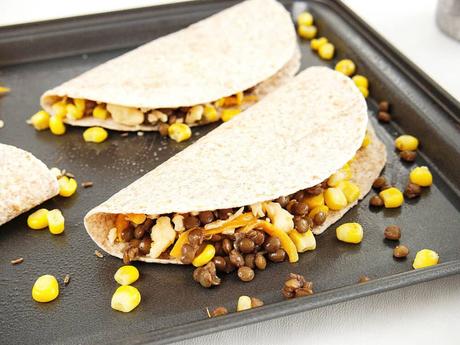 Step 5: Put the tortillas in the oven and broil for 5-10 min until the tops are lightly browned and crispy. Put the tortillas in the oven and broil for 5-10 min until the tops are lightly browned and crispy. Serve with Pico de Gallo, avocado, guacamole, Plain Greek Yogurt, or diced green onions on top!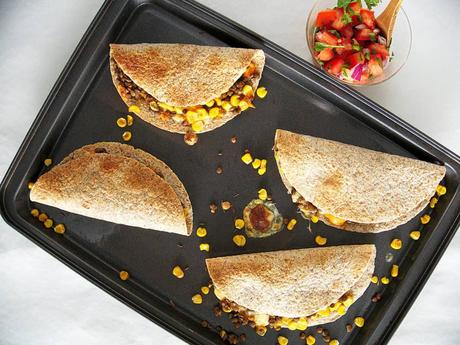 What Makes These Vegetarian Quesadillas Healthy?
We often think of quesadillas a not being particularly healthy, but this vegetarian quesadilla recipes is a perfectly well-balanced meal! Here's what gives this dish a nutritious punch:
Whole Grains: Using sprouted wheat (or whole wheat) tortillas instead of white tortillas increases the fiber and protein in this dish, and reduces the amount of refined carbs.
Plant Protein: Instead of loading on extra cheese or ground beef, these quesadillas use lentils. Lentils are a plant-protein that are high in fiber, low in calories, and high in folate and magnesium. Folate helps turn carbs into energy, and magnesium has a variety of benefits including heart health and reducing anxiety.
Baked, not fried: I chose to oven bake these lentil quesadillas, which helps reduce the amount of oil you need to get these quesadillas really crispy.
Are Vegetarian Quesadillas Kid Friendly?
Kids love quesadillas and they will love this vegetarian quesadilla recipe too. Stuffed with cheese and topped with pico de gallo, they won't realize they're getting a healthy helping of plant-based protein. If your picky eater likes beans they will probably like lentils too, since they're in the same legume family and have a similar flavor. When it comes to vegetables most picky eaters will embrace corn, it's a great starter into eating more veggies!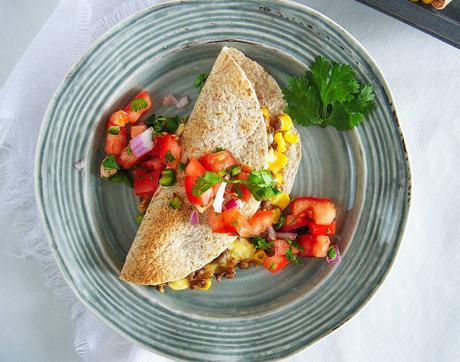 What is the difference between cumin seeds and ground cumin?
Cumin is a seed that comes from the herb Cuminum Cyminum which is a member of the parsley family. Cumin is sold both in seeds form and already ground. If you're purchasing cumin in your typical large grocery chain you will likely find it in ground form. Cumin is one of the spices that makes up many curry powder variations. It's a versatile spice that can be used in many types of dishes including Mexican dishes like this vegetarian quesadilla recipe. If you don't have cumin seeds you can use ground cumin, but you'll want to use less since ground cumin is more concentrated than cumin seeds.
What is the best cheese for quesadillas?
Monterey Jack cheese is excellent for melting which is what you want to make a good quesadilla. However, Monterey Jack can be a bit bland. Cheddar has more flavor but when it melts it tends to get greasy. Using a combination of Monterey Jack and cheddar cheese will give you the right balance between the melt and flavor factor. Buying a Mexican cheese blend is another good option to make these quesadillas stand out.
What to eat with vegetarian quesadillas?
These cumin and lentil quesadillas pair well with a simple side salad or a healthy helping of a steamed vegetable of your choice such as broccoli or cauliflower, seasoned with salt & pepper. Top these quesadillas with sliced avocado or spoon of guacamole to really put them over the top!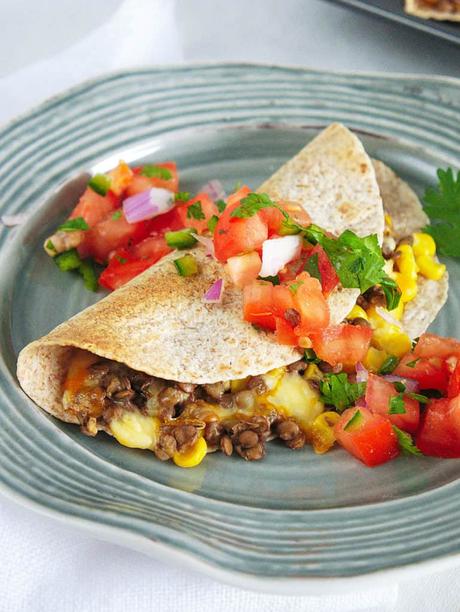 Top tips for making Vegetarian Quesadillas with Cumin and Lentils
I used frozen corn, but you can also use fresh or canned.
To save time use pre-cooked & steamed lentils. I buy mine from Trader Joes.
To reduce the overall fat in these quesadillas you can use reduced fat cheese, but you can also just use less of the full fat variety (which is what I'd recommend doing!)
Use cumin seeds rather than ground cumin. When you toast cumin seeds the oils are released which brings out a beautiful aroma.
Keep the cumin seeds from burning by constantly shaking the pan. This will also ensure they are toasted evenly.
Toasting the corn in the same pan as the cumin seeds will give the corn a nice flavor.
If you don't have sprouted wheat tortillas you can use whole wheat tortillas, gluten free tortillas, or even corn tortillas!
Stuff the quesadillas with additional vegetables you have on hand, or sub the corn for another vegetable such as red peppers or zucchini.
Spray the tortillas with a cooking spray or lightly brush the tortillas with oil to get them nice and crispy.
Top these quesadillas with slices of avocado for added creaminess and healthy fats.
Be sure to try these other healthy quesadilla recipes!
If you have tried this cumin and lentil quesadilla recipe, or any other recipe on my blog, then please rate it and let me know how it turned out in the comments below! You can also FOLLOW ME on , , and to see more delicious, healthy, family friendly food!
Vegetarian Quesadillas with Cumin and Lentils