This post may contain affiliate links. As an Amazon Associate, I earn from qualifying purchases. Please read my disclosure.
A vegetarian fajita bowl that's super simple but BIG on flavor! Brown rice serves as the base for flavorful toppings - roasted veggies, seasoned black beans, and sliced avocado. Vegan, gluten-free, & ready in just 35 minutes.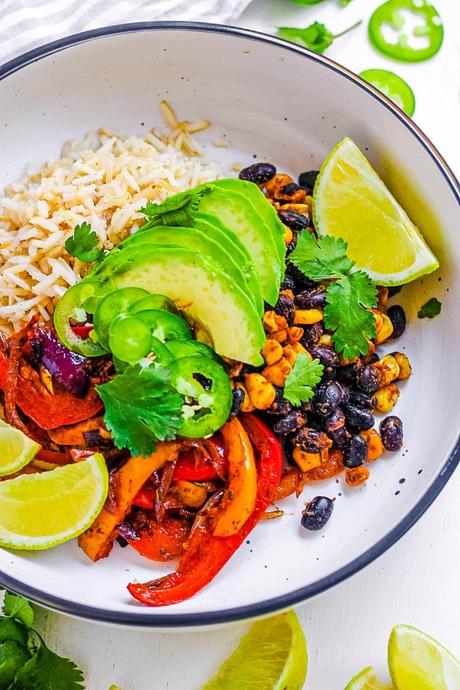 Quick and easy dinners are a MUST on busy weeknights. But there's no reason to sacrifice flavor or quality ingredients when life is hectic. This easy veggie fajita bowl is my go-to recipe when I need a no-fuss dinner everyone will devour.
Mexican-style veggie fajita bowls are easy, healthy, and perfect for meal prepping! Once the veggies are roasted and the rice is cooked, all you have to do is assemble. Assemble it the night before for a quick grab-and-go lunch.
Latest Recipe Video!
Half the fun of a veggie fajita rice bowl is the toppings! I like to top mine with sliced avocado, fresh cilantro, and sliced jalapenos. The best thing about this recipe is how simple it is to make, while still being super satisfying! It's family friendly and kid friendly too!
👩‍🍳 Why This Recipe Works
Simple to customize with your choice of healthy veggies
Quick dinner for a busy night
Full of Mexican flavors & seasoning
Turn leftovers into easy vegan fajitas (just add tortillas!)
Kid-friendly! Just omit the cayenne & jalapenos
Ready in just 35 minutes.
Easy to meal prep
Made with whole foods
🥘 Ingredients
This gluten free vegetarian fajita bowl recipe requires simple ingredients found at your local grocery store. Find the full list of ingredients and nutritional information at the bottom of this post.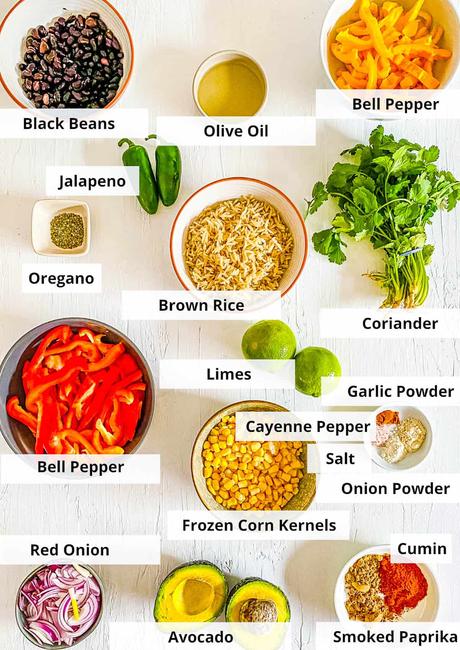 Mexican Seasoning: Homemade taco seasoning is easy to make with no additives or weird ingredients. I use paprika, coriander, cumin, cayenne, garlic powder, onion powder, oregano, and sea salt. Omit the cayenne if you don't want it spicy. If you don't have cayenne, use black pepper, crushed red pepper flakes, or chili powder instead.
Bell Peppers: I chose yellow and red bell peppers because they're sweeter than green. Feel free to use whatever you have or find on sale.
Red Onion: Onions mellow and sweeten as they cook. I prefer red onions for their purple color and distinct flavor, but sweet or yellow onions work too.
Olive Oil: To roast the veggies! Any neutral flavored oil works great. Canola or vegetable oil are good options.
Frozen Corn: Frozen corn has a superior texture to canned corn, but both work. If you use canned corn, just be sure to drain it thoroughly first.
Black Beans: For a healthy dose of plant-based protein!
Brown Rice: Brown rice is less processed than white rice, with plenty of dietary fiber and antioxidants.
Toppings: Toppings are the best part of these healthy fajita bowls! Add fresh avocado, minced cilantro, and a fresh squeeze of lime juice! See variations below for additional flavors and toppings ideas!
📖 Variations
Customize this veggie fajita bowl recipe any way you like!
Base: Switch up the rice! Instead of brown rice, try white rice, cilantro lime rice, riced cauliflower or cilantro lime cauliflower rice. You could also use cooked quinoa, chopped romaine, or roasted sweet potatoes.
Veggies: For the fajita vegetables, use whatever you like. Baby bella mushrooms, cherry tomatoes, broccoli, bell peppers, and summer squash taste delicious roasted.
Toppings: Don't forget additional toppings! Sliced avocado, sour cream, crushed tortilla chips, fresh cilantro, cotija cheese, diced white onions, refried beans, pico de gallo, lime zest, shredded Mexican cheese (or shredded vegan cheese), and a dollop of guacamole are great options.
Protein: Add grilled tofu, or if you eat meat, grilled steak or chicken.
Low Carb: Swap regular rice with cauliflower rice, omit the corn and beans, and double up on the roasted veggies.
Fajita Veggies Chipotle Bowl: If you love chipotle, I hear ya! To make the veggies taste just like Chipotle's, use green bell pepper and sauté in a large skillet with olive oil until soft and caramelized.
🔪 How To Make A Vegetarian Fajita Bowl
Preheat Oven & Make Fajita Seasoning: Preheat your oven to 350 degrees Fahrenheit. Measure the spices into a small bowl and mix together.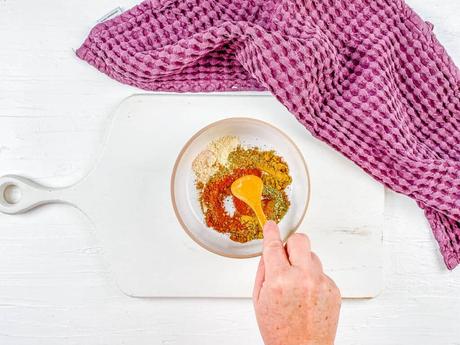 Coat Fresh Veggies: Place the onion and bell peppers into a large bowl, then toss with the oil and half of the seasoning.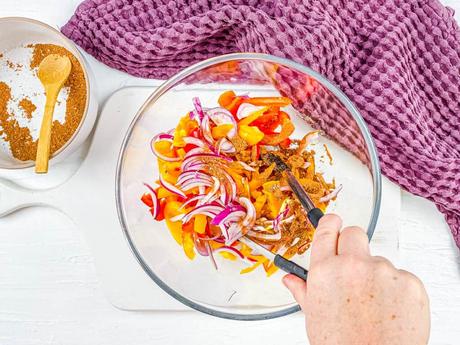 Roast Veggies: Transfer the fajita style veggies to a baking sheet and roast for 10 to 15 minutes.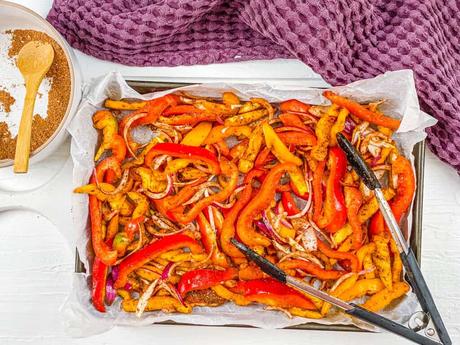 Heat Corn & Beans: While the veggies roast, heat the black beans and corn in a small skillet until hot. Stir in the remaining seasoning.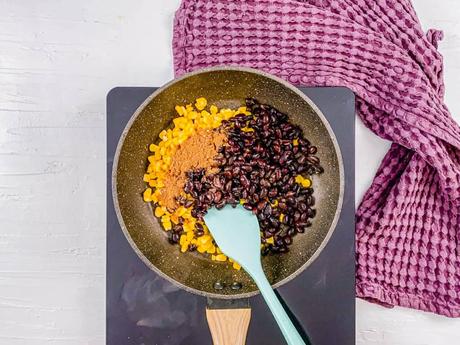 Assemble Veggie Bowls: Reheat the cooked rice, then divide it between 3 to 4 bowls. Top each bowl with some of the corn mixture. Then add the rest of the ingredients - top each burrito bowl with fajita veggies, sliced avocado, lime wedges, cilantro, or any of your favorite toppings. Enjoy!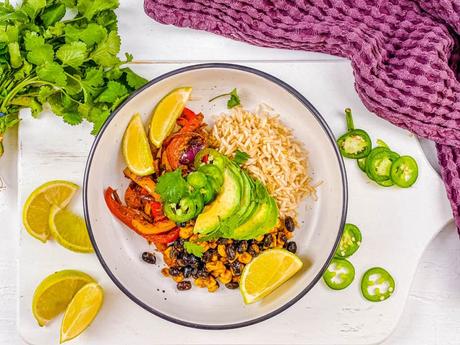 ❓ Recipe FAQs
What is a fajita bowl?
A fajita bowl is a rice bowl made with all the elements of fajitas, just without the tortilla! Rice gets topped with roasted bell peppers and onions, sometimes tofu, chicken, or steak, and plenty of toppings. Toppings can include black beans, corn, pico de gallo, avocado, sour cream, shredded cheese, guacamole, or diced tomatoes.
How do you store leftover vegan fajita bowls?
Store leftovers in an airtight container in the refrigerator for up to 3 days. Reheat in the microwave until warmed through, then add toppings like avocado and cilantro.
What should I serve with veggie fajita bowls?
You can serve these vegetarian bowls all on their own, or add more toppings! Try topping these vegetarian taco bowls with shredded lettuce, sliced avocado, sour cream, and diced tomatoes. Or to serve with some tasty sides, serve with chips, salsa, and guacamole!
Are burrito bowls healthy?
Yes, but it largely depends on what's in them! This vegan mexican bowl recipe is packed with nutrients from the brown rice and roasted veggies. Sliced avocado provides healthy fats and the black beans provide plant-based protein. We use lots of spices instead of extra calorie-dense foods to add flavor - making these veggie fajita bowls super healthy.
On the other hand, if you end up with a burrito bowl that has a ton of cheese, sauces, and calorie rich toppings (too much guac, sour cream, etc) - then it won't be as healthy because it'll be packed with calories and extra fat!
💭 Expert Tips
You can also cook the veggies in a large skillet. Heat the olive oil over medium-high heat, then add the sliced peppers and onions. Sauté until soft and caramelized on the edges.
If you don't want to bother cooking rice, use steam-in-bag white rice. It's ready in less than 2 minutes.
If you want the fajita veggies to be caramelized, increase the oven temperature to 400 degrees and add 5 to 10 minutes.
Turn this vegetarian burrito bowl into tacos or regular fajitas! Serve with warm tortillas.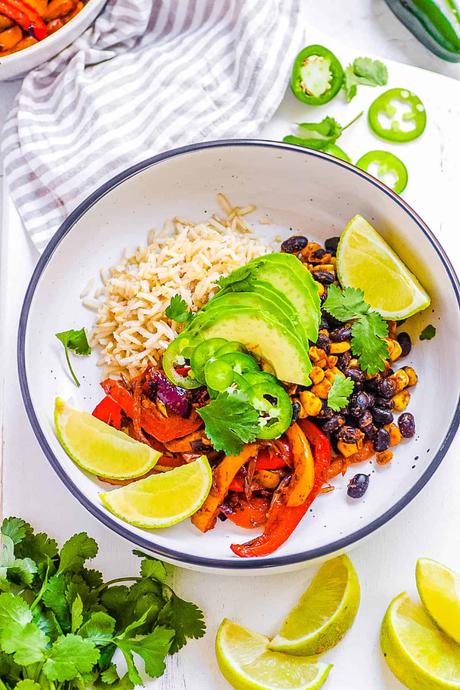 🌮 More Mexican Recipes!
I never tire of Mexican food! Try one of these delicious recipe ideas with Mexican flair.
📋 Recipe Card
Vegetarian Fajita Bowl