Blogging Marathon# 31: Week 2/ Day 3
Theme: Meatless Dishes
Dish: Vegetarian Eggplant 'Meatballs'
'Meatless' Meatballs are one of my son's favorite dishes. I keep some store bought ones in the freezer for quick meal options. I posted a
recipe
using soy crumbles earlier. Today's recipe uses eggplant and I was surprised how moist and 'meaty' these meatballs taste (by 'meaty' I mean they have lot of body or bulk, don't know how else to express that :-))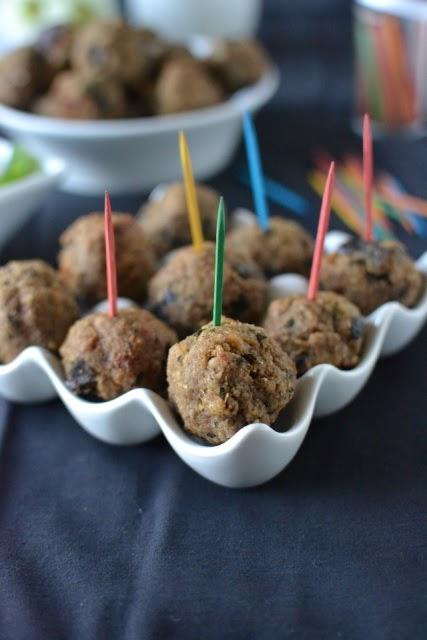 Meatballs are great with some tomato sauce in pasta or on a salad or just to munch on as appetizer. I flavored these meatballs with mint and parsley to give them a Mediterranean flavor. I served them with homemade
tzatziki
 and it was a very delicious combination.
Recipe for the meatballs is from the cookbook '
Totally Vegetarian
' by Toni Fiore. As written, the recipe has walnuts as optional ingredient. But to me it seemed like a very essential ingredient, walnuts give the meatballs body and crunch that I really liked. It is up to you to use them or not.
The recipe is very simple with very few main ingredients; eggplant and walnuts along with bread crumbs and eggs (can be easily substituted with vegan egg substitutes like flax meal or egg replacer) for binding and flavorings -- that's it.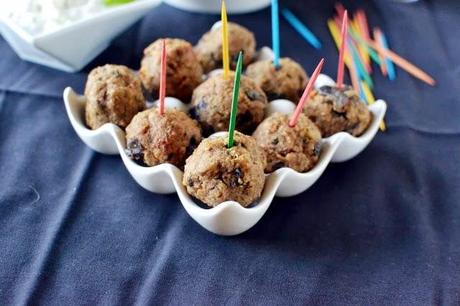 Ingredients
:
Eggplant - 1 medium, chopped
Onion - 1 medium, chopped
Walnuts - 1cup, toasted and chopped (optional, but highly recommended)
Garlic - 2 cloves, minced
Bread crumbs - 1cup
Parmesan cheese - 1 cup, grated
Egg replacer - 2tbsp mixed in 6tbsp water (can be subbed with flax eggs or 2 regular eggs or ½cup of firm tofu that is pureed) Lemon Zest - 1tbsp Dried Parsley - 1tbsp
Dried Oregano - 1tbsp
Fresh Mint - ½cup, chopped (substitute with ½cup basil)
Salt & Pepper - to taste
Method
:
Preheat oven to 375°F. Line a baking sheet with foil and spray with cooking spray.
Heat 2tbsp oil in saute pan, add onions and minced garlic. Cook for 4-5 minutes or until onions are translucent. Next add the chopped eggplant and salt. Cover and cook until eggplant is tender, about 5-6 minutes.
Turn off the heat and add the chopped walnuts. Cool the mixture a little, then take about a good 1cup of this mixture and blend to a smooth paste.
Add the paste to a mixing bowl along with the remaining eggplant-walnut mixture, bread crumbs, parmesan cheese, egg replacer (or eggs), lemon zest, dried parsley, oregano, chopped mint, salt and pepper. Mix well until the mixture comes together. If it looks too wet, add more bread crumbs. My mixture came together without adding any more ingredients.
Take about 1tbsp of the mixture and form small lemon size balls and place them on the prepared baking sheet. Bake in preheated oven for 20-25 minutes or until the meatballs are golden and coked through.
Remove them from the oven and cover them loosely with foil, so they can steam for a little bit. Serve as desired.
I served the meatballs over mixed greens with chopped tomatoes, cucumbers, chickpeas and feta cheese for a simple and filling meal.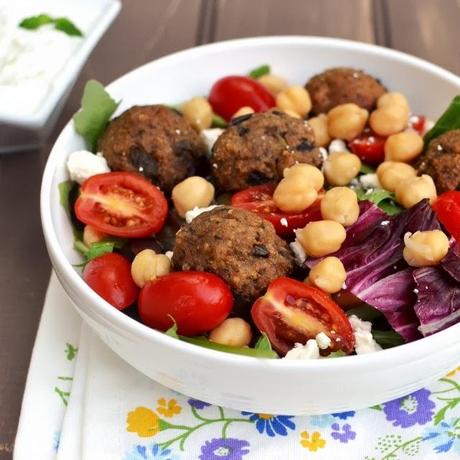 Tzatziki Sauce
: Recipe was from Sarah Carey @ Everyday Food and it is takes just 10 minutes or even less to put it together. I guess the time consuming part of the recipe is chopping the cucumber and squeezing out the extra water. English cucumbers work very well because they don't have too many seeds and have less water too. This recipe uses greek yogurt and sour cream.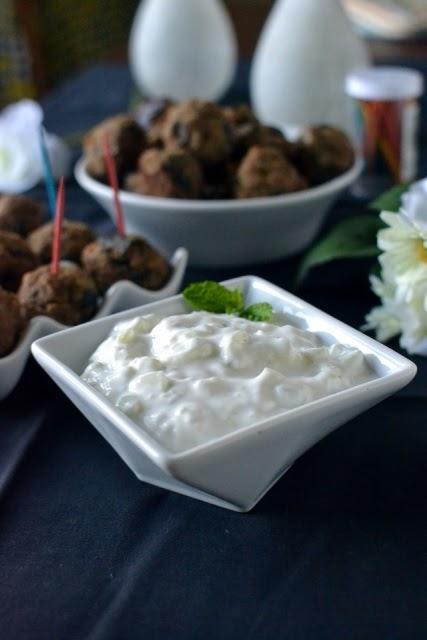 Ingredients
:
Cucumber - 1 small, peeled and finely chopped
Garlic - 1clove, finely minced or grated
Sour Cream - ½cup
Greek Yogurt - ½cup
Salt & Pepper - to taste
Extra virgin Olive Oil - 2tsp
Method
:
Squeeze out as much water as possible from the cucumber.
Add it to the bowl along with all the other ingredients. Mix well and chill for 30 minutes or up to 2 days before serving.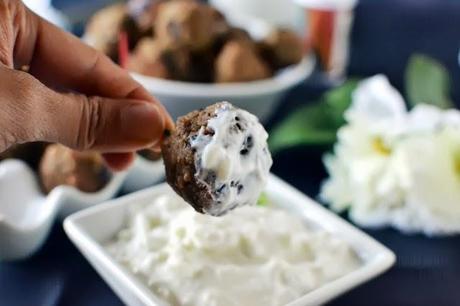 Lets check out what my fellow marathoners have cooked today for 
BM# 31
.