This post may contain affiliate links. Please read my disclosure.
We took out the insides of an egg roll, and put them in a bowl! It's easy to make, vegetarian, vegan, gluten-free, keto-friendly, and is ready in just 30 minutes. This egg roll in a bowl recipe is a flavorful, healthy one-pan meal that the whole family will love!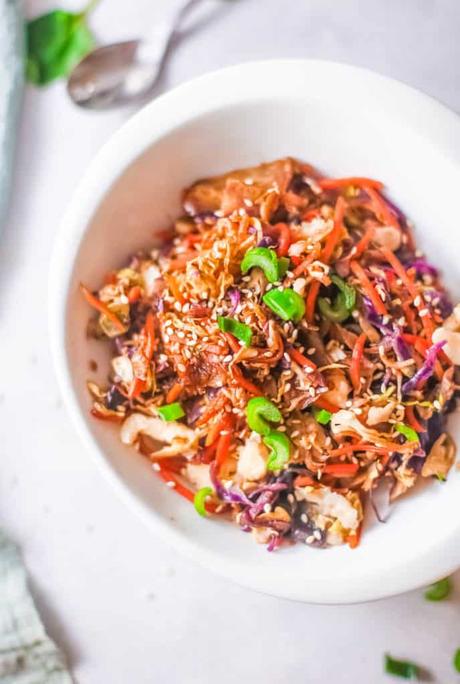 This egg roll in a bowl is a fun new way to experiment with food! I love a spin on classic recipes. You and your family are going to love it so much, you might never look at egg rolls the same again! It's what's on the inside that counts, right?
It is so important for me and my family to have healthy meals that aren't heavily fried. We love getting traditional egg rolls when we order Chinese takeout, but that's more of a once-in-a-while indulgence because traditional egg rolls will run you about 200 calories and 11g fat for one tiny roll.
This bowl has all of the flavor or a traditional egg roll without any of the guilt! But it feels like it should be unhealthy because of how good it tastes. My favorite part of this recipe is that the whole thing is made in one pan. This makes it so easy for clean-up.
Why You'll Love This Egg Roll in a Bowl Recipe
All of the flavor, none of the guilt: There's no deep frying happening here!
Easy prep: Using a pre-shredded bag of coleslaw mix saves so much time.
Easy cleanup: Just one pan and you're done!
Easily made keto: With just 3 substitutions, you can make this recipe Keto. Use eggs instead of tofu, tamari instead of soy sauce, and omit the cashews and you'll end up with a recipe that has only 2.3 net carbs per serving!
Flavorful and spicy: Ginger, garlic, crushed red pepper, and siracha all add amazing flavor to this dish.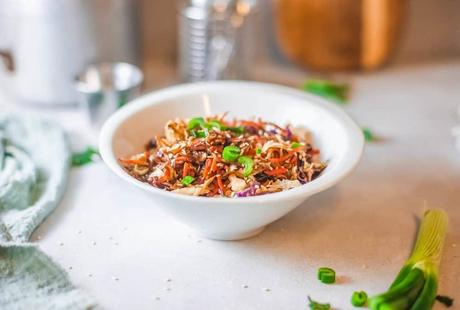 Tofu or Eggs (for Keto): If using tofu, use a Tofu Press to get all the water removed effectively
Spices: Garlic, Ginger, Salt, Crushed Red Pepper, Soy Sauce or Tamari (for a keto-friendly and gluten-free option)
Egg Roll Veggies: 4 cups shredded coleslaw mix (carrots, cabbage) OR 2 cups shredded carrots + 2 cups shredded cabbage
Toppings: 1/2 cup sliced green onions, sesame seeds, cashews (omit for keto), cilantro, siracha for added flavor and texture
Recipe Ingredients and Notes
Step by Step Instructions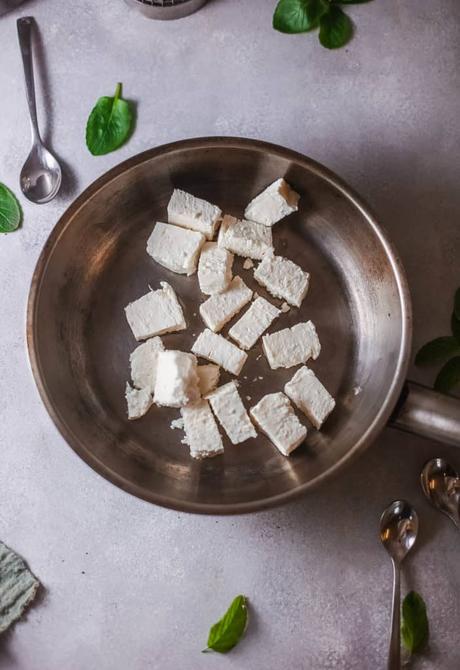 Step 1: In a large pan over medium heat, add 1/2 tbsp olive oil and tofu - crumbling the tofu with a wooden spoon and cooking until the tofu is golden brown (about 5-10 min). Remove the tofu from the pan and set aside.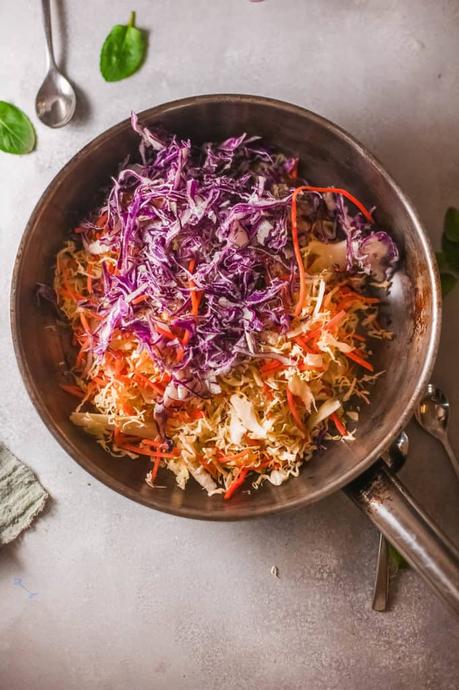 Step 2: Heat the pan over medium heat again, add 1/2 tbsp olive oil and add the remaining ingredients - garlic through salt/crushed red pepper to taste. Cook until the cabbage and carrots are slightly wilted and cooked through - about 5-10 minutes.
Step 3: Add the tofu back into the pan and stir to combine. Warm through for 5 minutes.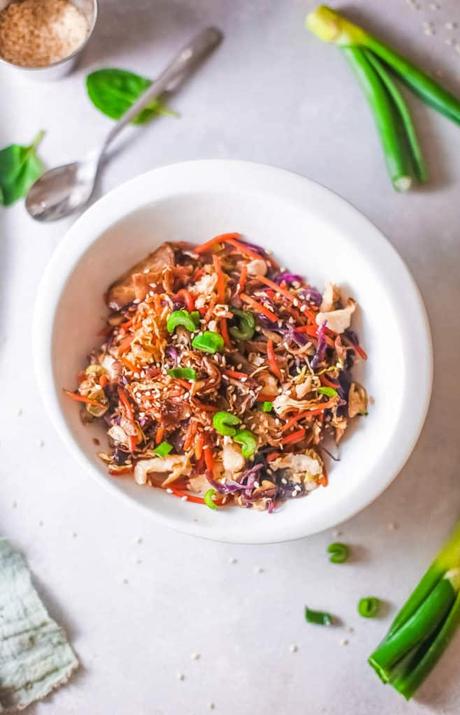 Step 4: Serve topped with green onions, sesame seeds, chopped cashews, siracha, and/or cilantro
High-Protein: Each serving of this recipe has 10g of plant protein!
Low Sugar and low carb: There is barely any sugar in each serving! The less sugar in a recipe, the better because low-sugar recipes help reduce the risk of inflammation. Additionally, even with the tofu, each serving of this recipe has only 5 grams net carbs (and only 2.3 grams net carbs with the keto substitutions)
Anti-Inflammatory: Garlic, onion and cabbage all have anti-inflammatory properties, along with Vitamin K and C.
What Makes This Vegetarian Egg Roll in a Bowl A Healthy Meal?
Will Kids Enjoy This Recipe?
If your kids are sensitive to spice, leave out the siracha and the crushed red pepper for their servings.
If your kids are pickier about veggies, you can always chop up the shredded coleslaw mix so that the veggies are even smaller, and add more tofu if that's something your kids enjoy.
Feel free to also turn this recipe into an eggroll by filling this within a wrap if your kids are requesting it!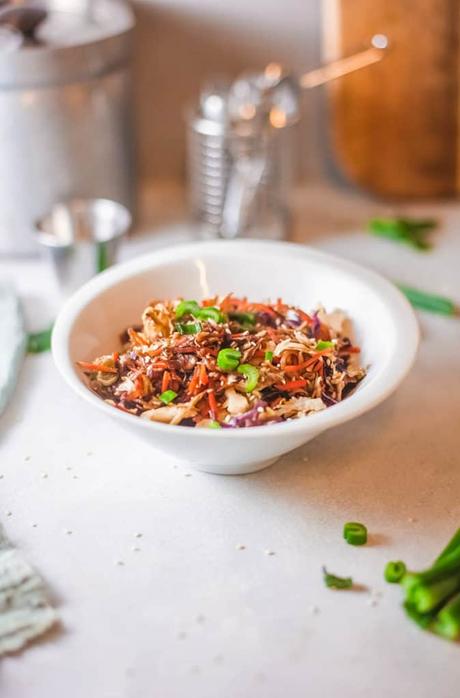 What Goes Well With Egg Roll in a Bowl?
Yes! This recipe is a fresher, tastier version of eggrolls without the wrap! Some additional tips when serving this recipe to kids:
Can You Freeze This Recipe?
Recipe FAQs
Can I Turn This Recipe into Egg Rolls?
Some of my favorite dishes to serve alongside this recipe are: brown rice, quinoa, or cauliflower rice for even more veggies; a side salad, or you can use lettuce wraps and turn this dish into a low carb wrap!
Unfortunately, tofu and cooked cabbage are ingredients that don't freeze that well. They tend to change texture and get more watery after being frozen. However, this recipe keeps really well in the fridge in an airtight container for up to 4-5 days!
Substitute 4 scrambled eggs for the tofu for a keto-friendly, low-carb and vegetarian friendly variation
Try tamari for a keto-friendly and gluten free option
If you don't have soy sauce or tamari, you can use coconut aminos
Top with anything you like! Switch up the hot sauce or add peanuts, almonds or diced red onions
Add in any of your favorite veggies: from broccoli, to water chestnuts, to asparagus to cauliflower - anything cut in a very small dice / shredded would work well.
Yes! You can put this recipe (the filling) in a wrapper, fold and seal with water or egg mixture, and fry in a pot of oil for 3-5 minutes until the outsides are browned. Feel free to research further how to make egg rolls so you can get the best results with this mixture!
Make sure you press your tofu before adding it to the pan. You don't want your final dish to turn out watery!
If you want to add some heat to this recipe, feel free to add a chopped jalapeno pepper while sautéing the veggies.
If you don't have coleslaw mix, try shredding carrots and cabbage in a food processor
You can can serve this mix over brown rice, quinoa, cauliflower rice, or in lettuce wraps
This meal is great for meal prep - you can make it the night before and enjoy it for 3-4 days!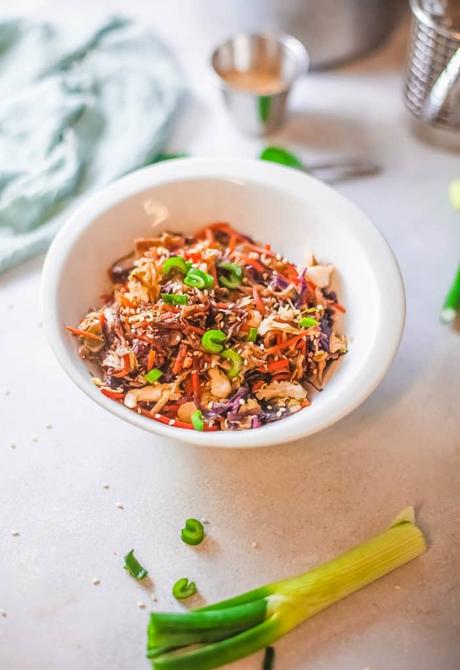 If you have tried this Egg Roll in a Bowl recipe, or any other recipe on my blog, then please rate it and let me know how it turned out in the comments below! You can also FOLLOW ME on
FACEBOOK
,
TWITTER
, INSTAGRAM and
PINTEREST
to see more delicious, healthy, family friendly food.
Recipe Variations
Top Tips For Making The Best Egg Roll in a Bowl
Check Out These Other Creative Recipes:
Vegetarian Egg Roll in a Bowl