This post may contain affiliate links. Please read my disclosure.
This vegetarian black eyed peas recipe for Hoppin' John is a healthy and meatless version of the southern classic. Onions, bell pepper, celery, and kale are sautéed in spices with black eyed peas and a smoky finish served with brown rice. It's a complete meal in one pan!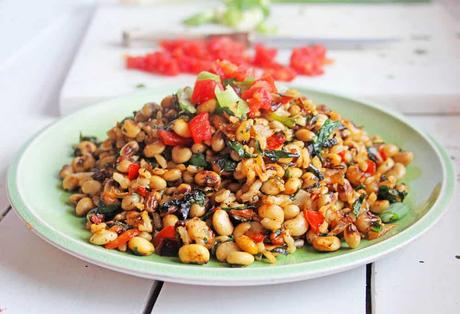 This is a great recipe for when you don't know what to have for dinner! It's made with pantry basics and comes together so quickly for a healthy meal for the whole family. This vegetarian and vegan Hoppin' John recipe is an easy, delicious and nutritious weeknight meal. It's made with brown rice, tons of veggies, and black eyed peas. Packed full of flavor this is a great family meal that everyone will love!
Kitchen Tools and Equipment You'll Need to Make this Vegetarian Black Eyed Peas Recipe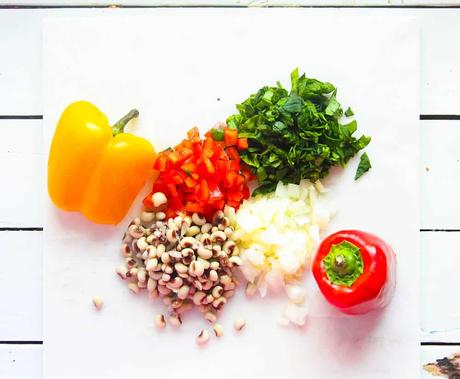 How to make this Vegetarian Black-Eyed Peas Recipe - Step by Step
Step 1: Heat a large nonstick skillet over medium-high heat. Add oil; swirl to coat. Add onion, bell pepper, and celery; sauté 10 minutes. Add garlic; cook 2-3 more minutes.
Step 2: Cook brown rice according to package directions.
Step 3: Add spices (salt through black pepper) and kale to skillet, cook another 5-10 minutes until combined.
Step 4: Add black eyed peas and cook another 5-10 minutes.
Step 5: Add in cooked rice, stir until combined.
Step 6: Serve with diced tomato and green onions for topping
What makes this Vegetarian Black-Eyed Peas recipe healthy?
Loaded with Vegetables: This version of Hoppin Johns is loaded with nutrient rich veggies. Onions and garlic are naturally anti-fungal and antibacterial, making them a natural antibiotic. Bell peppers are an excellent source of vitamin A, vitamin C, and potassium. Celery contains vitamins A, K, and C, and potassium and folate.
Low in Fat and Calories: The traditional Hoppin' John recipe calls for bacon. Leaving the bacon out of this vegan version reduces the fat and calories. Each hearty serving is only 383 calories, with 21g of protein and only 1g of saturated fat.
High in Fiber: Black eyed peas are high in plant protein and fiber. They help reduce the risk of heart disease, and cholesterol.
Whole Grains: The traditional version uses Carolina yellow rice. Brown rice is used in this to increase the fiber.
Kale is a Superfood: Kale is a superfood packed with vitamins A, C, and K. It contains antioxidants, good fat in the form of omega-3s, and fiber. In addition, kale is proven to improve cholesterol.
Will kids like this vegetarian black eyed peas recipe?
My kids enjoyed eating this recipe. It's not too spicy and the black eyed peas are very mild and have a soft texture which is perfect for toddlers and young children. The kale in this dish is sautéed which softens the leaves and makes it easier to chew. If your kids aren't fans of kale you can just move it to the side and serve them a bowl without, or you can chop up the kale super fine so that when it cooks down it resembles more of an herb than a leafy green!
You can also cut down on the smoked paprika and crushed red peppers, to make it a slightly subtler flavor for the little ones.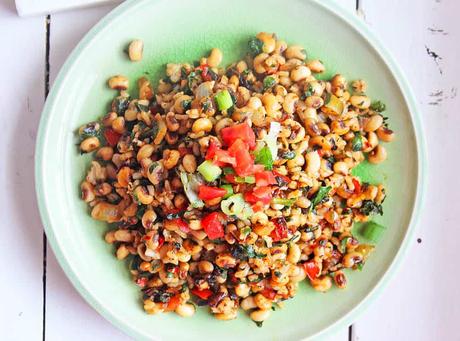 What are black eyed peas?
Black-eyed peas are part of the family of beans & peas. Although called a pea, it is actually a bean. Black-eyed peas are packed with health benefits: they contain anti-inflammatory compounds, fiber, and protein.
Why is this vegetarian black-eyed peas recipe called Hoppin' John?
Hoppin' John has it's roots in the Southern US and is often known as Carolina peas and rice. Made with black eyed peas, rice, onion and seasoned, it's a simple dish that's made in one pot. Traditionally bacon is added, but this is obviously omitted in my vegan version.
According to the website History, in their article Hoppin' John A New Year's Tradition, there are several different stories regarding where the name Hoppin' John originated. Hoppin' John is a dish that originated in South Carolina during the slave trade. One story says that it got its name from an old man named Hoppin' John who sold peas and rice in Charleston. The most plausible story according to historians is that the name derives from the french phrase for dried peas, "pois pigeons."
Why do people eat Hoppin' John on New Year's Day?
This traditional southern dish is eaten on New Year's Day in many southern homes because it represents luck in the coming year. Hoppin John is often served with cornbread and collard greens, representing gold and paper money, while the black eyed peas represent coins.
How do you store this vegetarian black eyed peas recipe?
This is a great dish to make a large batch of as it keeps really well! It will last in the fridge in an airtight container for around 5 days and it also freezes well. It is great eaten when just cooked, but you can also have this as a cold lunch (like a cold salad!).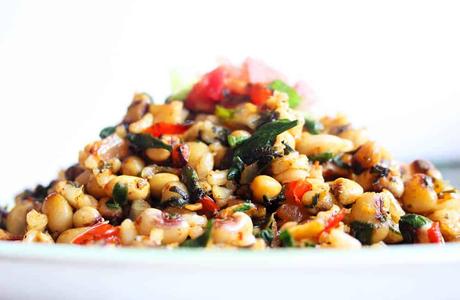 What do you serve with this vegetarian black eyed peas recipe?
This dish is one bowl meal. It's full of vegetables, protein, and whole grains. But if you're looking to go the traditional route or want to serve it on New Year's Day for good luck, serve it with golden cornbread and collard greens. Top with diced onions and fresh tomatoes.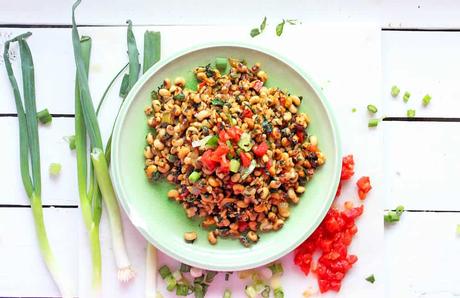 Top Tips for Making this Vegetarian Black-Eyed Peas Recipe
You don't need a lot of oil to sauté the vegetables. Adding too much oil increases the fat and calories. You need just enough to coat the vegetables, 1 tablespoon.
Add the garlic after the other vegetables have sautéed. This will keep the garlic from burning and enhance the garlic flavor.
Brown rice can take 45-55 minutes to cook. Start cooking the brown rice before you begin chopping your vegetables for the Vegan Hoppin' Johns so that is ready when it's time to add it to the sauté pan.
Drain and rinse the black eyed peas before adding them to the pan.
The smoky paprika is what gives this dish a smoky flavor with using bacon. You can increase this spice if you like a smokier finish.
Cut back or remove the crushed pepper and smoked paprika if you want to make it subtler for the kids.
CHECK OUT THESE OTHER VEGETARIAN AND VEGAN RECIPES!
If you have tried this Vegetarian Black-Eyed Peas recipe for Hoppin' John, or any other recipe on my blog, then please rate it and let me know how it turned out in the comments below! You can also FOLLOW ME on FACEBOOK, TWITTER, INSTAGRAM and PINTEREST to see more delicious, healthy, family friendly food!
Vegetarian Black-Eyed Peas