This post may contain affiliate links. Please read my disclosure.
This Vegetarian Black Bean Soup is so hearty and packed with flavor! The kale and hominy blend perfectly to create a rich and robust soup that's ideal in the cold winter months.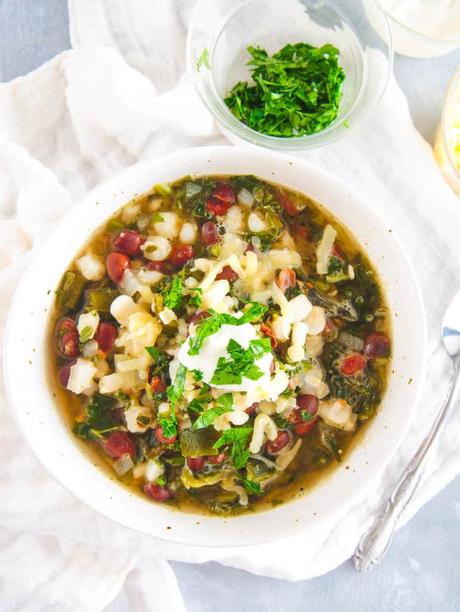 My first experience with hominy was about 10 years ago, when I ate the most delicious vegetarian posole at one of my favorite cafes. I had no idea that hominy was made from corn (maize to be exact), or how it was made.
Hominy has a unique, mild flavor, and is perfect in southwestern dishes - especially soups and stews! In this recipe, it gives the soup a great hearty texture that's guaranteed to please vegetarians and meat-eaters alike!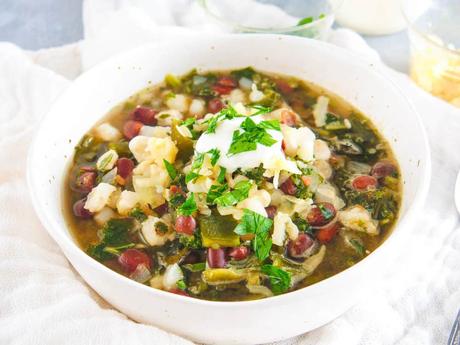 Our family ate this recipe with some baked tortilla chips for some added crunch. It took me about 40 minutes to prepare on a weeknight when I got home from work. I loved how quick and easy it was to make.
This will be a crowd pleaser in your home for sure! You can also add many toppings to customize it to your own taste. I suggest grated cheese, low fat sour cream, low fat Greek yogurt, diced avocado, crushed tortilla chips, or diced tomatoes.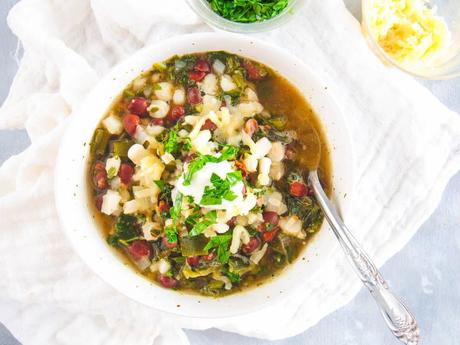 Tools and Equipment You'll Need for This Vegetarian Black Bean Soup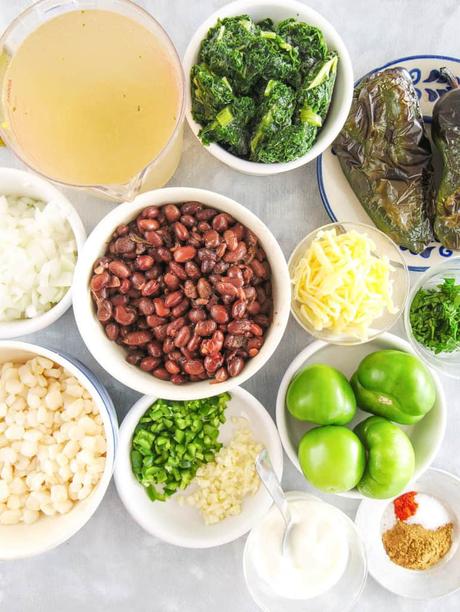 How To Make Vegetarian Black Bean Soup - Step by Step
Step 1 (Option 1 - takes longer, requires roasting poblano peppers): Preheat broiler to high. Place poblano chiles on a foil-lined baking sheet. Broil 7 minutes on each side or until blackened and charred. Place in a paper bag; fold to close tightly. Let stand 15 minutes. Peel chiles; cut in half lengthwise. Discard seeds and membranes; coarsely chop. Set aside.
Step 1 (Option 2 - takes less time): Alternatively, you can just dice the poblano chiles and throw them into the pot with the onions & jalapeño if you don't feel like roasting them! This is a good option if you're short on time.
Step 2: Heat a Dutch oven over medium heat. Add oil to pan; swirl to coat. Add onion and jalapeño; sauté 5 minutes or until tender, stirring occasionally.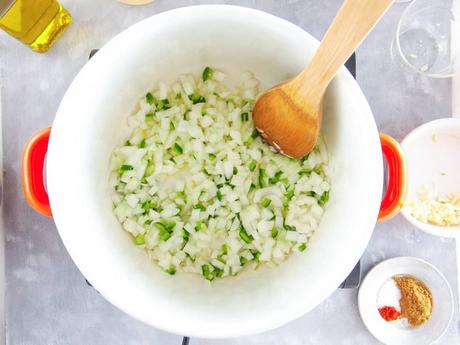 Step 3: Meanwhile, place the tomatillos in a food processor, and process until smooth. Set aside. Add garlic and cumin to the pot; sauté 1 minute, stirring constantly.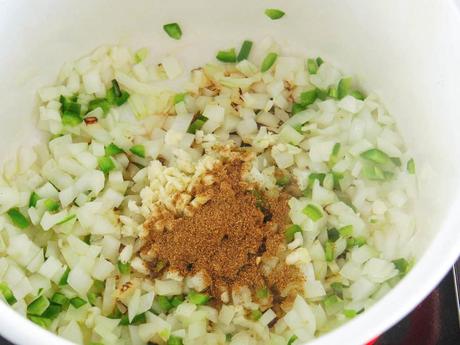 Step 4: Add tomatillos, broth, and next 4 ingredients (through kale); bring to a boil.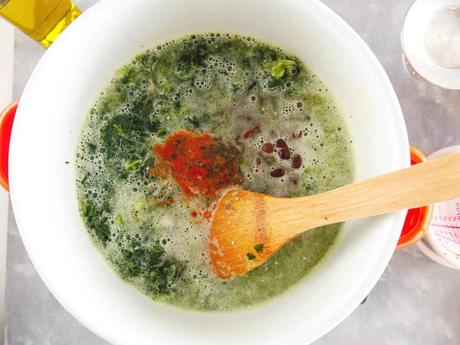 Step 5: Cover, reduce heat, and simmer for 10 minutes or until vegetables are tender. Add roasted poblanos (if roasting them add it at this point, if not you should add the poblanos at step 1) and hominy; cook for 2 minutes or until heated through.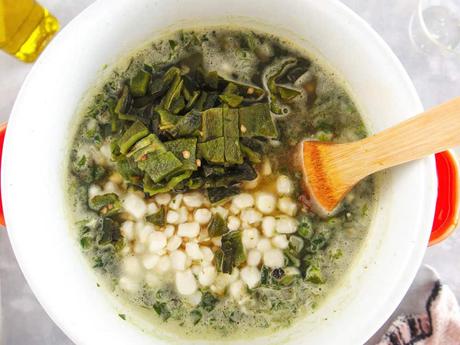 Step 6: Ladle into each of 4 shallow bowls; top evenly with sour cream/Greek yogurt and/or cheese. Sprinkle with cilantro.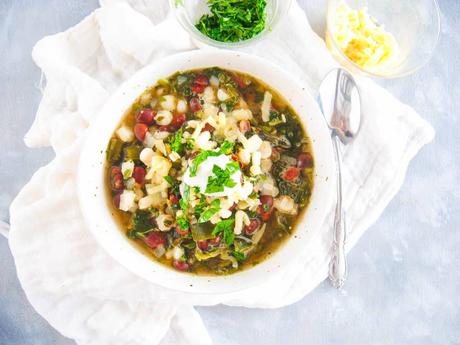 Is Vegetarian Black Bean Soup with Kale and Hominy healthy?
Health Benefits of Kale: Kale is one of the healthiest foods on the planet! When buying kale be sure to go organic to reduce exposure to pesticides. Kale is high in fiber, potassium, antioxidants, calcium, vitamin K and vitamin C among other nutrients.
High in Plant-Protein: There are about 14 grams of protein per serving in this soup. The protein comes from the beans. You also might be surprised to know that protein is found in many vegetables too. One cup of chopped kale contains 3 grams of protein.
Whole Grains from the Hominy: Hominy is a whole grain originating from corn. Whole grains provide essential carbohydrates that provide energy without spiking your blood sugar the way refined grains and carbohydrates do.
High in Fiber: One serving has 11 grams of fiber. The fiber is this soup comes from the beans, hominy, and kale. It is important to consume the recommended amount of fiber each day because it not only helps with satiety, it also helps with digestion, and has been shown to help reduce the risk of many chronic conditions including heart disease and diabetes.
Low in Fat and Calories: One large serving of this soup contains only 266 calories and less than 8 grams of fat. It is hearty, filling, and full of nutrients.
Will kids enjoy this Vegetarian Black Bean Soup with Kale and Hominy?
This soup is a bit on the spicy side. It also has kale which can be hit or miss with many kids. If your kids are sensitive to spice, I suggest making the kids their own vegetarian black bean soup on the side while you make the main soup. In the kids version, leave out the jalapeno and poblano peppers. Another option is to make this soup without the jalapeno peppers and use green bell peppers instead of the poblano peppers, and then add some cayenne at the end to the adult portions of the soup. If your kids tend to reject kale, I suggest chopping it up very fine and letting it cook down into the soup so it's barely noticeable!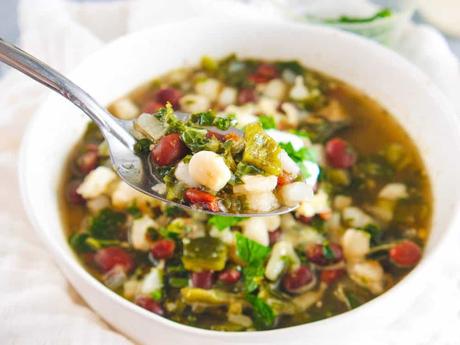 What is hominy made of?
Hominy comes from corn. The kernels are soaked in an alkaline solution of lime lye. When it soaks the hull and germ of the corn is removed. The kernel then puffs up and increases to twice its size, creating a chewy texture when cooked.
Using Dried vs. Canned Hominy
Hominy comes prepared in a can, or you can prepare it yourself using dried hominy. The taste and texture of hominy is superior when you make it yourself. However, it does take quite some time and planning ahead to prepare it prior to using it in this soup or other recipes. If you decide to use canned hominy, like I did for this recipe, I suggest finding one that contains only hominy, salt and water. Drain, and rinse the hominy thoroughly before adding it to the soup.
How do you prepare dried hominy?
Step 1: Place 16 oz package of dried hominy in a bowl. Cover with one inch of water, and allow to soak overnight.
Step 2: When ready to cook, drain kernels from soaking water. Place in a large pot. Cover with 5 cups of water or broth. Add salt to water if desired. Bring to a boil. Reduce heat, cover, and simmer for one hour or until hominy is tender.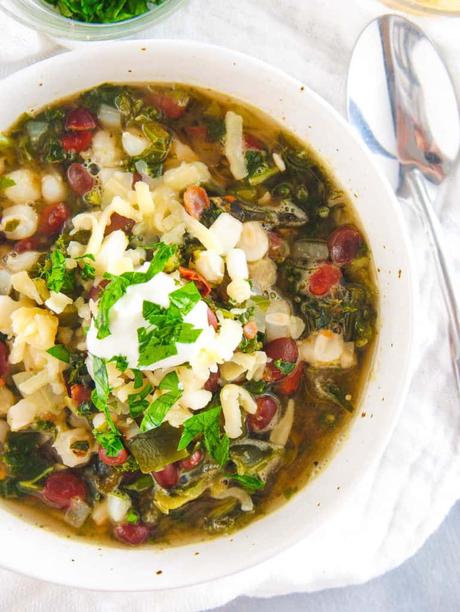 What do you serve with this Vegetarian Black Bean Soup?
There are so many delicious toppings you can put on this soup. Here are some of my suggestions.
Low fat sour cream
Plain Greek Yogurt
Diced avocado
Crushed tortilla chips
Diced tomatoes
Cilantro
Grated cheese
Top Tips For Making Vegetarian Black Bean Soup with Kale and Hominy
If you have time, or prepare in advance opt for dried hominy.
Make sure to remove the stems from the kale, and finely chop before adding to the soup.
Use a preheated broiler, and roast poblano peppers for a richer roasted flavor.
Make adjustments as needed for your preferred spice level.
Serve with: low fat sour cream, plain greek yogurt, diced avocado, crushed tortilla chips, diced tomatoes, cilantro and/or shredded cheese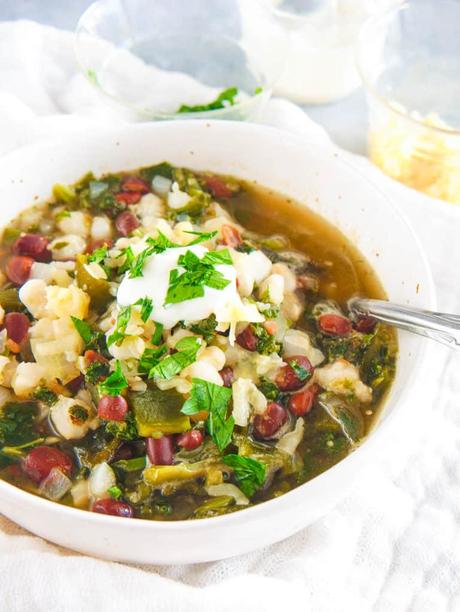 If you have tried this Vegetarian Black Bean Soup with Kale and Hominy recipe, or any other recipe on my blog, then please rate it and let me know how it turned out in the comments below! You can also FOLLOW ME on
FACEBOOK
,
TWITTER
, INSTAGRAM and
PINTEREST
to see more delicious, healthy, family friendly food!
Check Out These Other Delicious Soup and Stew Recipes
Spicy Black Bean, Hominy and Kale Stew