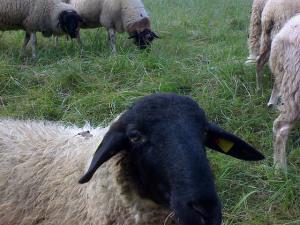 Suffolk Sheep - photographed in Germany - but from British origin
For the first time I have cooked the breast of a lamb. That is certainly not what one would suggest to those in the process of loosing weight, but I decided this was not one of those I-wish-to-loose-weight-days. Instead I chose to enjoy at least one hour of culinary pleasure. Today is also the first time I have used the coffee seeds as a coarse grind, as opposed to the usual fine one and the liquid form. Although the original impulse to make this meal was a spontaneous one, the result gave me more than just a combination of ingredients atop a single fire. Not only was I very satisfied with the taste of the breast, vegetables and herbs individually, but as a composition as well.
The source for the idea was the desire to infuse some vegetables in meat, reinforced by a couple of herbs. From the very beginning I wished to get the vegetables to be very present, both for the palate and for the eye. This is why I did not cut the carrot and instead of getting slices from the beet root or grating it, I chose to turn these red tubers into flat parts.
Start the preparations with high-quality products, namely:
500 g breast of lamb
one carrot – whole
one or two beet roots
several tarragon leaves
11 coffee seeds - dark roast
salt and pepper to taste
one or two garlic cloves
30 – 40 ml Hendricks Gin
The breast of lamb gets submerged in some Hendricks Gin for two or three hours. Thinking of this, you might want to add some cucumbers to the dish at the end – perhaps as a simple salad. This wonderful gin gets much of its character from cucumbers.
After the spirited couple of hours put the breast flat on the board with the meat side up. Grind the coffee, salt, pepper, garlic and tarragon in a mortar to obtain a paste, which you use to rub the meat side of the breast. I cut the beet root like if I was peeling it, in order to get the desired large stripes. These get distributed on the lamb. Both, lamb and beet root stripes are placed horizontally, making it easy to roll the breast. Place the carrot vertically and start rolling the meat, so that at the end you obtain a thick roll of meat with the vegetables inside and the carrot going across. Tie the roll tight and place it with the left used gin in the oven at 200° for one hour. Finally, slice the roll for serving. This time around I added some rice to it.