This post may contain affiliate links. Please read my disclosure.
This easy Vegetable Stir Fry recipe is the ultimate Asian dinner made with tofu, vegetables, soy sauce, and red curry sauce! Ready in just 20 minutes, youll love this healthy and tasty meal that tastes way better than takeout!
This vegetable Asian stir fry is filled with amazing flavors and is such a healthy, easy, family-friendly recipe. Perfect for busy weeknights, I love to make this tofu based recipe at least a few times a month. It's that good!
Sweet with a little bit of heat, this vegetable stir fry recipe is the ultimate comfort meal. Carrots, broccoli, and baby corn are mixed with authentic Asian flavors for a mouthwatering meal that's ready in 20 minutes.
There are also so many variations to this recipe that you can easily modify it based on your family's preferences or whatever you have in the fridge!
Latest Recipe Video!
Feel free to make this in advance as it keeps really well in the fridge and tastes even better the next day.
I hope you love this healthy stir fry recipe as much as we do. My kids gobbled it up and asked for seconds!
What is stir fry?
Stir fry is a classic recipe that originated in China, but is commonly popular throughout the world. To prepare a stir fry recipe, you heat some vegetables and ingredients over high heat with oil, then stir and cook until all of the ingredients are heated through. You can usually use whichever vegetables and proteins you have on hand!
How to Make This Vegetable Stir Fry Recipe
Tools and Equipment You'll Need
Recipe Ingredients and Notes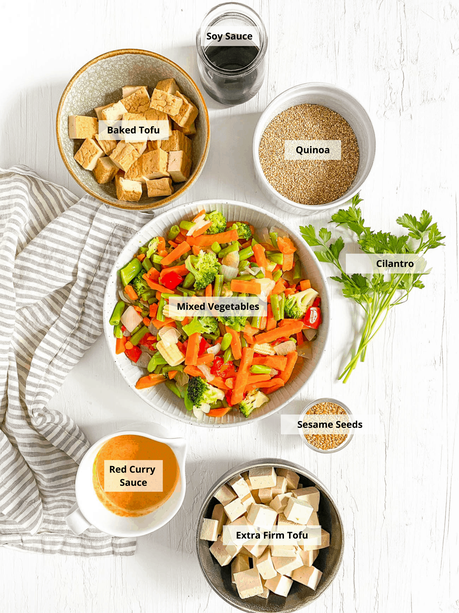 Mixed vegetables: To save time, I buy pre-chopped frozen Asian stir fry vegetable blends. You can find a large variety of options at most grocery stores.
Tofu: I used a mix of sprouted firm tofu and baked tofu for a variety of textures in this tofu stir fry recipe. But you can use any type of tofu you like - I just recommend using a firm or extra firm tofu (silken tofu will fall apart in this recipe).
Olive oil: Important to grease the pans, but you can use any type of oil here.
Brown rice or quinoa: For serving. Quinoa or brown rice can be substituted for a variety of things. Scroll down further to read about variations.
Sesame seeds: Optional, but recommended. You can also use cashews or any nut you like.
Garlic, Ginger, Salt and Crushed Red Pepper: To add even more flavor!
Sauces
Red curry sauce: I like the Thai Red Curry Sauce from Trader Joe's because it has a clean ingredients list, is relatively low in calories, and tastes great. But you can use any teriyaki or curry sauce you like from your local grocery store.
Soy sauce: Low sodium was used here this recipe, but any type of soy sauce will do. Use tamari for a gluten free option!
What is sprouted tofu?
Sprouted tofu is similar to regular silken tofu, but instead, uses germinated soy beans that have little sprouts on them. Not only is sprouted tofu known to have a high protein content, but it's loaded with calcium, too.
Step by Step Instructions
Step 1: To start, cook the rice or quinoa. Cut the tofu into 1/2 inch cubes and set aside.
Step 2: Sauté the tofu cubes. Spray a large pan with cooking spray and heat over medium heat. Saute the tofu cubes until slightly crispy on the outside, add 1 Tbsp soy sauce towards the end of cooking for flavor.
Step 3: Heat a separate large pan or wok over medium to medium-high heat. Add olive oil, then pour the frozen veggies into the pan. Stir fry for five minutes until the veggies are cooked through, add garlic, ginger, crushed red pepper, and remaining soy sauce. Cook another 5 minutes until everything is combined.
Step 4: Add the tofu cubes to the veggies, and the Red Curry Sauce. Stir fry lightly on medium-low heat until the entire mixture is heated through (about 5 minutes).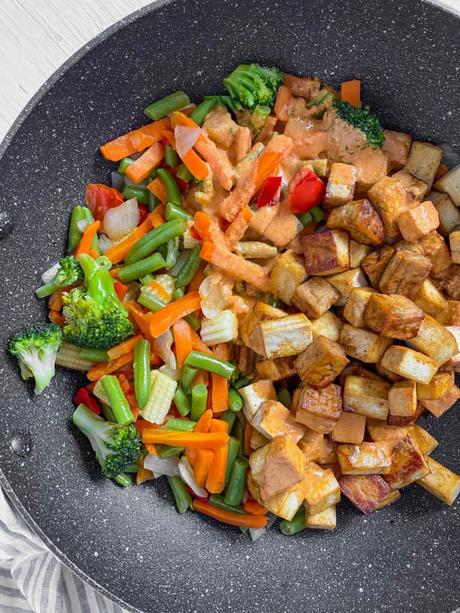 Step 5: Adjust seasonings as needed, add hot sauce if you like it spicy. Sprinkle sesame seeds or cashews on top. Serve with brown rice or quinoa.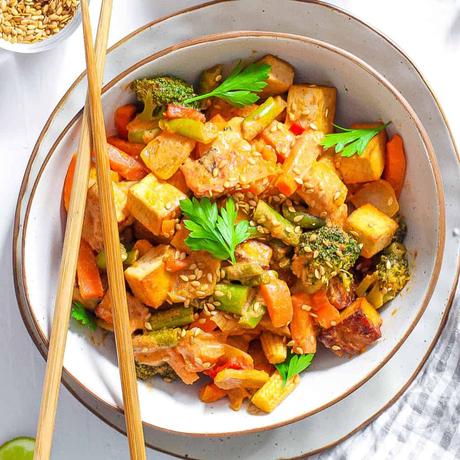 What makes this tofu stir fry recipe healthy?
Vegan: This recipe is naturally vegan making it totally plant-based!
High in Protein: A great way to squeeze in some heart healthy plant protein, the tofu in this stir fry is packed with almost 27 grams of protein per serving!
Rich in Nutrients: The vegetables in this healthy stir fry provide antioxidants, vitamins, fiber, nutrients, and minerals. Tofu contains all 9 essential amino acids, as well as iron, calcium, copper, zinc and B vitamins.
What are the health benefits of quinoa?
Quinoa is gluten free, high in protein and fiber, and one of the few plant foods that contains all nine of the essential amino acids! With large amounts of flavonoids, these antioxidants potent and packed with numerous health benefits.
Recipe FAQS
What vegetables are good for stir fry?
All kinds of vegetables are good! I used frozen veggies, but you can even use fresh vegetables, too. You want to choose veggies that will hold up well and won't get mushy too fast (e.g. squashes or leafy greens). I like to use baby corn, carrots, green beans, cauliflower, broccoli, or edamame.
How do you stir fry vegetables without them getting soggy?
Make sure add the veggies that take the longest to cook to the pan first (e.g. onions, carrots, potatoes), and then follow it up with the faster cooking veggies (broccoli, snap peas, cauliflower, etc). Additionally, don't cook the stir fry for too long over too high heat, because that will cause your veggies to overcook and become soggy.
Is it ok to stir fry frozen vegetables?
Absolutely! I used frozen vegetables because they are super easy and quick. You don't have to defrost or thaw them before adding them to your vegetable stir fry.
How do you make stir fry sauce from scratch?
I used just soy sauce and Thai red curry sauce for this recipe, but I also have an amazing stir fry sauce recipe that is made from scratch.
Will kids enjoy this Asian Stir Fry?
Absolutely! Mine loved it! For younger children, it may be a little bit on the spicier side, but you can always omit the red Thai curry sauce and crushed red pepper to make it friendlier for them.
Recipe Variations
This Asian stir fry recipe already so good on its own, but if you want to switch some things up, you totally can!
To Make Things Different
Change the veggies: You can use any type of vegetables, really. I used broccoli, corn, carrots, and green beans, but snow peas, cauliflower, potatoes, or even pumpkin would be good, too.
Change the base: There are so many options for stir fry. You can serve this vegetable stir fry recipe over a bed of gluten free noodles, quinoa, brown rice, jasmine rice, basmati, shirataki or konjac noodes, or even serve it without a base!
Alternative to soy sauce to make this gluten free: You can use Tamari or coconut aminos in place of the soy sauce.
Top Tips for This Easy Stir Fry Recipe
Use frozen veggies to keep things quick and simple!
Don't over cook the vegetables or they will be mushy.
Make sure your veggies are all cut into similar sized pieces so they cook evenly and at the same rate.
Store the leftovers in an airtight container in the refrigerator for up to four days.
Check Out These Other Amazing Asian Inspired Recipes!
If you have tried this Simple and Healthy Asian Stir Fry recipe, or any other recipe on my blog, then please rate it and let me know how it turned out in the comments below! You can also FOLLOW ME on
FACEBOOK
,
TWITTER
, INSTAGRAM and
PINTEREST
to see more delicious, healthy, family friendly food!
Asian Vegetable Stir Fry Recipe