Vegetable Manchurian Gravy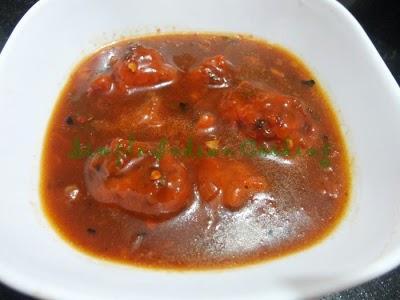 Vegetable Manchurian Gravy
This Indo Chinese veg dish is made of grated vegetables which can easily be done by a food processor or a traditional grater. I either use my food processor or chop finely with the help of knife and chopping board. My family like Chinese food from restaurants and even homemade. The gravy or sauce is very easy to make but theVeg Manchurian balls needs some practice. Mine used to break while frying and I ended up adding more corn starch. lets see how to make this very famous and nutritious dish.
Preparation time: 15 minutes
Cooking time: 20 minutes
Serves: 3-4
Ingredients:
2 cup Cabbage, grated
1 cup Carrots, grated
1/2 cup Capsicum, Chopped
1/2 cup French or Bush Bean, Chopped
1 Spring Onion, Chopped
2 Green Chilies, Crushed
4 cloves Garlic, Crushed
1/2 inch Ginger, Chopped
3 tbsp Corn Starch
Oil for deep frying
1 1/2 tbsp Soy Sauce
1/2 tbsp Green Chilli Sauce
1 tsp White Pepper Powder
A pinch Ajinomoto (optional)
Salt to taste
Method:
Chop all the vegetables (Cabbage, Carrot, Bean, Capsicum), mix salt and let it rest for a while.
When salt is added to the vegetable, it will release its water which needs to to squeezed out.
Add Corn Starch, 1/2 tbsp Soya Sauce to the vegetable mixture and shape them into balls. (The mixture should be moist enough to be rounded into balls if not you can add few drops of water don't add much water as the vegetables will release their own water and your balls will break while frying)
Now fry the veg balls in a kadai or pan. Turn the balls when one side is cooked or it will break.
Next step is to make the sauce or gravy. Heat the kadai and add oil in to it.
Add garlic, ginger and green chillies and saute for 2-3 seconds.
Add the spring onion and fry till it is done.
Add water and bring it to boil. In a bowl add some water and Corn Starch and mix well so that no lumps are left.
Add the Corn Starch mixture to the gravy. Let it boil for some time till it starts to get thick.
Keep the heat on low and add salt, Soy Sauce, Green Chilli Sauce, White Pepper Powder, and Ajinomoto (skip Ajinomoto if you don't want to add MSG) and mix well.
Add the fried Manchurian balls and cook for 2 min and switch off the flame.
Serve the Veg Manchurian Gravy with Noodles, fried rice, puris.