Since I was a child I've always been interested in Japan.  The culture, the beautiful heritage, the amazing landscapes, but at the same time its filled with modern wonder and city life.  Yes, I know this recipe and what I'm talking about does not go together well, but hey its all part of my crazy mind being filled with numerous things at one.  If you haven't guessed by now I'm a bit of n erd and absolutely love anime ( I wont go into detail about the horrible creators that get you hooked only to say, meh, I don't feel like making a new season), why am I writing about this.  Well I want to learn how to speak Japanese and was wondering if any of you lovely people know a good online site that can help me with this? anyone you would recommend ?  Well that was a long rant not about the recipe, so lets hop on over to the recipe….on the next paragraph.
If you're looking for an easy, spicy, yet affordable dinner recipe that's served with fresh roti that will make this affordable meal look like a beautiful restaurant meal this is for you.  This is a versatile recipe that can use any vegetables you have on hand.  Lentils add a lovely flavor and protein to this delicious curry.  In the words of Carl "is their any meat in this?", he could't even believe how great this was, so why not give it a try.
VEGETABLE CURRY WITH ROTI - serves 5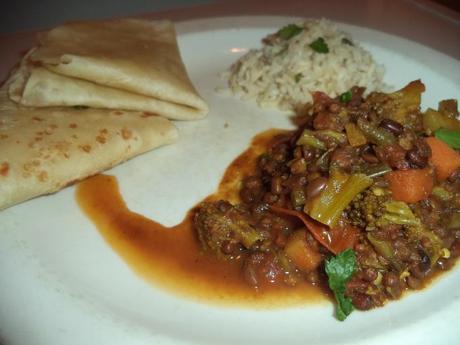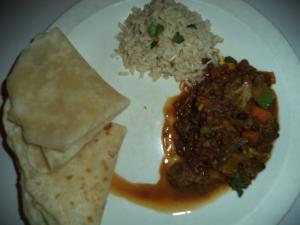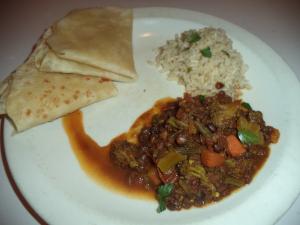 Ingredients
1 cup brown or black lentils
2 cups water
2 tbsp sunflower or olive oil
1 onion, chopped
2 cloves garlic, chopped
1 green chilli, chopped – optional
1 tsp cumin
1 1/2 tsp coriander
2 tbsp mild curry powder
1 tsp cinnamon
2 tsp sugar
2 cups vegetables ( I used butternut, broccoli, kale and green beans)
2 cups low sodium vegetable stock
400g can chopped tomatoes
Directions
Rinse the lentils till clean.  In a large pot bring the lentils and water to a boil.  Leave the pot uncovered and cook for 20 – 30 minutes.  Let stand for 5 minutes.
Heat the oil in a large pan, add the onions, garlic and chilli.  Cook for a few minutes until softened.  Add the spices and cook for 1 minute more.  Stir in the lentils, vegetables, stock and tomatoes.
Bring to boil, then cover and simmer for 20 minutes until the vegetables are cooked. Season to taste with salt if needed.  Serve with fresh coriander, rice and roti.
ROTI - serves 10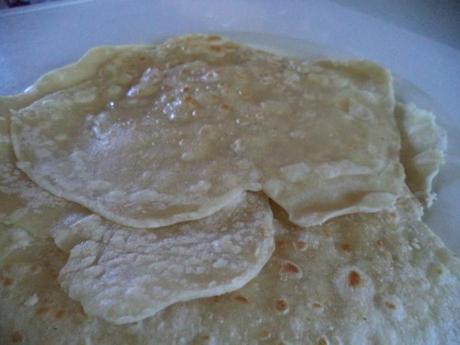 Ingredients
2 1/2 cups wholemeal flour or normal flour
1/2 tsp salt
2 tbsp sunflower oil
1 cup hot water
1 tbsp melted margarine
Directions
In a large bowl add the flour and oil.  Slowly add in the hot water and mix with a spoon as it will be hot.  Dust your work surface with flour.  Place dough on the work surface and knead for 5 minutes.  If the dough is sticky add a little flour until its soft and manageable.  Cover the dough and let sit for 5 minutes.
Melt the margarine on a pan and leave on low, while you're rolling the dough.
Break off small pieces of dough and start rolling away.  Roll into a flat round disc. Make sure the roti is rolled as thin as possible.
Increase heat of your pan and place roti onto it.  Cook for 5 – 10 seconds. Flip and cook the other side for a little longer.  Remove from heat and continue.  Serve immediately.