Move over flowers – you can now fill your bouquets with greens out of the fridge. Vegetables and greens are being used more commonly in bouquets and displays around the home. They are a bit hardier than flowers and create an organic and laid back aesthetic in your home. With lots of shades of green and purple to choose from, these arrangements are perfect for the Winter.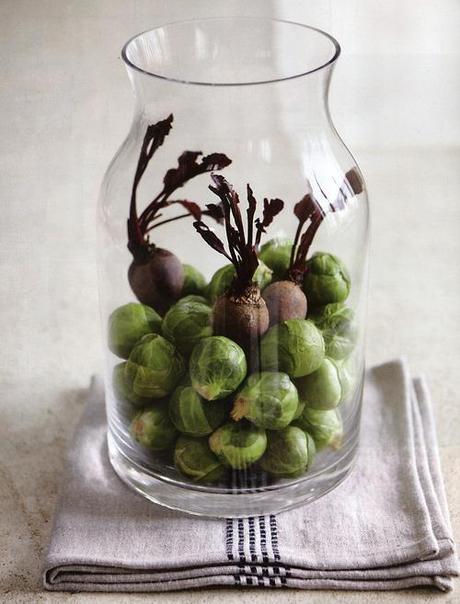 Above, sprouting beets contrast a heap of bright green brussel sprouts. (via Iiiinspired)
Vegetables may be a fun way to add interest to your vases this season, but if you want to put those veggies to use later on, growing your own beans may be just the thing for you. Kinfolk brings us a simple guide to sprouting your own edible greens at home.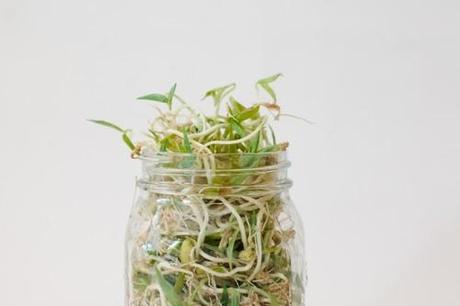 Ingredients & tools
Organic mung beans
Organic chickpeas
Canning jars (quart size)
Cheesecloth
Rubber bands
Pen and paper for labeling each jar
Method
Start with one cup of each kind of seed.
Rinse each type of seed with warm water.
Put each type of seed in their own bowl, cover with water and let soak for 8 to 12 hours.
After soaking, drain thoroughly and rinse with cool water.
Transfer to jars, cover top of jar with cheesecloth and secure cheesecloth with rubber bands.
Store jar at room temperature, with moderate light but no direct sunlight.
Rinse and drain every 8 to 12 hours, for two or three rinse and drain cycles.
Thoroughly drain after the last cycle, until dry to the touch.
Store in a plastic bag in the refrigerator, keeps for three or four days.
Look out for an Etsy Holiday Giveaway coming later this week!