When I'm asked to bake something for work or church, I always struggle with what to make.  Should I make a traditional baked good that everyone will eat?  Or should I go the healthy vegan way and then no one will eat it?
But who says you can't have both—a traditional treat made in a healthier way.  So for today's recipe, I modified the traditional chocolate with white chocolate chip recipe to make it a smidge healthier and even vegan.  You'll notice that I substituted a ½ cup of soymilk and 2 tablespoons of lemon juice for 2 eggs (feel free to use eggs if you are more comfortable with that).  It's a little trick egg replacement trick I found online for cookie recipes (since eggs serve a different purpose in different kinds of baked goods).
I'm happy to report that I managed to trick my husband with these cookies.  He literally had no idea they were vegan, thanks to the power of brown sugar and vegan margarine.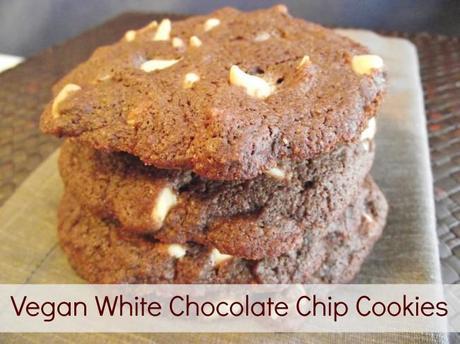 Ingredients:
1/2 cup vegan margarine (i.e. Earth Balance)
1/2 cup coconut oil
2/3 cup organic brown sugar
1/2 cup raw sugar
1/2 cup soymilk plus 2 tablespoons of lemon juice (or 2 eggs)
2 cups whole wheat flour
2/3 cup cocoa powder
1 teaspoon baking soda
1/4 teaspoon salt
1 1/2 cups white chocolate chips
Method:
Preheat oven to 350
Place coconut oil, vegan margarine, raw sugar, and brown sugar in a large bowl.  Whisk on high until mixture is light and fluffy.
In a small bowl, combine soymilk and lemon juice and whisk together gently with a fork.
Add the soymilk and lemon juice to the sugar/margarine mix.  Whisk on high until fully incorporated.
In a medium bowl, add dry ingredients, flour, cocoa powder, baking soda, and salt.
Add 1/3 of dry ingredients to wet ingredients and whisk until just incorporated.  Then repeat for the second 1/3 of the dry ingredients and finally for the last third of the dry ingredients.
Fold in white chocolate chips.
Prepare a nonstick cookie sheet with nonstick spray.
Add 2 tablespoons of cookie dough batter to the cookie sheet and repeat until cookie sheet is full, making sure to place mounds about 2 inches from one another.
Bake for 15 minutes.
Remove from the oven and allow them to cool on the cookie sheet for 5 minutes.
Then remove cookies from cookie sheet and place them on a cooling rack to cool completely.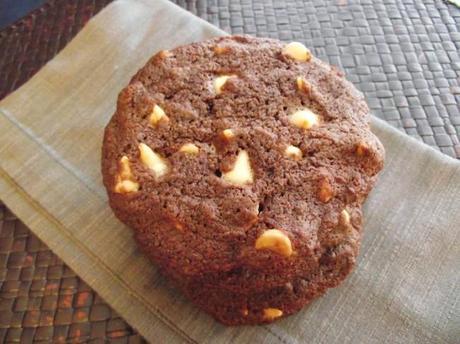 These cookies remind me of Panera's delicious chocolate cookies but are probably half the size (and hopefully a tad less impactful on my waistline).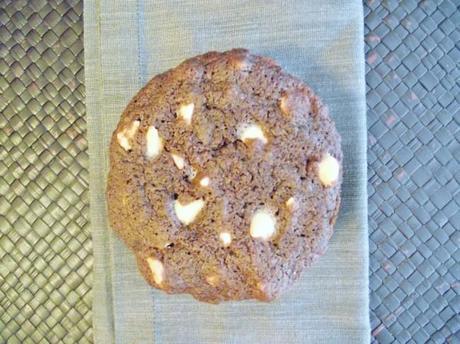 It was really cool to be able to recreate a classic traditional sweet in a more modern and healthful way (and by cool I mean only for dorky baking geeks like me).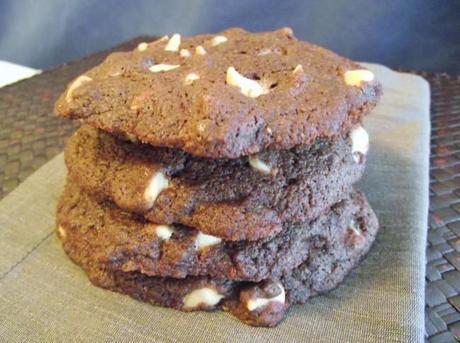 Although I have a feeling that my great grandmother would get a kick out of hearing me recommend coconut oil for baked goods..oh how things have changed.