This post may contain affiliate links. Please read my disclosure.
This comforting, super satisfying Vegan Wellington is filled with lentils, onions, carrots, tomatoes, garlic, and mushrooms, inside a flaky pastry. Seasoned with herbs and completely nut-free, it's perfection in every bite!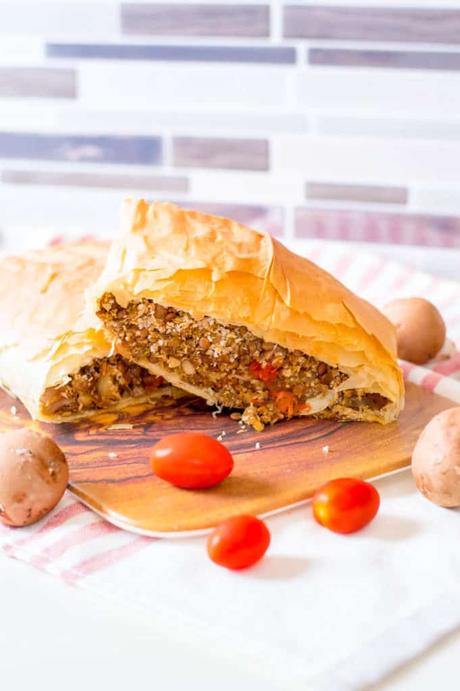 If you love classic comfort food, then you're going to be drooling over this meaty, hearty, vegan wellington! It's got all the flavors of the traditional recipe without the beef!
Lentils and mushrooms combine to create a flavorful vegan filling, and a flaky, buttery vegan pastry surrounds it all. You won't miss the meat at all in this delicious vegan version!
Serve this beautiful entree for the holidays. It makes for an excellent vegan or vegetarian main dish at your Thanksgiving or Christmas table. It is sure to impress even your non-vegan friends and family!
Tools and Equipment You'll Need
Recipe Ingredients and Notes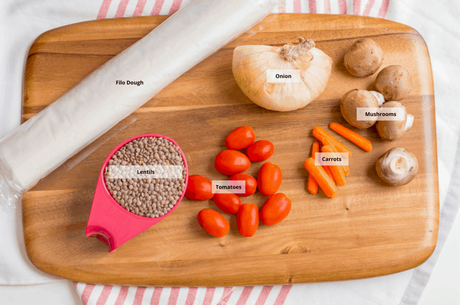 Filo Dough or Puff Pastry: The key here is making sure to find a vegan-friendly pre-made dough (typically in the freezer section)
Brown or Green Lentils: To add a meatiness to the dish without needing to add nuts (to make it allergy friendly!) You can replace the lentils with beans or chickpeas if you'd like as well.
Veggies: I used tomatoes, mushrooms and carrots but feel free to choose any mixture of veggies you like! I just would keep the mushrooms - when paired with the lentils it helps bind the filling and gives it a meaty texture.
How to Make Vegan Wellington - Step by Step
Step 1: Rinse lentils and add to a small saucepan with 2 cups of water. Bring to a boil. Lower the heat to medium-low and allow to simmer for 25 minutes. Once complete, set aside.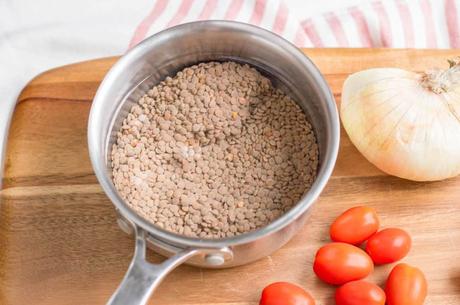 Step 2: Add coconut oil to a large skillet and allow to heat and melt over medium heat. Add onion and carrots and cook for about 3-4 minutes.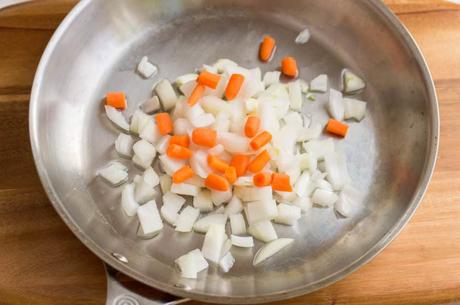 Step 3: Add garlic and sliced mushrooms. Cook for an additional 4 minutes. Add thyme and rosemary.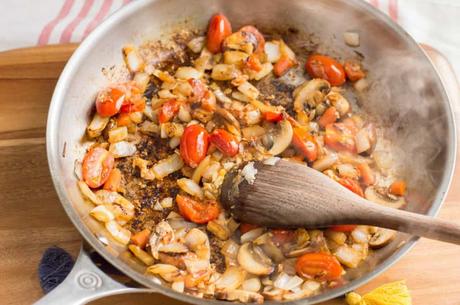 Step 4: Add cooked lentils and incorporate all ingredients together. Remove from heat and add Panko breadcrumbs. Allow the mixture to cool.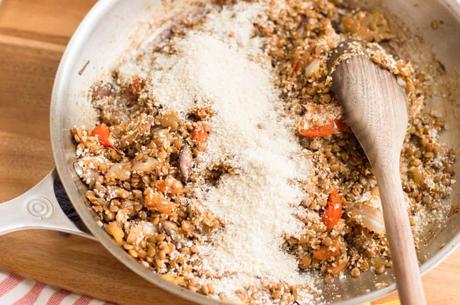 Step 5: Preheat oven to 400 degrees. Remove phyllo dough from fridge. Add one sheet of phyllo dough at a time on a baking sheet. Brush olive oil on each layer of phyllo dough as you add another sheet. The top sheet will not have olive oil brushed on it.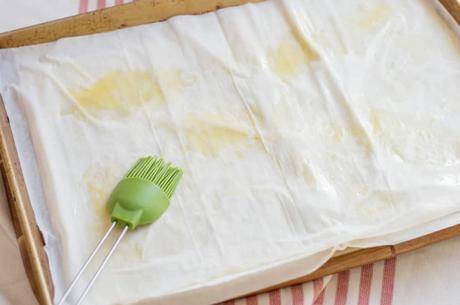 Step 6: Spread mixture in the middle third of the phyllo dough. Roll both sides of the pastry over the top of the mixture until you have a log.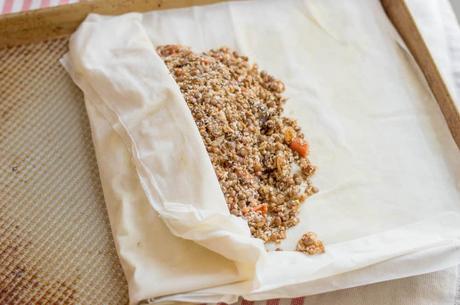 Step 7: Seal the edges with olive oil and roll it over so that the seam is facing the bottom. Brush the top of the vegan beef wellington with extra virgin olive oil.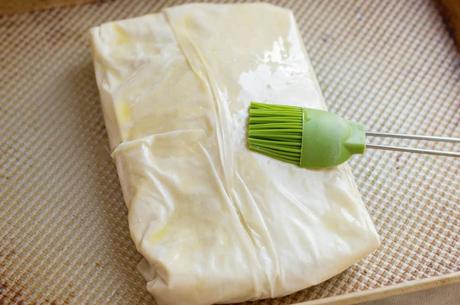 Step 8: Bake for 25 minutes. Let cool for at least 10 minutes before cutting. Serve and enjoy!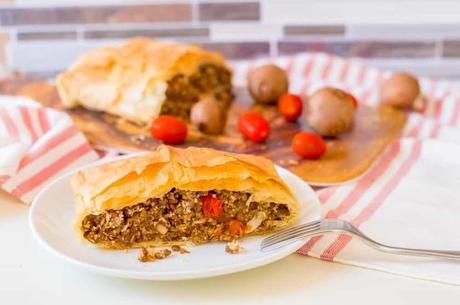 What Makes This Vegan Wellington Healthy?
High in Plant-Protein: Lentils are full of plant-protein and make for an excellent meat substitute. Each serving of this vegan mushroom wellington has 11 grams of protein.
Rich in Vitamins and Nutrients: This mushroom wellington recipe is packed with veggies! Mushrooms are high in copper, potassium, magnesium, zinc and a number of B vitamins such as folate, and tomatoes are rich in inflammation-reducing antioxidants.
Healthy Fats: Using both coconut oil and olive oil gives you lots of healthy fats. Healthy fat is vital for strong hair and glowing skin.
Will Kids Enjoy This Vegan Wellington?
You won't believe your eyes when you see your kids devour every crumb of this and ask for more. The flaky pastry bakes up nice and crispy along with the balanced flavors of the filling is a nice balance for kids. Your kiddos will be content with the mild flavors and you can feel good about feeding them something filling and healthy.
For pickier kids, I recommend adding less stuffing to this vegan beef wellington, and serving them a smaller portion to start. Once they get used to it, you can serve them more of a regular "adult" portion!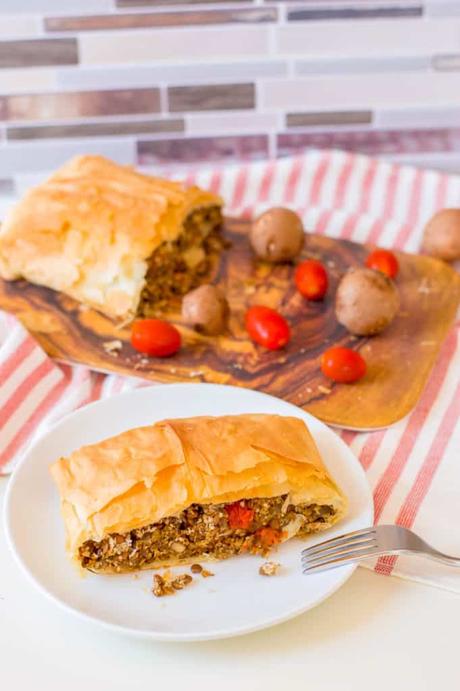 Recipe FAQs
Is Puff Pastry or Phyllo Dough Vegan?
The good news is - yes! Most pre-made puff pastries or frozen phyllo dough is vegan. Wewalka makes a good quality, vegan friendly puff pastry, and every phyllo dough brand I've come across has been vegan friendly.
Can I make This Vegan Mushroom Wellington ahead of time?
Definitely! Follow the recipe as written and prepare the vegan wellington up to the baking point. Right before baking, wrap it in plastic wrap and place it in an airtight container in the fridge. Before baking, let the mushroom wellington come to room temperature and then place it in the oven (400 degrees for 25 minutes)
How to Store and Keep
While this vegan wellington can be saved for leftovers, it tastes better when it's served fresh. The phylo dough can lose its crispiness after it's been sitting or refrigerated.
If you happen to have leftovers, allow them to cool completely. Then transfer to a glass air tight food storage container and refrigerate for up to 3 days. Keep in mind that the dough may become a little bit soggy as it sits.
Reheat in the oven or air fryer to allow the phyllo dough to crisp back up. If you reheat in the microwave you will have soggy dough. Heat in the oven or air fryer at 325 degrees for 10 minutes or so until it's hot.
How to Serve
Serve this vegan wellington recipe at your holiday or Thanksgiving meal as the main dish! It pairs perfectly with mashed potatoes, and roasted vegetables, topped with vegan gravy.
Top Tips For Making Vegan Wellington
Chop, slice, and halve your veggies ahead of time and store them in the fridge for up to 2 days before making this vegan wellington. It's an easy way to meal prep.
Score the top of the phyllo dough to add some character to the dish. As an added bonus, it will also help release some of the steam.
The mushroom wellington is best eaten as soon as it comes out of the oven as the pastry will start to soften as the mushrooms release their juices as they cool.
Roasted potatoes or mashed potatoes are a wonderful accompaniment to this dish.
If your pastry sheet is frozen, be sure to thaw it for about 30 minutes before rolling it out and spreading olive oil on it.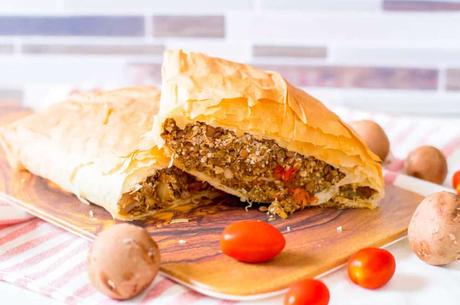 Check Out These Other Holiday Dishes!
If you have tried this Vegan Wellington Recipe or any other recipe on my blog, then please rate it and let me know how it turned out in the comments below! You can also FOLLOW ME on
FACEBOOK
,
TWITTER
, INSTAGRAM, and
PINTEREST
to see more delicious, healthy, family friendly food!
Vegan Wellington with Lentils and Mushrooms