This post may contain affiliate links. Please read my disclosure.
This vegan tikka masala with tofu is quick, healthy, easy and oh so tasty! Packed full of delicious Indian spices, this recipe is a perfect option for a weeknight meal. Made with coconut milk, this mild curry will be a hit with the whole family!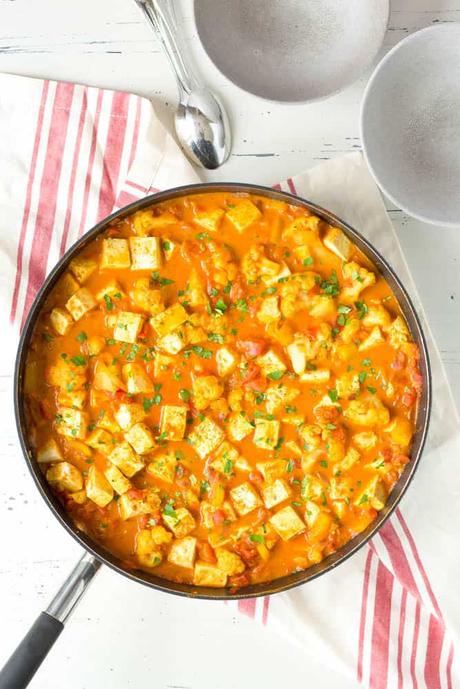 Curry is always an easy dinner option for when you are running short on time, and it's also a great way to pack extra veggies into a meal! My vegan version of the classic Indian Paneer Tikka Masala is low in calories so you can enjoy this creamy dish guilt free!
The sauce in this vegan tikka masala is made with a base of coconut milk and tomatoes. Coconut milk adds a delicate sweetness to the dish and the tomatoes add a slight tang. I love the vibrant color of this mild curry, thanks to the turmeric!
Kitchen Tools and Equipment You'll Need to Make Vegan Tikka Masala with Tofu
How to Make Vegan Tikka Masala with Tofu - Step by Step
Step 1: Press your tofu. I recommend using this tofu press because it's super easy to use, dishwasher safe and takes way less time than using paper towels and heavy kitchen items to get the job done! Once your tofu is pressed, chop it into cubes and heat olive oil spray + 1 tsp olive oil in a large nonstick skillet over medium-high heat. Add the tofu and cook, stirring every 2 minutes, until browned, 8 to 10 minutes. Transfer to a plate.
Step 2: Add the remaining 2 teaspoons oil, turn heat to medium. Add onion, bell pepper, ginger, garlic, and all spices. Cook about 5-10 minutes until translucent.
Step 3: Add tomatoes, coconut milk, and cauliflower. Bring to a simmer and cook, stirring often, until the vegetables are tender, 10 minutes (or more).
Step 4: Return the tofu to the pan; cook, stirring, until heated through, about 2 minutes.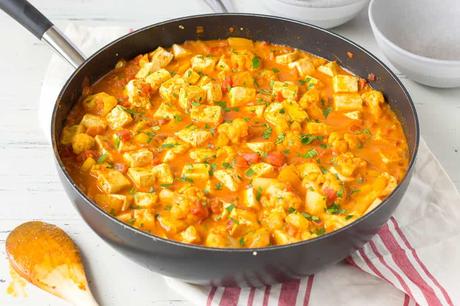 What makes this Vegan Tikka Masala with Tofu healthy?
Lower in fat and Calories: Traditional tikka masala is made with butter and heavy cream. This vegan version uses light coconut milk to make this dish creamy and indulgent without high calorie count.
High in Protein: One serving of this dish has 21 grams of plant based protein! That's about half of your daily recommended protein intake.
High in Fiber: All of the added veggies in this dish add fiber. One serving of this dish has 8 grams of fiber. That's nearly 25% of your daily recommended fiber intake.
High in Vitamins and Nutrients: All of the spices, veggies, and tofu make this a dish a rich source of vitamins and nutrients. Ginger is an anti inflammatory that lowers blood sugar. Tomatoes are a great source of vitamins C, K, potassium, folate, and they're rich in the antioxidant lycopene. Turmeric is an anti inflammatory that helps prevent heart disease. Cauliflower is a cruciferous veggie that provides antioxidants, B vitamins, and fiber, with the added benefit of being low in calories. Tofu is a great source of protein, iron and calcium.
Will kids enjoy this Vegan Tikka Masala with Tofu?
This curry is perfect for the whole family as it is not overly spicy. Although it has a complex flavor profile with garam masala, cumin, turmeric, and ginger, it remains kid-friendly. The spices in this vegan tikka masala pack flavor, but not heat. Most kids love tofu thanks to it's creamy texture and mild flavor and this recipe is no exception!
I often prefer a little more heat with my curry, so I add a sprinkle of red pepper flakes on top of my serving.
What is tikka masala sauce made of?
A traditional tikka masala is made with cream and yogurt, and while delicious, it is loaded with calories and fats. In this version of vegan tikka masala I use light coconut milk to reduce the calories and fat without losing the creaminess. In addition, most tikka masala sauces have tomatoes, and spices such as turmeric and paprika - all of which you can find in this recipe.
Can you freeze Vegan Tikka Masala with Tofu?
Yes indeed! In fact, once frozen, the tofu takes on a spongier, more porous texture similar to meat. Some people deliberately freeze firmer varieties of tofu, such as Superior Extra Firm, to create an even chewier, meatier texture.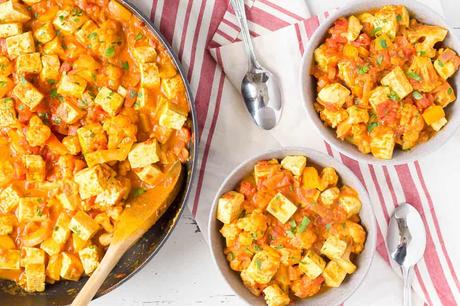 What To Serve With Vegan Tikka Masala with Tofu
Serve this vegan tikka masala with brown rice or another whole grain of choice like quinoa, barley, millet or even amaranth! You can also enjoy this dish with a whole wheat vegan naan, chapati (tortilla), paratha, or pita!
Top tips for making Vegan Tikka Masala
Use extra firm tofu in this recipe.
After removing the tofu from its package, rinse it and then remove the water. For firm and extra-firm tofu, simple draining isn't enough, you need to press the water out. You can use a tofu press which takes only 15 minutes, or sandwich the tofu between paper towels, with a plate on the bottom and a plate on the top. Then place a heavy object on top of the top plate. Drain water every 30 minutes for up to 1-2 hours.
Make sure to sizzle your spices until you get a good aroma.
You can use frozen or fresh cauliflower.
Use light coconut milk rather than full fat to reduce calories and fat.
Transform your curry with a simple topping! Toasted sesame seeds, desiccated coconut or a sprinkle of fresh pomegranate adds another layer of depth.
Serve with brown rice, whole wheat vegan naan, or a whole grain of your choice.
For kids, feel free to reduce the spices/adjust quantities of spice and heat as needed.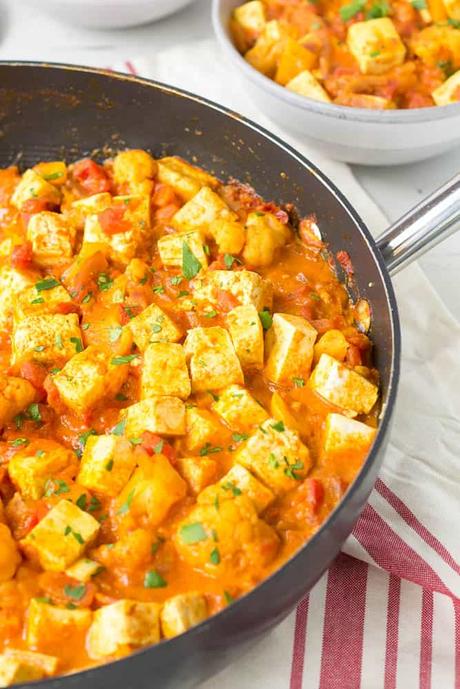 If you have tried this Vegan Tikka Masala with Tofu, or any other recipe on my blog, then please rate it and let me know how it turned out in the comments below! You can also FOLLOW ME on FACEBOOK, TWITTER, INSTAGRAM and PINTEREST to see more delicious, healthy, family friendly food!
Be sure to check out these other healthy curry recipes!
Vegan Tikka Masala with Tofu