This post may contain affiliate links. Please read my disclosure.
When you sink your teeth into these homemade Vegan Rice Krispie Treats with Pumpkin Spice, you will feel like you are in food heaven. They are perfectly sweet and gooey, great for fall, and so easy to make!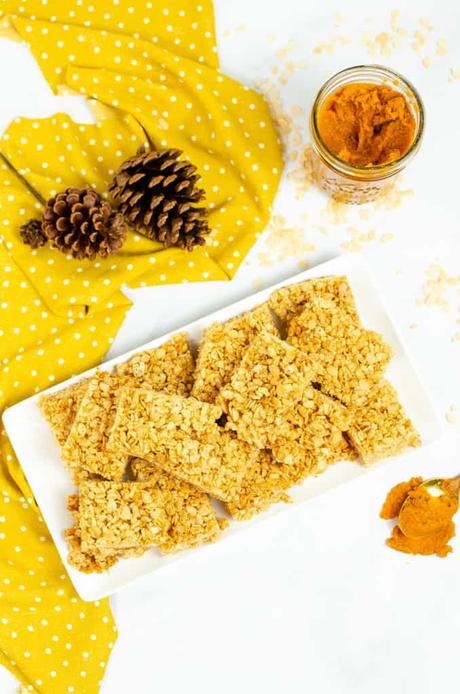 There are so many amazing things I love about fall! Cooler weather, changing leaves, and of course, all things pumpkin!
I often make rice krispie treats for my kids - but since fall is coming up, I thought I'd combine a childhood favorite with pumpkin spice! They turned out amazing, and I know you'll love these too. The explosion of flavors you get is out of this world. I seriously can't wait for you to taste this combination.
It was so easy to make these rice krispie treats vegan friendly. Use some vegan butter & vegan marshmallows and you are all set! Vegan marshmallows melt slightly differently than regular, but I actually think they turn out to be more gooey and give these treats an amazing texture!
Tools and Equipment You'll Need
Recipe Ingredients and Notes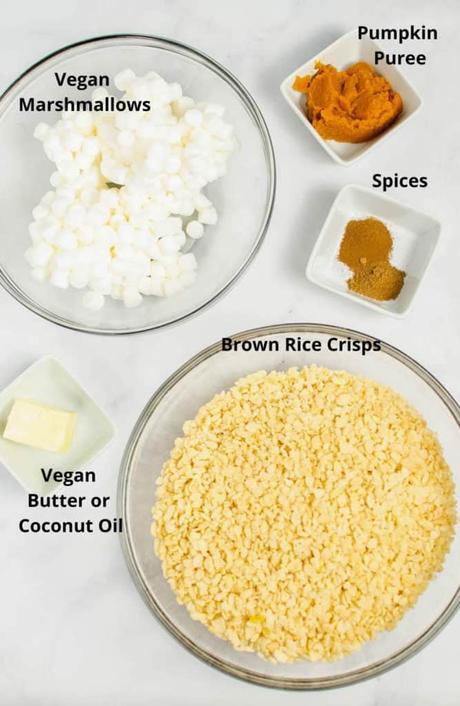 Vegan Marshmallows: While you can make your own vegan marshmallows at home, that takes extra time I don't typically have! For an awesome ready-made vegan marshmallow, I love Dandie's. All natural and tastes amazing!
Butter: You can use your favorite vegan butter brand (I like Miyoko's Classic Fresh Organic Vegan Butter or Calafia Farms' Vegan Butter), or organic coconut oil would work equally well!
Brown Rice Crisps: Tastes the same as regular rice krispies but are less processed! I like this Brown Rice Krispie Cereal.
Step by Step Instructions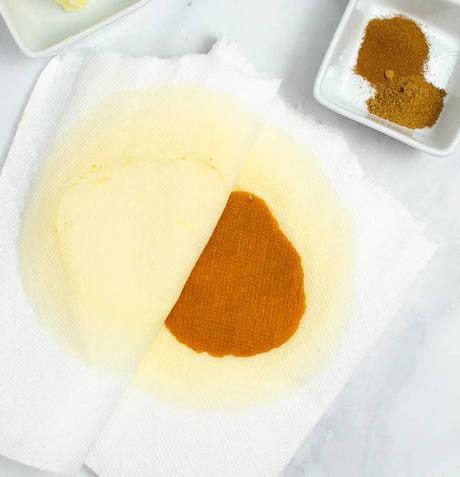 Step 1: Spread your pumpkin purée between a few sheets of paper towels. Let it sit for about 30 minutes. This will remove a majority of the moisture.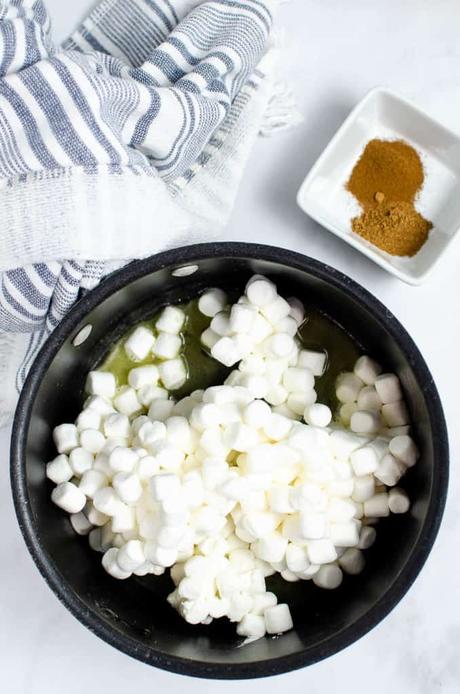 Step 2: In a large pan or pot, melt the vegan butter or coconut oil. Once the butter/coconut oil is melted, add in your marshmallows. Continue to stir the marshmallows until they are melted and incorporated into the vegan butter / coconut oil.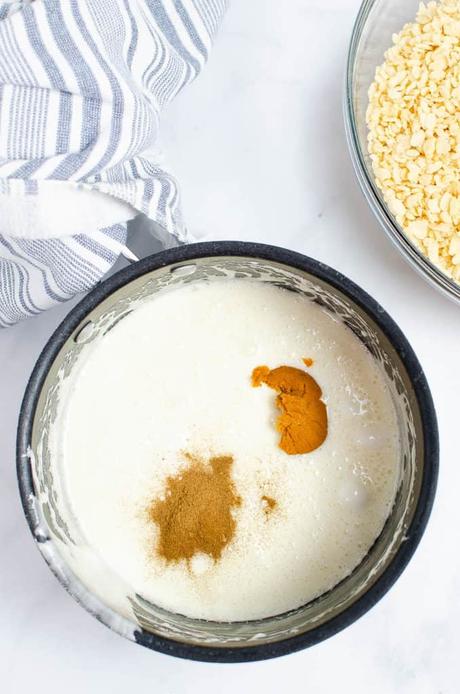 Step 3: Once the marshmallows are completely melted, add in the pumpkin purée, pumpkin pie spice, and cinnamon. Mix well.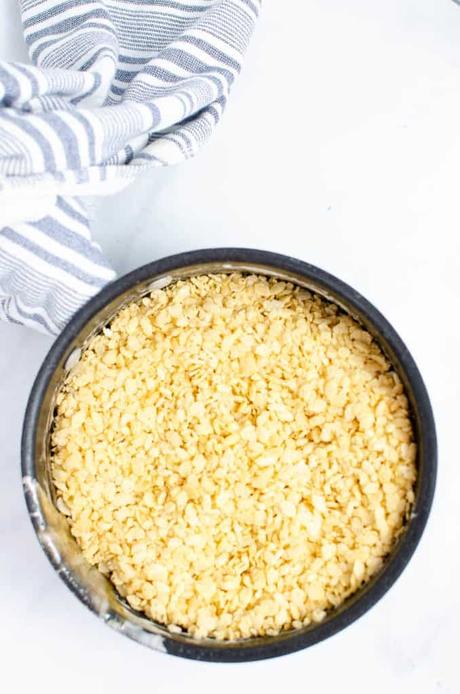 Step 4: Add in the Brown Rice Krispie cereal. Mix well.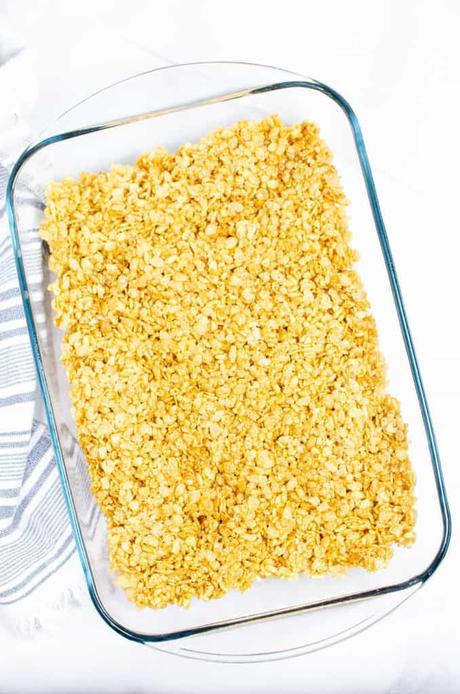 Step 5: Once everything is incorporated, transfer from the pot to a greased, 13×9 pan.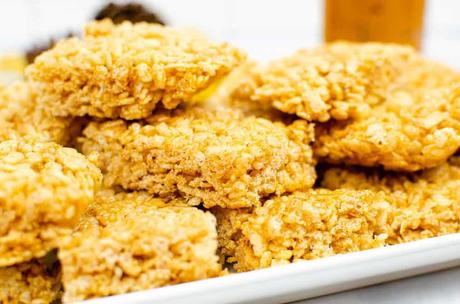 Step 6: Using parchment paper on top of the treats, press to flatten. Allow the treats to cool (approximately 1 hour). Once cooled, cut into squares, and serve!
Antioxidants: Pumpkin and even cinnamon have antioxidant qualities that are very good for you.
Vitamins and Minerals: There is a very impressive amount of vitamin A in pumpkin, along with vitamin C, potassium, iron, vitamin E, and more.
Healthy Fats: Both coconut oil and vegan butter are both healthy fats that are good for you. So it doesn't matter which one you use to make these vegan Rice Krispie treats because they are both great.
What Makes These Vegan Rice Krispie Treats Healthy?
Will Kids Enjoy This Recipe?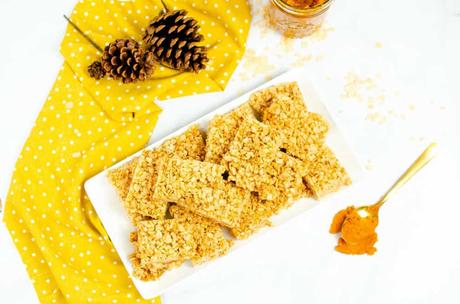 Kids will go wild for these vegan rice krispie treats. They only thing that is different from traditional rice krispie treats is that these are made with vegan marshmallows, but they won't be able to tell the difference. Plus, you can feel great about letting them eat these treats because they don't have any gelatin or high fructose corn syrup. Most kids are going to be begging for another treat because they are that tasty.
How Long Does It Take For Rice Krispie Treats to Set?
Recipe FAQs
How To Cut Rice Krispie Treats Neatly
It's best to let these treats cool all the way before cutting, and that normally takes around an hour. Giving them time to cool properly will allow the butter or coconut oil time to set back up. If you cut them too early, they may fall apart. They still taste good when they have fallen apart, but won't be as appealing to guests.
How To Store
I know that cutting rice krispie treats can be a mess if you don't do it right, so I wanted to give a couple tips. For best results, use a knife or pizza cutter that you have added a spray or two of cooking spray too. This will keep the treats from sticking to the knife. You may need to spray it more than once as you are cutting. Take slow cuts and don't go too fast or they may bunch up and not cut in straight lines.
Store these treats in an airtight container in the fridge. They will keep for about 3-4 days.
Don't heat the butter and marshmallows too quickly. It's best to cook them low and slow so you end up with the right texture at the end.
Don't skip letting the pumpkin lay out on paper towels. It's a very important step to avoid excess moisture in your rice krispie treats.
If you want to make these treats without pumpkin, you can just omit the pumpkin puree and spices and they will taste just like traditional rice krispie treats!
When pressing the rice krispie treats into the pan, it's critical to use parchment paper so the treats don't stick to your hands!
If you want to make these gluten-free, just make sure you're using gluten-free certified brown rice crisps (note: the traditional rice krispies cereal is not gluten free)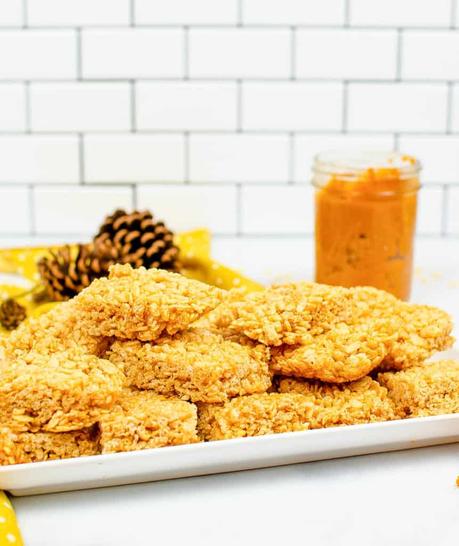 If you have tried this Vegan Rice Krispie Treats recipe or any other recipe on my blog, then please rate it and let me know how it turned out in the comments below! You can also FOLLOW ME on
FACEBOOK
,
TWITTER
, INSTAGRAM and
PINTEREST
to see more delicious, healthy, family friendly food!
Top Tips for Making Vegan Rice Krispie Treats
Check Out These Other Vegan Desserts!
Vegan Rice Krispie Treats with Pumpkin Spice