This post may contain affiliate links. Please read my disclosure.
This moist and flavorful vegan pumpkin bread is a simple and easy autumn quick bread that comes together in less than an hour. It makes a delicious breakfast or anytime snack!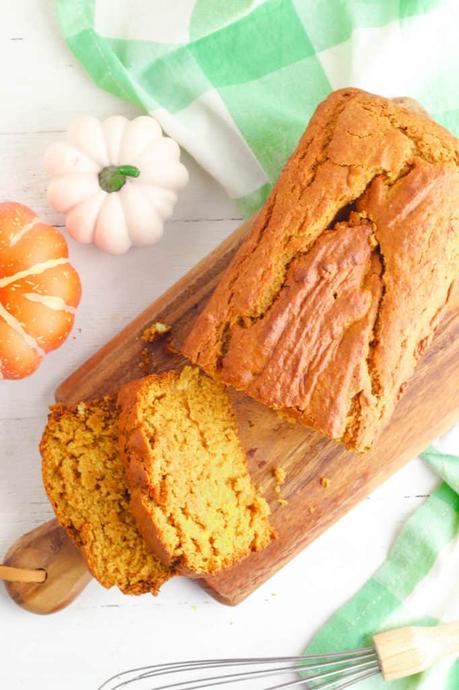 When autumn arrives everything pumpkin floods the shelves of the grocery store!
I absolutely love pumpkin: it's one of those amazingly versatile flavors that can be either savory or sweet! And this vegan pumpkin bread is no exception. It's comforting, warm, easy to make, and filled with subtle autumn flavors.
The best part? No one will be able to tell this pumpkin bread is vegan. And as an added bonus, it's lower in sugar than most pumpkin bread recipes and under 200 calories for a HUGE slice!
This is a simple quick bread you can make again and again throughout the season and enjoy with your morning coffee, or a pick me up afternoon snack.
This recipe is moist, loaded with pumpkin flavor, and warm spices. It bakes up tall and makes 12 large slices.
It will disappear before you know it! So keep this recipe handy because you'll be making it again and again!
Tools and Equipment
Recipe Ingredients and Notes
For the Wet Ingredients: Pumpkin puree, brown sugar, applesauce, and olive oil (note: you can also use melted coconut oil or vegetable oil) are combined to form the wet ingredients. Depending on how sweet you like your bread, you can reduce the amount of brown sugar to 1/2 of a cup.
For the Dry Ingredients: To ensure all the dry ingredients are evenly distributed throughout the loaf, sift the flour, baking powder, salt, and spices together.
How to Make Vegan Pumpkin Bread - Step by Step
Step 1: Preheat oven to 400 F. Grease a small loaf pan with nonstick cooking spray. In a large bowl, beat together the pumpkin puree, brown sugar, applesauce, and oil until smooth and well combined.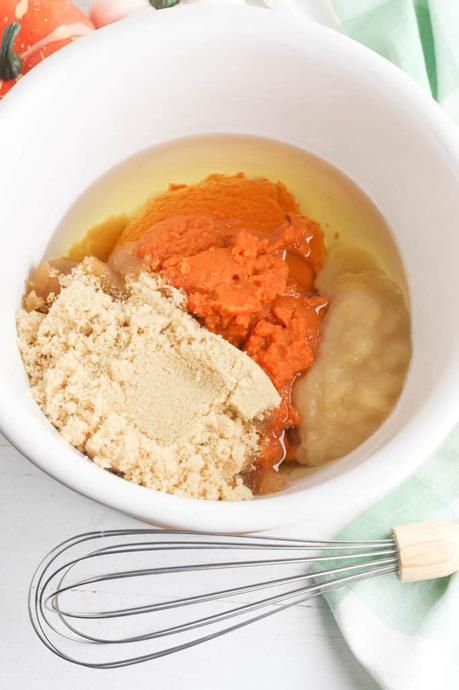 Step 2: In a medium mixing bowl, sift the flour, baking soda, baking powder, pumpkin pie spice, cinnamon and salt.
Step 3: Add the dry ingredients to the wet ingredients. Beat until mixed well. Pour the batter into the prepared loaf pan.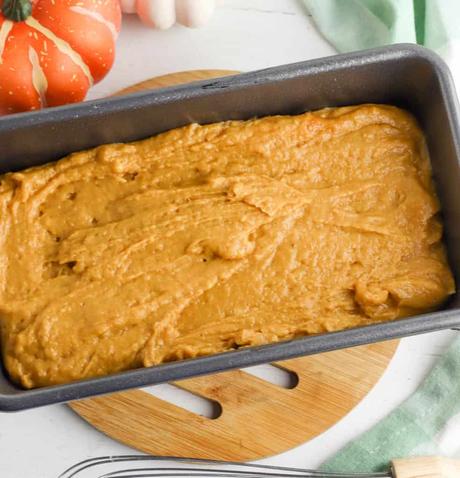 Step 4: Bake for 30 to 35 minutes, until a toothpick inserted into the center of the loaf comes out clean. Allow the bread to cool in the pan for 15 minutes, then remove from pan and allow to cool completely before serving.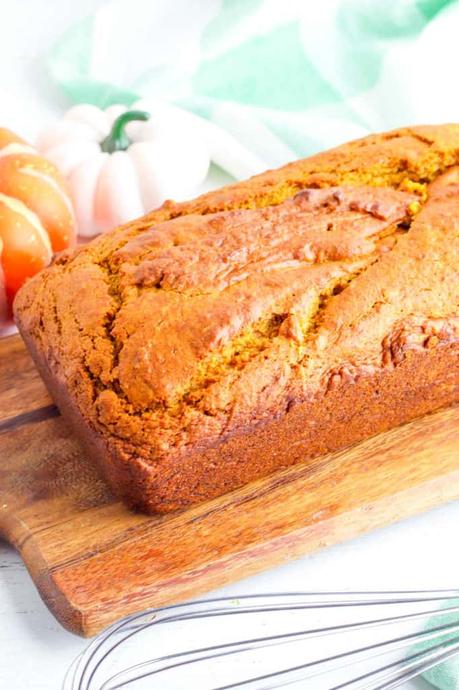 What Makes This Vegan Pumpkin Bread Healthy?
Added Fiber: Using a whole wheat pastry flour instead of white flour in this recipe adds needed fiber. Each slice has 3 grams of fiber.
Low in Calories: One slice of this vegan pumpkin bread comes in at 187 calories. that's fewer calories than most quick breads that come in at 350-500 calories per slice!
Rich in Vitamins and Nutrients: Pumpkin is known to be a nutrient dense source of potassium, beta-carotene, vitamin A, calcium, magnesium, and vitamins E, C and some B vitamins.
Will Kids Enjoy This Vegan Pumpkin Bread?
Kids will love this moist and fluffy pumpkin bread. It's lightly sweetened and perfect for breakfast or a snack! If you're making it for a grab-and-go breakfast that you'll serve your kids daily, I recommend reducing the sugar to 1/2 a cup. Additionally, since this bread produces 12 large slices, I suggest serving your little ones a half slice at a time!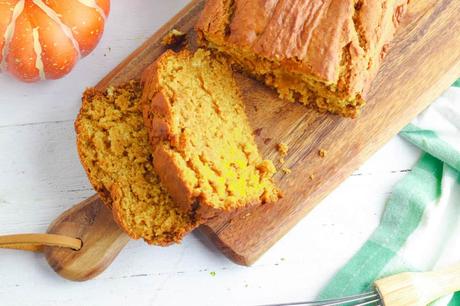 Recipe FAQS
Can I make this recipe gluten-free?
Yes, you can make this recipe gluten-free. I also suggest you check out my gluten free pumpkin coffee cake. To make this recipe gluten-free substitute the 1 and 3/4 cups of whole wheat pastry flour for a 1:1 gluten-free flour blend.
Can I make vegan pumpkin bread oil free?
Yes, you can make this recipe oil free. Instead of adding vegetable oil, use an additional 1/2 cup of unsweetened applesauce.
How do I make this recipe refined sugar free?
Make this recipe refined sugar free by substituting the 1 cup of brown sugar for 1/2 cup of maple syrup and 1/4 cup of coconut sugar. This will reduce the overall amount of sugar as well as use unrefined sugars to lightly sweeten this quick bread.
How to Store and Keep Vegan Pumpkin Bread
Allow the bread to cool completely before wrapping it with saran wrap. Then wrap it with a second layer of aluminum foil. This will keep the air out which will ensure it retains its moisture. Store at room temperature in a cool dry place. It will keep for 3-4 days.
Top Tips for Making The Best Vegan Pumpkin Bread
Sifting the dry ingredients together will result in a lighter and fluffier crumb, as well as ensure that the baking powder, baking soda, and spices are evenly distributed throughout.
Make sure you use the "spoon and level" method (spoon the flour into your measuring cup, level with the back of a knife) to measure your flour vs. scooping the flour out with your measuring cup.
You can change up the toppings/mix-ins for this healthy pumpkin bread. For a more dessert-like-feel, add 1/4-1/2 cup dark chocolate chips into the batter before baking. Or try adding chopped walnuts, almonds or pecans; or any dried fruit you like. If you're including multiple mix-ins, don't exceed more than 1 cup of total mix-ins.
Make sure oven is preheated to 400 degrees F before placing bread in the oven to bake.
The top will be a golden brown when ready. Check to ensure it is cooked all the way through by inserting a toothpick through the center. If it comes out clean, it is ready!
Allow the pumpkin bread to cool in the loaf pan for 10-15 minutes before removing it and allowing it to cool completely on a wire rack.
Do not slice the bread to serve until it has cooled completely.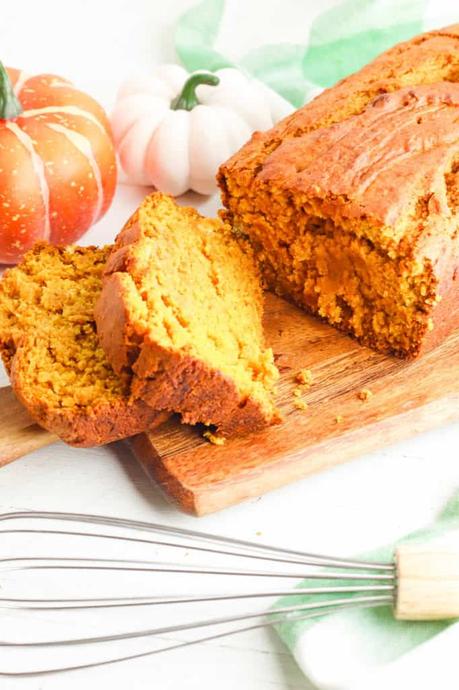 Check Out These Other Healthy Quick Bread Recipes!
If you have tried this Vegan Pumpkin Bread Recipe or any other recipe on my blog, then please rate it and let me know how it turned out in the comments below! You can also FOLLOW ME on
FACEBOOK
,
TWITTER
, INSTAGRAM, and
PINTEREST
to see more delicious, healthy, family friendly food!
Vegan Pumpkin Bread