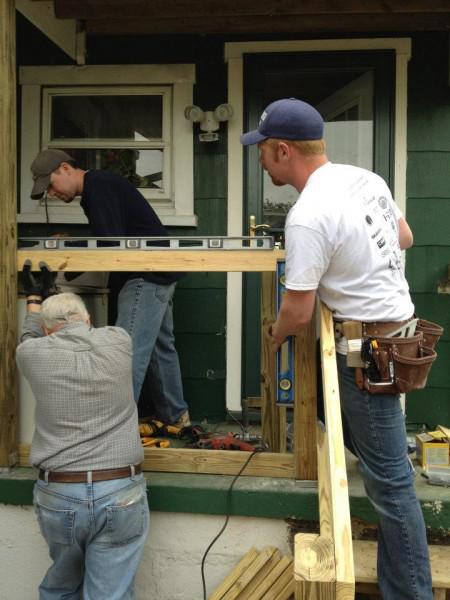 This weekend our church got together to volunteer with Rebuilding Together Alexandria, where they helped one of our elderly neighbors here in Old Town rebuild her front steps to make them safer.
Mr. A even got in there to help with a little hammering action that you can see above.
Unfortunately, I couldn't make it out to help them because I had a friend's bridal shower/bachelorette party.  But I thought the least that I could do was pass on some baked goodness for our workers.
Seeing that they were going to need all the energy they could get, I thought some peanut butter muffins would be the perfect protein pick me up.  Since no peanut butter baked good is complete without bananas, I added those in too.  And of course since chocolate chips bring a smile to everyone's face, I thought I would add those in too.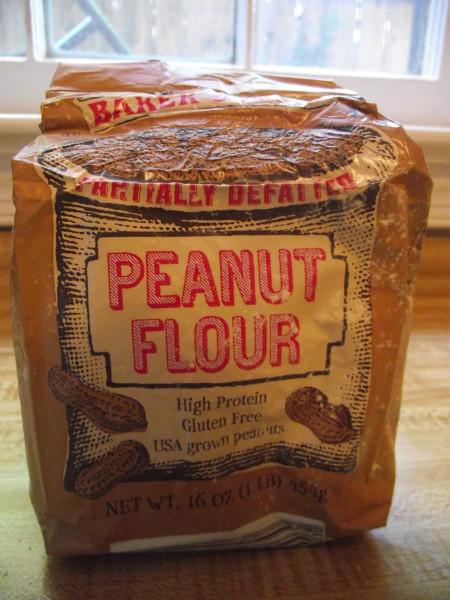 In this recipe, I use Peanut Flour, which you used to be able to find at Trader Joe's.  It's since been discontinued but I'm sure you can find some at a health food shop.  Peanut flour is great because it doesn't have the excessive oil often found in regular peanut butter, which helps keep the fat and calorie count down.
Vegan Peanut Butter Banana Chocolate Chip Muffins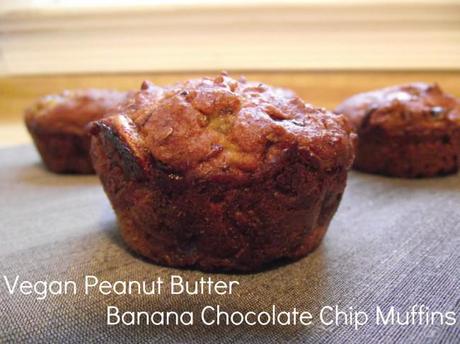 Ingredients
1 cup peanut flour
3/4 cup white whole wheat flour
1/2 cup agave nectar
1 tsp baking powder
1 tsp baking soda
1 tsp salt
1 tablespoon flax
3 tablespoons water
2 bananas
1/2 cup vegan chocolate chips
1/2 cup soy milk
Method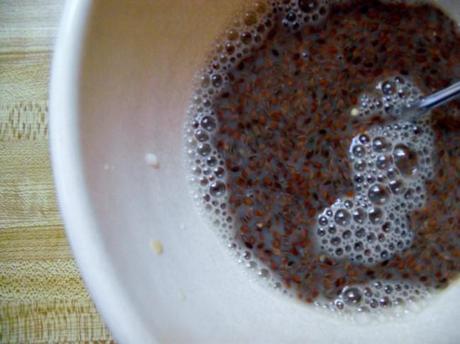 You first will want to make your flax egg.  Add flax to a small bowl and then add water.  Whisk together and then place in the refrigerator to set.  It's best to give this at least 1 hour to set but if you are in a rush you can leave it in the refrigerator while you work on the rest of the recipe.
At this point, you should preheat the oven to 350 degrees as well.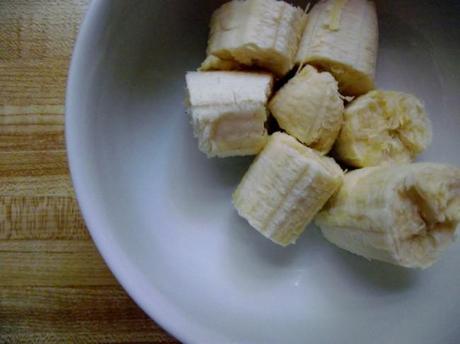 In a small bowl, place 2 bananas and smash them with a fork.  Set them aside for later.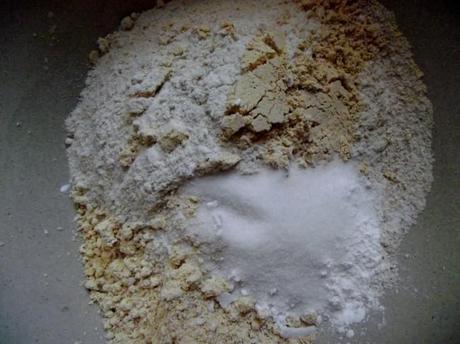 In a large bowl, add all the dry ingredients, peanut flour, whole wheat flour, baking powder, baking soda, and salt.  Mix together.
In a small bowl, add the remaining wet ingredients, flax egg, agave, and soy milk.  Whisk together.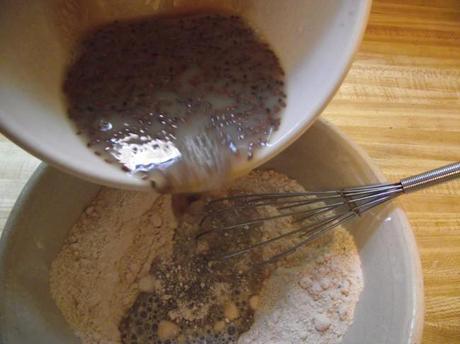 Add wet ingredients to dry ingredients and whisk together until combined.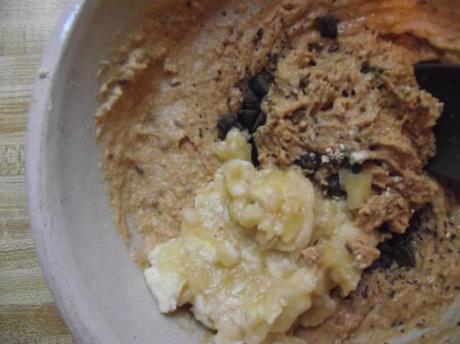 Now add in smashed bananas and chocolate chips.  Fold them into mixture with spatula until combined.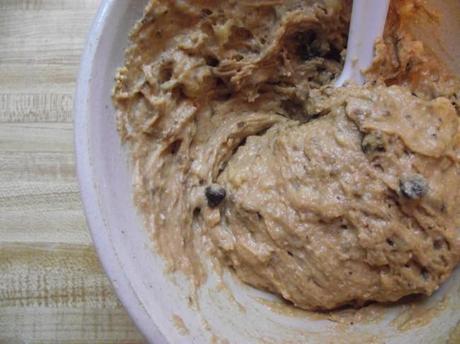 Now your mixture is ready to add to your muffin tins.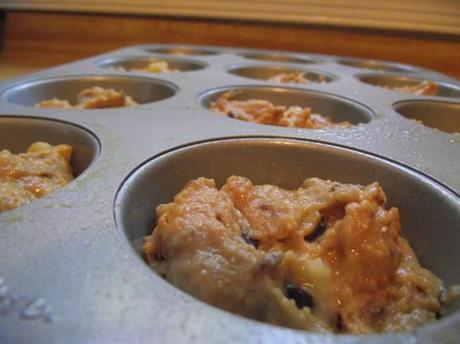 Bake your muffins for 20 minutes.  Then remove them to cool on a cooling rack for 20 minutes.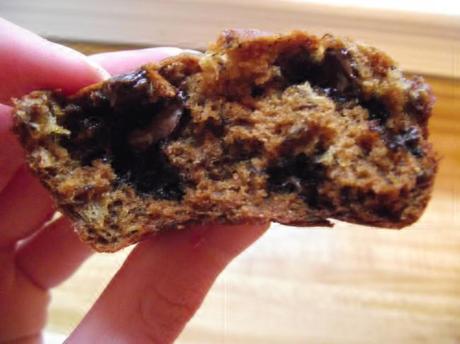 These muffins are perfect straight out of the oven when the chocolate is still melted.  Yum!  There's nothing better than gooey bananas and chocolate chips.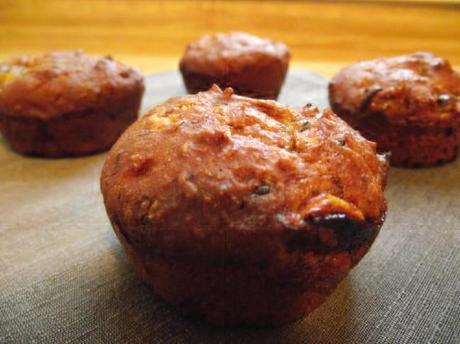 Even though they were vegan, Mr. A still devoured them in record time with his construction crew.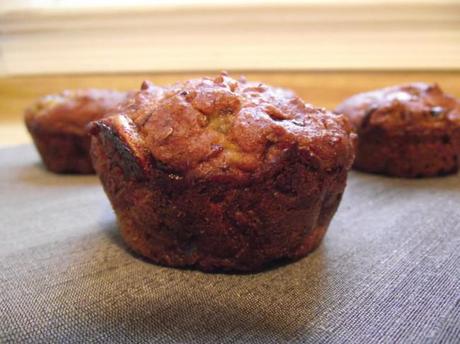 I guess doing good deeds really does work up quite an appetite.