This post may contain affiliate links. Please read my disclosure.
These vegan oatmeal cookies with chocolate chips use tahini (a sesame seed paste) to bind these cookies together. It adds a wonderful rich flavor that compliments the walnuts and chocolate chips for a soft and chewy cookie!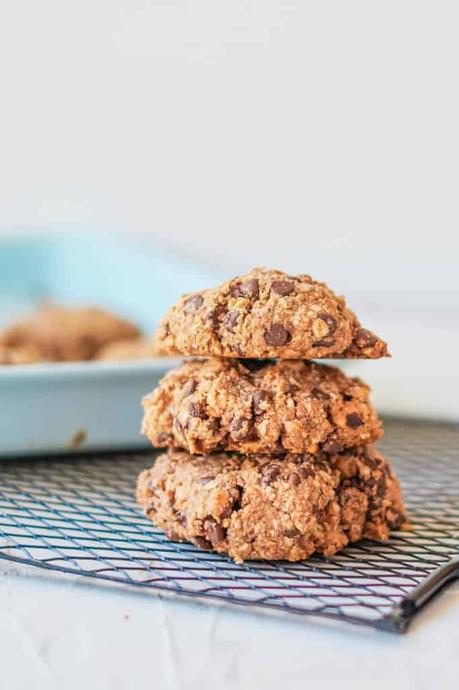 These vegan oatmeal cookies are the perfect snack or dessert! They're made with nutrient rich tahini. No vegan butters, or oils in these cookies!
Tahini is a sesame seed paste that is often used in Middle Eastern cuisine. Most notably it's one of the key ingredients in traditional hummus recipes.
Tahini is an excellent alternative to nut butters for those who have allergies. It it has the same nutritional bang-for-your buck as nut butters (2 tbsp has 190 calories, 5g fiber, 0g sugar and 8g protein), and is full of healthy fats.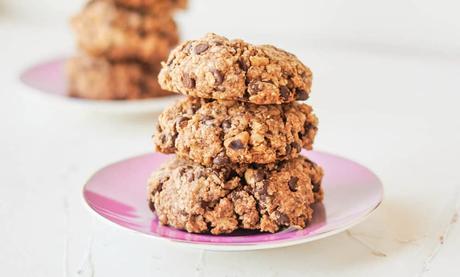 These cookies make for a healthy snack or treat. They're refined sugar free, high in fiber thanks to the oats, and a good source of healthy fats with the addition of tahini and walnuts.
The chocolate chips add that something special to make them feel like a treat!
Tools and Equipment You'll Need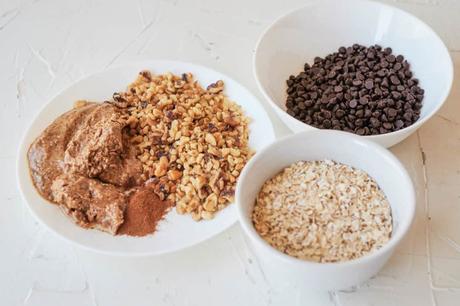 How to Make Vegan Oatmeal Cookies with Chocolate Chips - Step by Step
Step 1: Mix the nut butter/tahini, maple syrup, cinnamon and vanilla well, then add the remaining ingredients and stir to combine.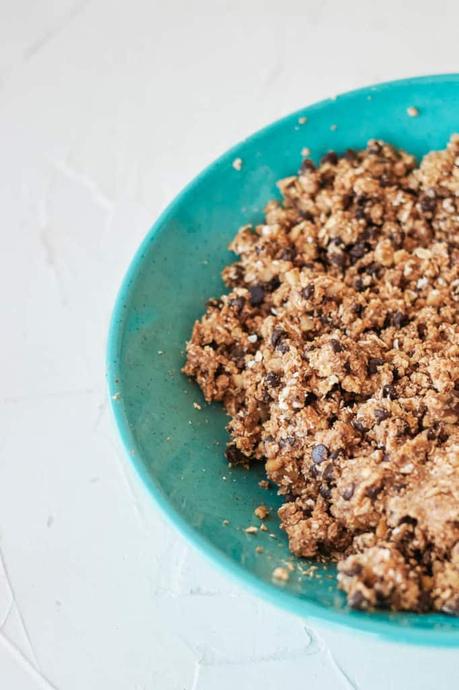 Step 2: Wet your hands so that they are slightly damp, and scoop 2 or 3 tablespoons of the dough into your palm to form into a ball. Place onto a baking sheet lined with parchment paper and press into a cookie shape.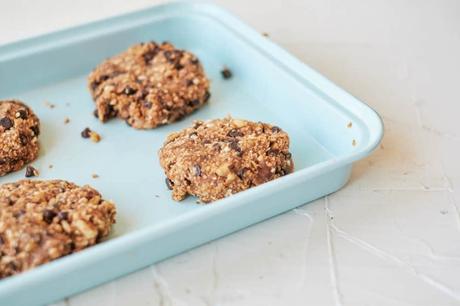 Step 3: Bake at 350° F for 10 minutes. Allow to cool for 10 minutes before serving.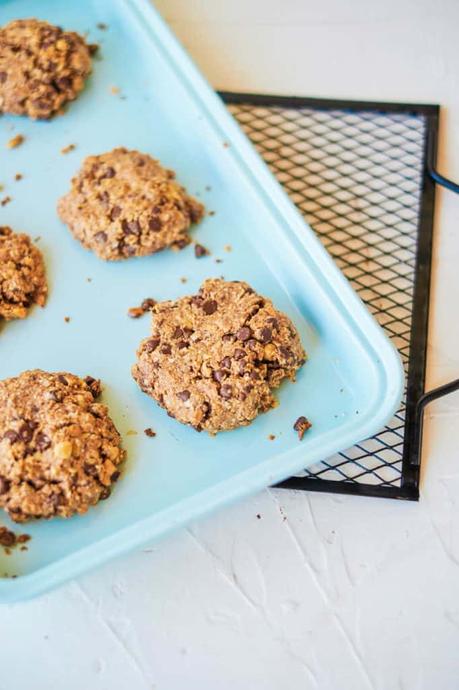 What makes these vegan oatmeal cookies healthy?
Healthy Fats and Nutrients: Sesame seeds, which is what tahini is made from, are one of the healthiest seeds you can eat! They are packed with healthy fats, are heart healthy, and are rich in calcium, magnesium, B vitamins, iron, copper, and zinc.
Whole Grains: These cookies are made with zero refined grains! Oats, which take the place of flour in this recipe, are high in fiber, help to lower cholesterol, and help keep your blood sugar steady.
Low in Sugar: Each cookie has less than 5g sugar! That's a treat you can eat completely guilt-free.
Will kids enjoy these vegan oatmeal cookies with chocolate chips?
My kids pretty much love any cookie that we make at home, and these oatmeal cookies are no exception! They are perfectly sweet, the chocolate chips melt nicely once they're baked, and have a nice mild flavor that is very kid-friendly.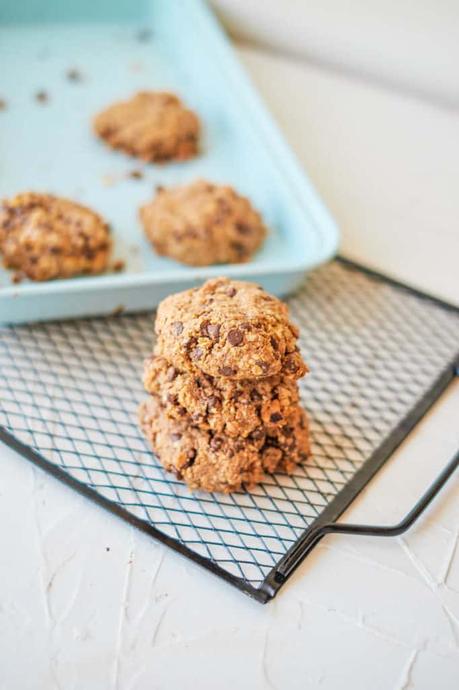 What oats are best to use in baking?
Rolled oats and quick cooking / instant oats both work well in baking. Rolled oats will give your recipe a chewier, heartier texture, while quick cooking oats offer a more delicate, softer texture. Quick cooking oats will also cook faster in baked goods, which is something to keep in mind if you're substituting them for rolled oats in a recipe.
I wouldn't recommend using steel cut oats in baked goods because they are much more dense than rolled or quick oats and will affect the recipe's texture.
How do you make oatmeal cookies that are soft and chewy?
Using higher moisture ingredients like brown sugar and butter/vegan butter will help make your cookie more chewy, and doing things to reduce how much your cookie spreads while baking will keep it soft!
There are five main changes I recommend making to get soft and chewy oatmeal cookies:
Use brown sugar instead of granulated
Use butter (or vegan butter) for your fat
Slightly lessen your baking time by a couple minutes
Use a baking sheet lined with parchment paper to reduce the spread of your cookies
Chill your cookie dough for 30 minutes before baking.
How do you store and keep these cookies?
These cookies will keep in an airtight container in the fridge for up to 1 week.
To freeze: Let the cookies cool completely. Then transfer to a freezer safe bag and store for up to 3 months. To defrost, let the cookies thaw in the fridge before warming them slightly in the oven or microwave.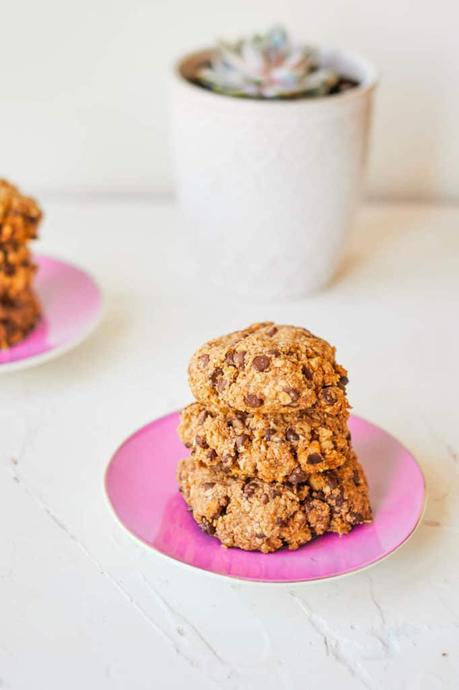 Top Tips for Making the Perfect Vegan Oatmeal Cookies
If you don't have tahini, you can use any nut butter as a 1:1 replacement for the tahini in this recipe
Try adding 1/2 tbsp molasses for another layer of flavor. This will also help to make the cookies more chewy and soft
To achieve a softer and chewier texture, just slightly under bake the cookies by a minute or two.
This recipe can easily be doubled or cut in half if needed
You can use rolled oats or even oat flour as a 1:1 replacement for the quick cooking oats in this recipe. The baking time might change slightly, so I would just watch your cookies more closely as they bake if you do make a substitution here.
Check out these other cookie recipes!
If you have tried this vegan oatmeal cookie with chocolate chips recipe, or any other recipe on my blog, then please rate it and let me know how it turned out in the comments below! You can also FOLLOW ME on
FACEBOOK
,
TWITTER
, INSTAGRAM and
PINTEREST
to see more delicious, healthy, family friendly food!
Vegan Oatmeal Cookies with Chocolate Chips