This post may contain affiliate links. Please read my disclosure.
This creamy vegan mushroom stroganoff is packed with fresh flavors. It's a warm, hearty, healthy and comforting recipe that comes together in less than 40 minutes. Perfect for a weeknight dinner, or a meal to impress your non-vegan friends and family!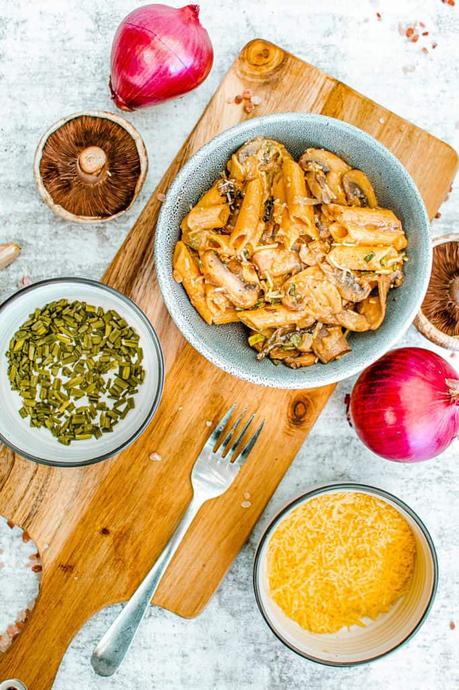 It's officially fall and the temperatures have taken a sudden drop! Gone are my cravings for light salads. Warm, satisfying comfort food is what I want.
There's just something so cozy and comforting about a big bowl of creamy pasta, and this vegan mushroom stroganoff is one such dish!
Most of those big bowls of pasta are usually packed with fat, calories, and refined carbs.
But who says you can't have healthy comfort food? It's not only possible, but it's just as delicious and satisfying!
With some simple modifications you can have a creamy heart healthy pasta dish in no time at all.
This vegan mushroom stroganoff is made with whole wheat pasta for added fiber and nutrients, and a non-dairy cream sauce infused with garlic and spices that's low in fat and calories.
Packed with hearty mushrooms and fresh herbs, this is a family favorite that's special enough to make for a dinner party for even your non-vegan guests!
Tools and Equipment
Recipe Ingredients and Notes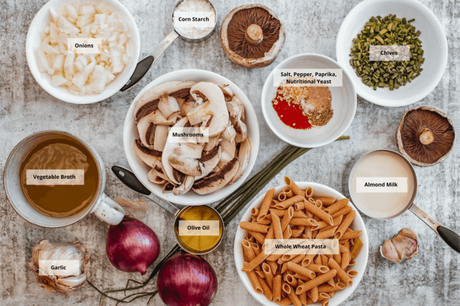 For the cream sauce: The cream sauce is made by combining dairy free milk, nutritional yeast, cornstarch and soy sauce. It's a thick sauce with the perfect seasoning.
The Pasta: I have used whole wheat penne pasta for this recipe, however you could sub for a different shaped whole wheat pasta such as rotini, or even a chickpea or lentil pasta!
Veggies: Garlic, onion and mushroom are added to the creamy sauce to make this vegan stroganoff. If you would like to add more veggies you're welcome to. I suggest baby spinach for added vitamins and nutrients.
How to Make Vegan Mushroom Stroganoff - Step by Step
Step 1: Prepare penne pasta according to package directions. Meanwhile, sauté the onions and garlic for 3 minutes, or until slightly browned, stirring occasionally.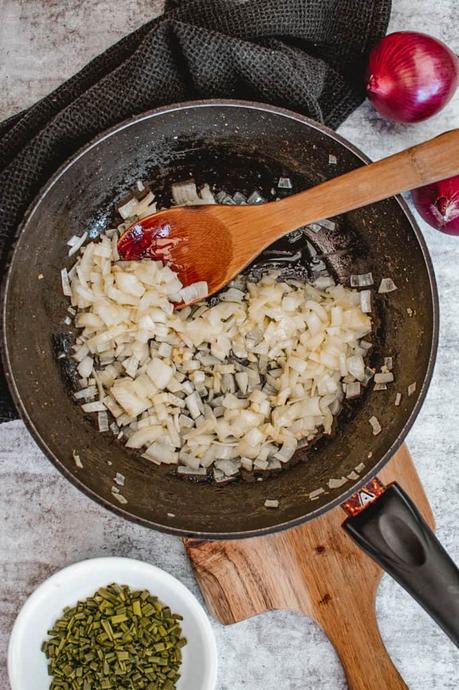 Step 2: Add the mushrooms, and stir to combine. Continue to sauté until the mushrooms are tender.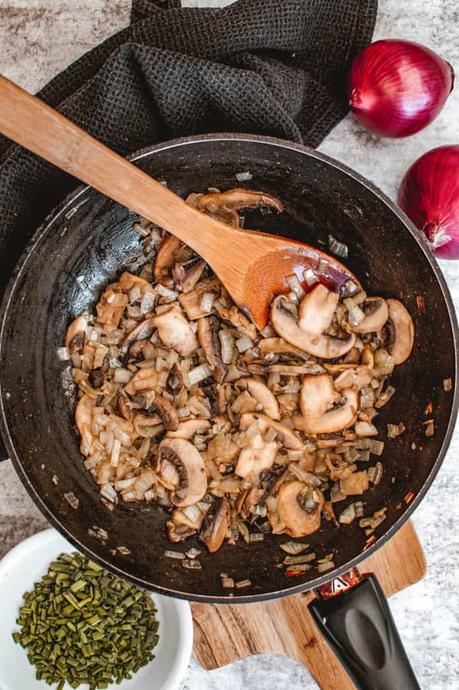 Step 3: In a jar, whisk together the vegetable broth, the soy sauce and cornstarch until smooth. Pour it into the pan, along with the nutritional yeast.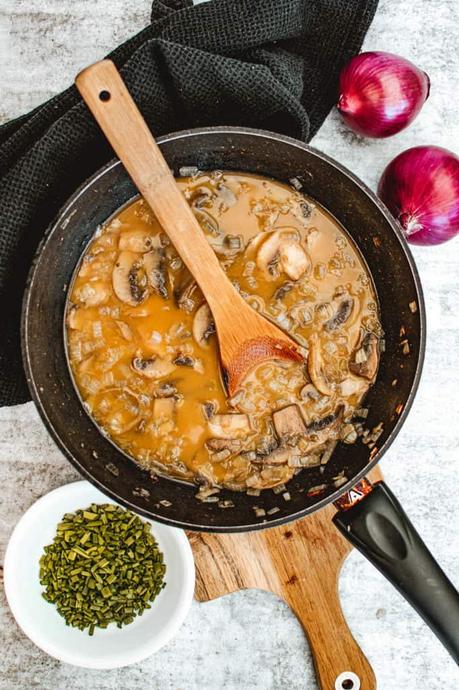 Step 4: Stir in the non-dairy milk until combined. Bring it to a simmer and cook for 5-10 minutes, or until thickened to desired consistency.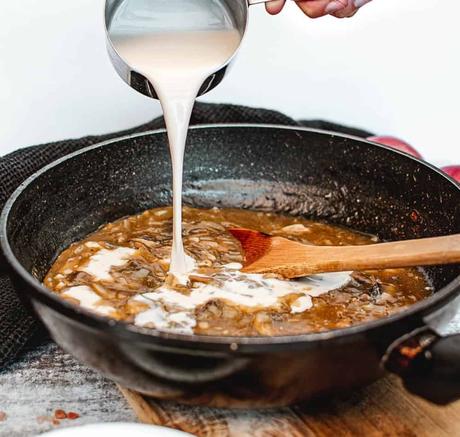 Step 5: Season with paprika powder, salt and pepper to taste.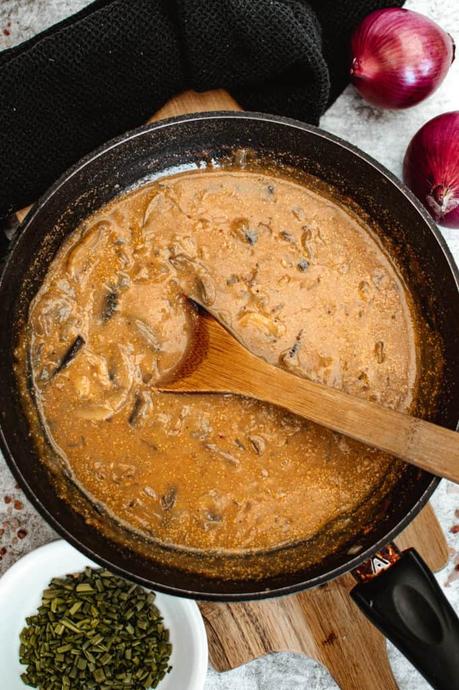 Step 6: Add in the pasta, toss well to combine. Serve with vegan parmesan, fresh chives or parsley.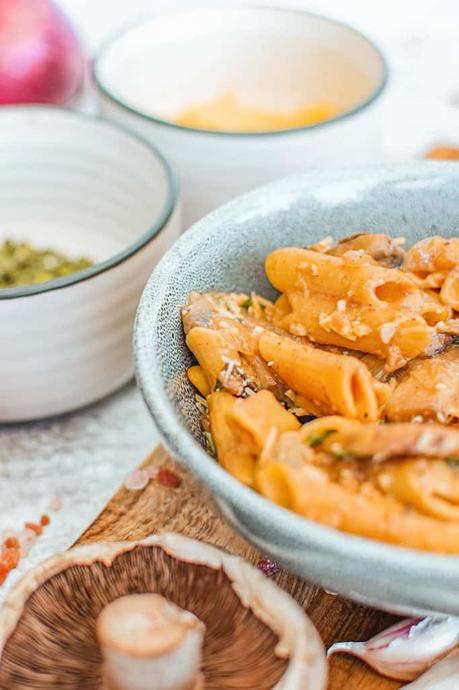 What Makes This Vegan Mushroom Stroganoff Healthy?
Lower in Fat and Calories: This dish is made with a low-fat unsweetened almond milk that has far fewer calories than the traditional sour cream that other stroganoff sauces are made from. This drastically reduces the fat and calories while still maintaining the flavor and creaminess.
Added Fiber and Protein: Instead of using a white pasta, this dish uses a whole wheat, chickpea, or lentil pasta. The whole wheat pasta has added fiber, while a chickpea or lentil pasta also has added plant-protein.
Rich in Vitamins and Nutrients: Mushrooms are rich in over a dozen minerals and vitamins, including copper, potassium, magnesium, zinc and a number of B vitamins such as folate.
Will Kids Enjoy Vegan Mushroom Stroganoff?
If your kids aren't fans of mushrooms, no problem! It is super easy to make this a kid-friendly pasta dish for even those that turn their nose up at mushrooms. Instead of making the cream sauce in the pan with the mushrooms, whisk those ingredients together in a separate pan. Reserve some of the pasta, and combine it with some of the cream sauce in a separate pot. Then add your child's favorite veggies such as steamed broccoli.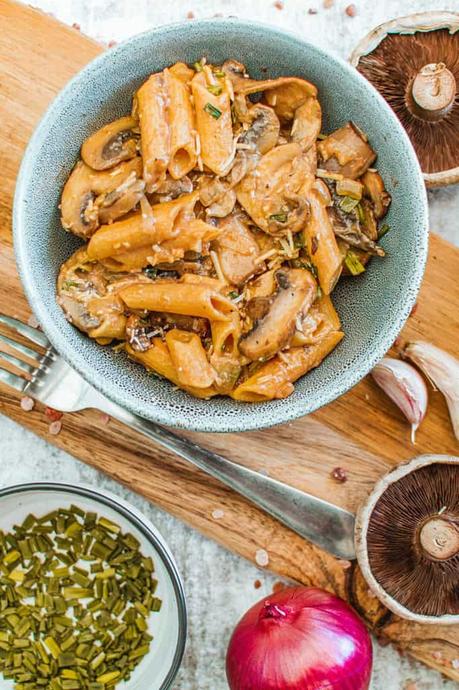 Recipe FAQS
How do you thicken mushroom stroganoff?
This vegan stroganoff is thickened with corn starch. Other options to use instead of cornstarch include arrowroot flour, potato starch, or tapioca starch.
What is stroganoff sauce made of?
Most traditional stroganoff recipes are made from a butter flour roux and then finished with sour cream.
This healthier version is made with non-dairy milk, and thickened with corn starch.
How do you add flavor to stroganoff?
Adding a combination of salt, pepper, paprika, soy sauce, and nutritional yeast give this recipe a nice balance of flavors. If you'd like to add additional flavor, consider topping with fresh herbs such as chives, or parsley.
How to Store and Keep
To Store in the Fridge: Allow the stroganoff to cool completely before transferring it to an air tight container. It will keep for 3-5 days in the fridge.
To Freeze: I do not recommend freezing the pasta. However, you could freeze the mushroom cream sauce, and then make the pasta fresh. Allow the cream sauce to cool completely before transferring it to an airtight container. It will keep in the freezer for 2-3 months. When ready to eat, prepare your pasta fresh, and transfer the sauce to a sauté pan. Heat on medium-low, stirring occasionally until sauce has defrosted and reheated. Toss fresh pasta in sauce, serve, and enjoy!
Recipe Variations
Add More Veggies: Add some leafy greens for added nutrients!
Make It Gluten Free: Use a chickpea or lentil based pasta, or your favorite gluten free pasta.
Switch Up The Pasta: Try serving the mushroom sauce over quinoa or mashed potatoes - it's a fun way to switch things up!
Choose Your Mushroom: You can use any mushroom variety you enjoy for this recipe. I used cremini mushrooms and white button mushrooms, but any variety would work well.
Change Your Plant Milk: I used almond milk for this recipe, but unsweetened coconut milk or soy milk would also work well.
Add Spice! Feel free to add some spice like crushed red pepper flakes, a pinch of cayenne, or extra black pepper to give it a kick!
Add protein: Tofu or white beans would both work well in this recipe.
Top Tips for Making The Best Vegan Mushroom Stroganoff
Cook the pasta fresh, and follow package instructions for best results. Remove the pasta 1 minute before the cooking time on the box has completed so that it stays al dente before you add it to the mushroom sauce.
Be sure to whisk the cornstarch with the vegetable broth and soy sauce until smooth. You don't want it to be lumpy.
Make sure to choose an egg free pasta so that it's vegan friendly. The good news is, every whole wheat pasta and chickpea/lentil pasta I've seen are naturally egg-free!
Garnish with your favorite fresh herbs to add some brightness to the dish.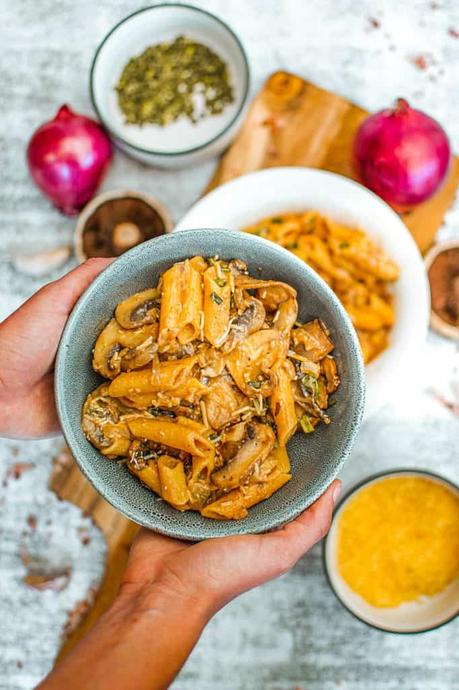 Check Out These Other Healthy Comfort Food Recipes!
If you have tried this Vegan Mushroom Stroganoff Recipe or any other recipe on my blog, then please rate it and let me know how it turned out in the comments below! You can also FOLLOW ME on
FACEBOOK
,
TWITTER
, INSTAGRAM, and
PINTEREST
to see more delicious, healthy, family friendly food!
Vegan Mushroom Stroganoff