Back again with another Vegan MOFO piece at Vegan Mainstream.  This time it's one of my 'oldies but goodies'.  Before clicking through, can any of you guess what it is?  Link to Vegan Mainstream to find out and get the recipe!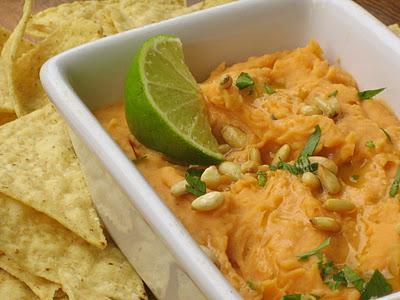 And, keep reading for an outtake photo.  I'm breaking for those of you that are squeamish about bugs and such, not to put you off actually making this scrumptious dip.
I'm doing my best to capture a decent photo, and I get a visitor.  I was surprised to still see these guys around so late in the season.  I was saying "shoosh - go away - get off!!".  Amazing, he didn't understand that.  I scooped him up with one of the tortilla chips off on to the patio bench.  Where he seemed to sit and eat some of the  hummus for a few seconds.  Maybe he got a bit of a buzz from the chipotle.