This post may contain affiliate links. As an Amazon Associate, I earn from qualifying purchases. Please read my disclosure.
Plain white rice gets a delicious makeover in this vegan Mexican rice recipe. Simple ingredients like bell peppers, tomatoes, and vegetable broth add plenty of flavor to this easy side dish! Make it into a burrito bowl or serve it alongside tacos for a delicious dinner the whole family will love.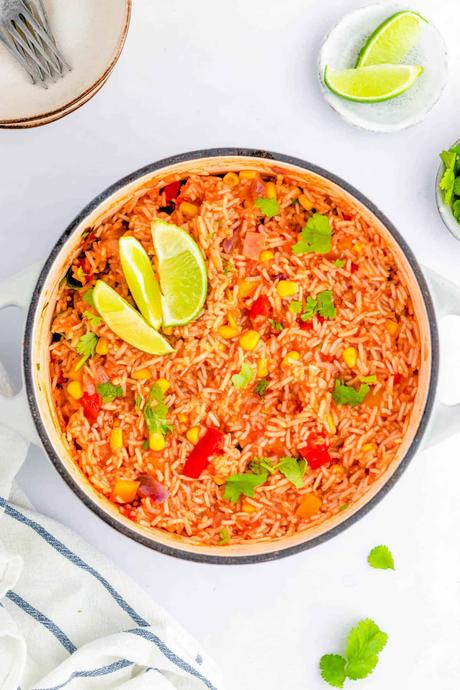 Simple, one-pot dishes are the best kind of recipes. Vegetarian Mexican rice is my all-time favorite. It's flavorful, easy to make, and naturally vegan and gluten-free. My kids love plain, regular rice and so do I, but sometimes we want to change it up. Mexican rice with veggies is the answer! Long grain rice is simmered with bell peppers, tomatoes, garlic, and spices for a quick and easy side dish.
Vegan Mexican rice is a great way to make dinner go further. It's budget-friendly and filling so you don't need as much tofu, meat, or vegetables to fill you up. You can use it as a base for a burrito bowl or serve it alongside tacos or refried beans. This vegan Spanish rice recipe stores well in the fridge or freezer. It's perfect if you love to meal prep. Make a batch at the beginning of the week and use it all week long!
Latest Recipe Video!
If you've read any of my posts, you know I love customizable recipes! Add beans or tofu for extra protein, chili powder for a little heat, or tortilla chips for a nice crunch. This rice will get gobbled up in no time!
👩‍🍳 Why This Recipe Works
Enjoy this authentic Mexican rice recipe!
It's the perfect base for burrito bowls.
This easy vegan Spanish rice tastes divine with any main dish.
Vegan, vegetarian, & gluten free recipe
Your kids will love this delicious rice.
Healthier than traditional Mexican rice, but tastes just as good!
It's the perfect side dish for vegan enchiladas, tacos, or any type of Mexican food.
🥘 Ingredients
This recipe calls for simple ingredients you can find at your local grocery store. You can customize this vegetarian Spanish rice to fit your dietary needs and preferences!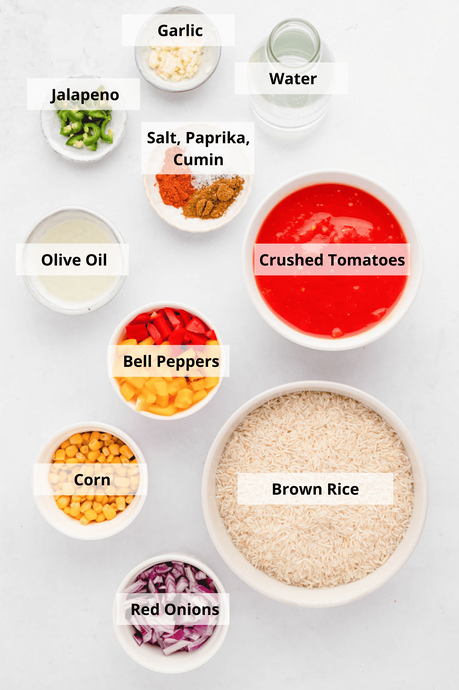 Red Onion: Red onions have a spicy flavor that mellow once cooked. White, yellow, or sweet onions work great too.
Rice: You can use any type of rice with good success. Basmati, Jasmine, or long-grain brown rice are all great options. I prefer brown rice because it's higher in nutrients, fiber, and antioxidants. Avoid short-grain rice or the amount of liquid won't be right.
Vegetable Broth: Vegetable stock is perfect for soups, stews, and grains. It adds a ton of flavor with just one ingredient. It can be high in sodium though so buy reduced-sodium if you prefer. If you're not vegan or vegetarian, chicken broth works too.
Tomatoes: Tomatoes add sweetness and acidity. I used canned crushed tomatoes, but you could also use tomato puree or tomato sauce.
Garlic Cloves: You can buy a head or garlic and mince it yourself, or buy it pre-minced. You can find pre-minced garlic in a small jar near the fresh garlic.
Bell Peppers: Yellow and red bell peppers are sweeter than green bell peppers. Any bell peppers work great though, but I prefer the sweeter variety.
Jalapeno: If you don't like any heat, omit this. If you love a spicy kick, feel free to use two! For a milder kick, use a poblano pepper instead.
Corn: Corn is naturally sweet and adds a bit of texture to the rice.
Olive Oil: Olive oil is used to sauté the veggies. If you don't have it on hand, vegetable oil or any neutral flavored oil can be used.
Seasoning: Don't forget to season the rice! Salt, ground cumin, and paprika are a perfect combination. Add a teaspoon of chili powder or red pepper flakes for even more heat!
📖 Variations
Mexican cuisine is easy to customize! Enjoy this rice with vegan cheese, roasted veggies, salsa, or beans.
Toppings: Top this vegetarian Spanish rice with avocado, sour cream, diced roma tomatoes, salsa, sweet corn, roasted sweet potato, or fresh cilantro.
Cheese: Top with shredded Mexican cheese or your favorite vegan shredded cheese.
Vegan Mexican Rice And Beans: You can add red, pinto, or black beans too! Simply add the drained beans when you add the corn and cilantro.
Instant Pot Vegan Mexican Rice: For an instant pot version, use the sauté function to cook the bell peppers, jalapeño pepper, and garlic. Add the seasoning, rice, water, and tomatoes. Set to high pressure for 4 minutes. Once the cooking time is up, let the pressure naturally release. Stir in the corn and cilantro then enjoy!
Veggies: Stir in frozen peas five minutes before the rice is finished. Alternatively you can top this rice with your favorite veggies. Roasted or sautéed veggies like corn, peppers, onions, zucchini, or broccoli would be delicious.
🔪 Instructions
Sauté Vegetables: Heat the vegetable oil in a medium pot over medium heat. Add the onion and sauté for 3 minutes, then add the bell peppers, garlic, and jalapeño peppers. Cook for two more minutes.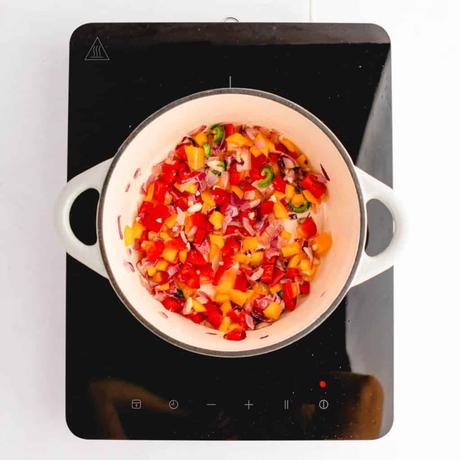 Add Rice & Seasoning: Add the rice and spices then mix until combined.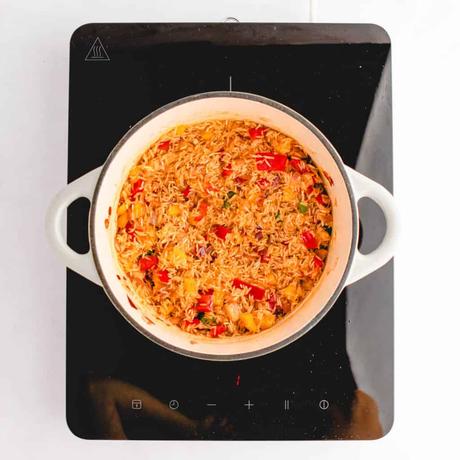 Simmer Rice: Add the cold water and tomatoes, then bring the mixture to a boil. Lower the heat and let it simmer until the rice is tender and all the liquid is absorbed.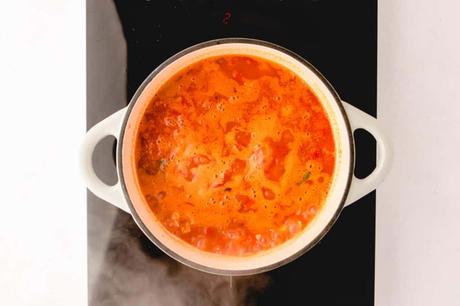 Remove from Heat: Take the rice off the heat, then add in the corn and cilantro. Mix until combined.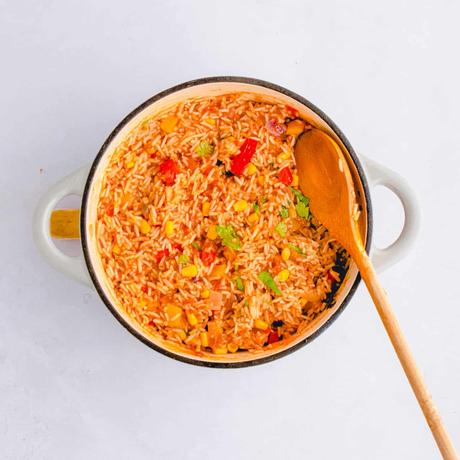 Serve: Enjoy this easy rice side dish with fresh squeezed lime juice and a little bit of cilantro!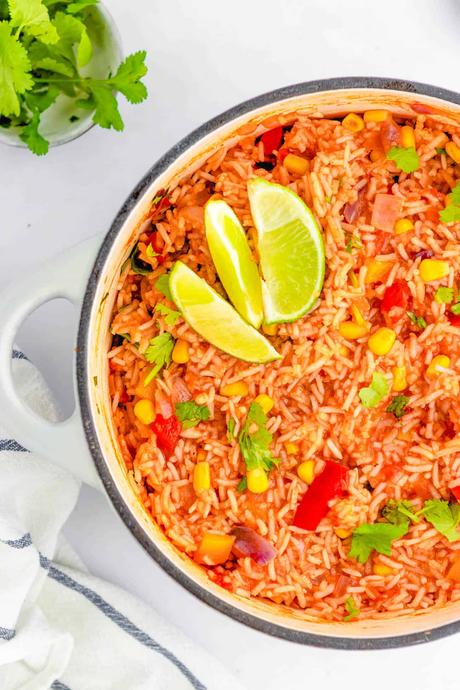 ❓Recipe FAQs
Is there a difference between Spanish rice and Mexican rice?
No, the terms are used interchangeably. Mexican rice also known as spanish rice (arroz rojo) is a side dish made with white rice, onions, tomatoes, and spices. Sometimes spanish rice contains saffron, but not always. This is what gives it a yellow color and earthy flavor.
What kind of rice is best for this vegetarian Mexican rice recipe?
Long-grain rice is the best rice for this recipe. You can use brown or white, but avoid short-grain rice. Short-grain rice has a high starch content which makes it very sticky. It also needs a different ratio of water to rice.
Should I rinse the rice?
It's not necessary to rinse the rice, but you can if you like. When you rinse the rice, it will remove some of the starch and make it less sticky. Use the rinsed rice in the recipe as directed.
How should I store Mexican rice?
Store vegan Mexican rice in the refrigerator in an airtight container for up to 4 days. It can be frozen for up to two months. Let the rice cool and then scoop it into a ziptop freezer bag. Label it with the date and freeze for later. To reheat, microwave until warmed through.
💭 Expert Tips
For best results, use any variety of long-grain rice. Short-grain rice has a higher starch content and doesn't need as much water.
Two cups of rice makes approx. six cups of cooked rice.
You don't have to rinse your rice for this recipe.
Let the rice rest for a few minutes before serving. This will give you the fluffy rice you're looking for!
To reheat, microwave or warm it up on the stove.
Serve this rice with all of your favorite Mexican recipes!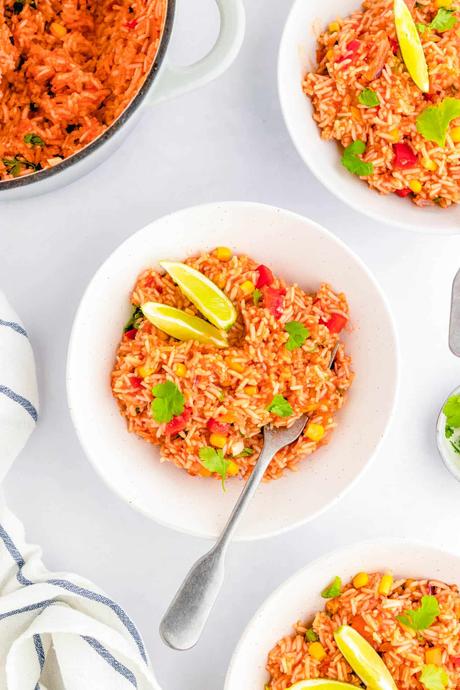 🍲 More Mexican Recipes!
📋 Recipe Card
Vegan Mexican Rice