We are cruising past May with jest speed, last weekend was my birthday and Mother's day. We had a fun weekend getaway to Connecticut and a beautiful Mother's day party at a dear friend's house. Hope you guys had a good Mother's day. But make sure to appreciate your mom not just on her special day, but every day of the week -- she deserves it :-)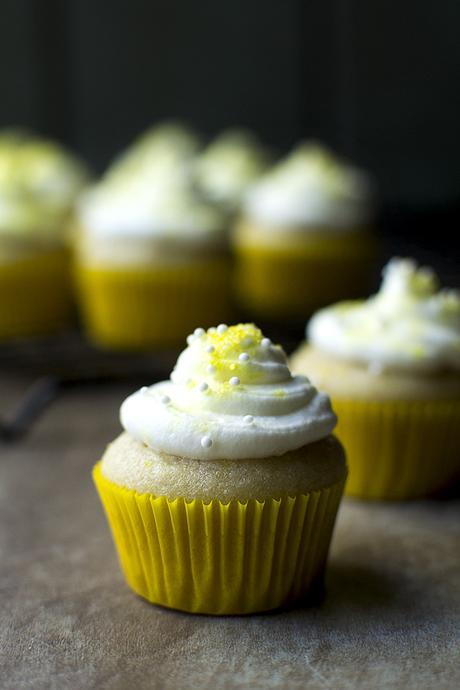 I made these cute little mini lemon cupcakes for Mother's day last weekend. It is a variation of the basic vegan vanilla cupcake recipe, but instead of vanilla flavored with lemon zest and pure lemon extract.
They turned out moist and fluffy with just the right hint of lemon. Personally I'm not a big fan of lemon flavor, but I think I'll make an exception for these cupcakes. Recipe is from
Vegan Cupcakes Take over the World
.
I've started to like the mini cupcakes over the regular standard size ones these days. The mini cupcakes are just perfect 1~2 bites and done. But there is also a chance of overdoing it by popping in a couple or a few without realizing (ahem....). I also made these pretty Rosewater & Pistachio mini cupcakes (these are my personal favorite).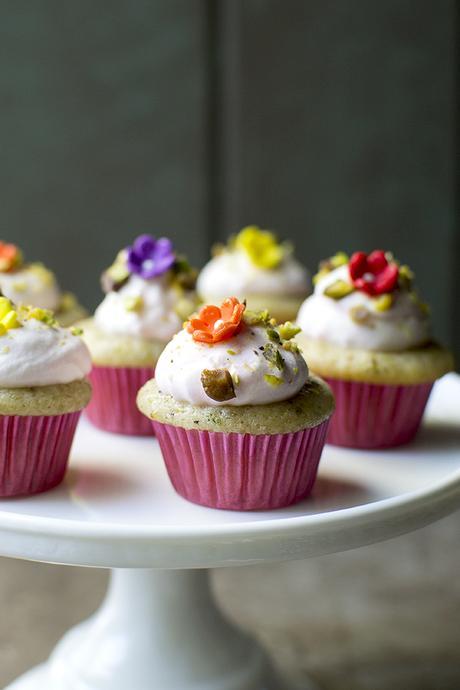 In case you are wondering frosting is not vegan, it is whipped cream frosting. I'm going to try the popular coconut whipped cream to see how well that works, so the entire cupcake can be vegan.
Vegan Lemon Cupcakes
(Makes 12 standard or 28~30 mini cupcakes)
Ingredients
:
1¼cups

All purpose flour

2tbsp

Cornstarch

¾tsp

Baking powder

½tsp

Baking soda

½tsp

Salt

1cup

Almond or soy Milk

1tsp

Apple cider Vinegar

⅓cup

Oil

¾cup

Sugar

1tsp

Pure Vanilla Extract

1½tsp

Pure Lemon extract

1tbsp

Lemon zest
Method
:
Preheat oven to 350°F and line a regular muffin pan or mini-muffin pan with cupcake liners.
Whisk soy milk and vinegar in a measuring cup and set aside for a few minutes to curdle.
Beat together the soy milk mixture, oil, sugar, vanilla, lemon extract and lemon zest in a large bowl. Sift in the flour, cornstarch, baking powder, baking soda and salt and mix until no big lumps remain.
Fill cupcake liners ⅔rds of the way full and bake for 20-22 minutes or until a toothpick inserted in the center comes out clean.
Transfer to a cooling rack and let them cool completely before frosting.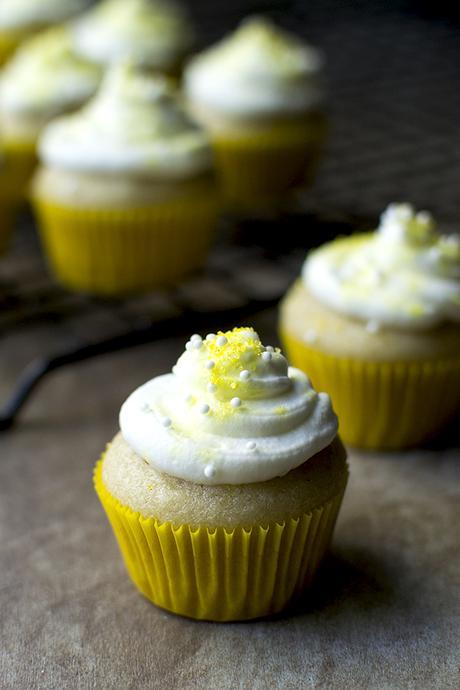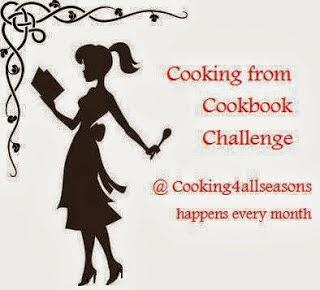 Linking this to Valli's '
Cooking from Cookbook Challenge: May -- Week 2'.