Pin
19
Share
Tweet
19

Shares
Jump to Recipe
·
Print Recipe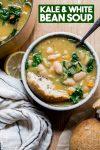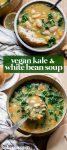 This Creamy Vegan Kale & White Bean Soup is so flavorful, filling, and ready to eat in about 30 minutes. This easy soup recipe is gluten-free, dairy-free, and full of plant-based protein.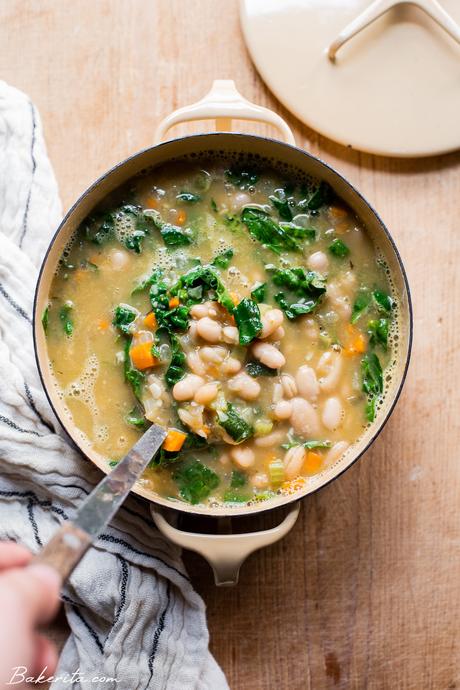 I love enjoying soup all year round. But, as the months get chillier, there are so many nights where I want to curl up with a bowl of soup and a thick slice of gluten-free sourdough bread (or maybe some focaccia). It's the perfect warming fall and winter meal, and such a fabulous way to pack loads of veggies into your diet.
This Vegan Kale & White Bean Soup is an quick & easy fall favorite for me. It hits all of my boxes for a delicious simple soup:
Easy to Make: this vegan soup recipe is done in about 30 minutes, plus a little time for chopping veggies! It can be ready in practically no time.
Loaded with Veggies: it has onions, carrots, celery, garlic, and lots of kale, so it's full of good-for-you nutrients that will make you feel so good.
Protein-Packed: with 3 cups of white beans, this isn't the kind of bean soup that has a few beans here or there – nope, this one is loaded with creamy white beans, which makes it full of filling plant-based protein.
So Flavorful: it has the beautiful flavors of the garlic and herbs we use, but we also add a little bit of miso paste for an extra umami flavor that adds such a beautiful depth of flavor! We also finish the soup with a bit of lemon juice, which adds so much brightness and flavor!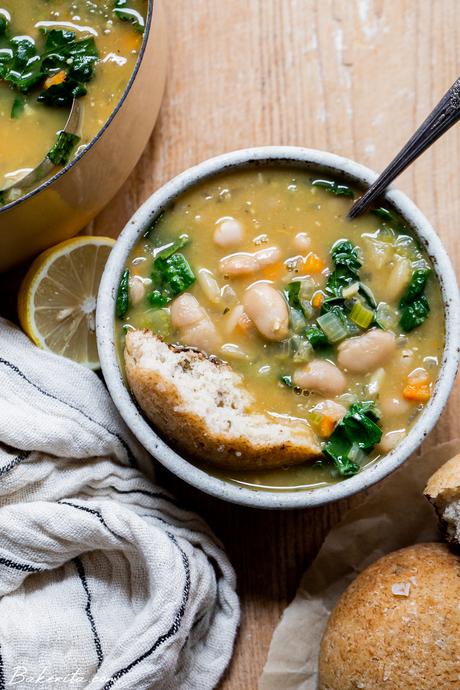 Tips for the best creamy white bean soup:
Since this recipe is simple with just a few ingredients, use the best ingredients you can get your hands on. I did use canned beans for this recipe in the photos, but if you have the time, cooking beans from scratch always makes for the most delicious results.
Use any white bean that you love! I love cannellini beans here, since I find they're the creamiest. Great Northern beans or Navy beans will also work well.
Making ahead? If you're planning on making this soup ahead of time, I recommend leaving out the kale and adding it when you reheat so it stays a vibrant green.
Don't have kale? Any dark leafy greens will work in this recioe: chard, spinach, and collard greens would all work well.
Feel free to add more herbs to the soup! I kept it simple with just thyme, but rosemary, oregano, and sage would also work well here. Add slowly and to taste.
If you want a creamier soup? Blend one-third to half of the soup before adding the kale to make it super-duper creamy. This breaks down the beans and veggies and makes for a luscious broth.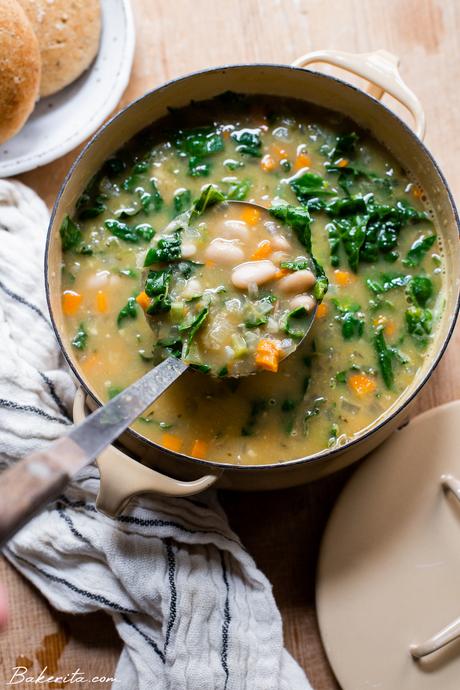 More amazing Vegan Soup Recipes:
Easy Red Lentil Soup
White Bean Chili
Mushroom Wild Rice Soup
Vegetable Miso Noodle Soup
The Best Vegan Chili
Print clock clock iconcutlery cutlery iconflag flag iconfolder folder iconinstagram instagram iconpinterest pinterest iconfacebook facebook iconprint print iconsquares squares iconheart heart iconheart solid heart solid icon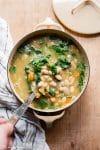 Vegan Kale White Bean Soup
---
Author:

Rachel Conners

Prep Time:

10 minutes

Cook Time:

25 minutes

Total Time:

35 minutes

Yield:

6 cups

1

x

Diet:

Vegan
Print Recipe Pin Recipe
Description
This Creamy Vegan Kale & White Bean Soup is so flavorful, filling, and ready to eat in about 30 minutes. This easy soup recipe is gluten-free, dairy-free, and full of plant-based protein.
---
Ingredients
Scale
2 tablespoons

olive oil

1

medium yellow onion, diced

2

large carrots, diced

2

celery stalks, diced

3

cloves garlic, minced

2

dried bay leaves

1 teaspoon

sea salt, plus more as needed

½ teaspoon

dried thyme

2

cans white beans or

3 cups

of home-cooked white beans, I used cannellini

2 tablespoons

white miso

4 cups

vegetable broth

1

small bunch lacinato kale, very thinly sliced, about

2 cups

Lemon juice, to finish
---
Instructions
In a medium saucepan or stockpot over medium-low heat, heat the olive oil.
Add the onion, carrots, and celery and cook until the onions are translucent and the celery and carrots are softened, for about 5 minutes. Add the garlic and cook until fragrant but not burned, about 1 to 2 minutes.
Add in the broth, beans, bay leaves, salt, and thyme. Bring to a boil and then reduce heat to a simmer and let cook for about 10 minutes to let the flavors meld.
Place the miso in a small bowl and spoon some of the brothy liquid on top. Whisk the miso into the liquid to smooth it out, and then add into the soup.
If you want a super creamy soup, transfer half the soup to a blender now and blend until completely smooth before returning to the pot.
Stir in the kale and let cook for 2 minutes to soften. Add salt to taste.
Serve immediately! I love serving this with a squeeze of lemon juice on top and a big slice of sourdough bread. A spoonful of vegan pesto on top is delicious as well.
Category:

Soup

Method:

Stovetop

Cuisine:

American
Keywords: kale soup, white bean soup, white bean stew, vegan stew
Did you make this recipe?
Tag @bakeritablog on Instagram and hashtag it #bakerita
¼½¾⅓⅔⅕⅖⅗⅘⅙⅚⅛⅜⅝⅞
Pin
19
Share
Tweet
19

Shares