This post may contain affiliate links. Please read my disclosure.
These tasty, crunchy vegan graham crackers are perfect for whenever you are craving homemade treats that are refined sugar-free, but as sweet as could be. Use this sweet cracker recipe to make vegan s'mores with the kids whenever you are looking for a fun family activity! This recipe is a great alternative to store-bought graham crackers because they are dairy-free and made with wholesome ingredients.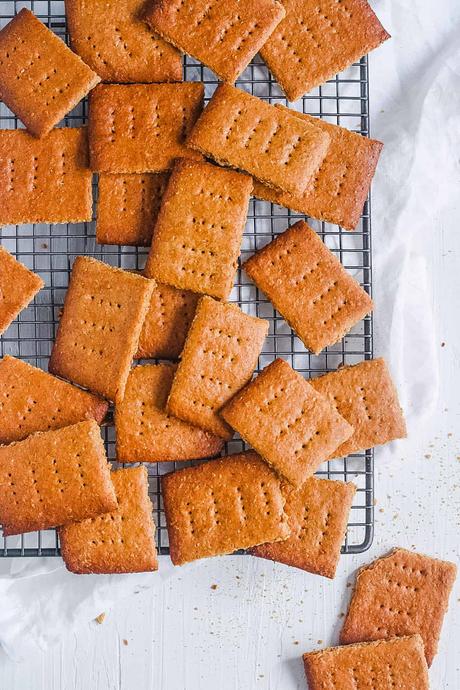 In the mood for Honey Maid graham crackers, but don't want the high-fructose corn syrup, soy lecithin, soybean oil, and other overly processed ingredients? This easy graham cracker recipe is made with whole foods and natural ingredients that are kid-friendly and family-approved!
We love to pair this homemade cracker recipe with homemade Nutella and vegan marshmallows for a delicious sweet treat. Made without honey and other animal products, this vegan graham cracker recipe is one of our favorite plant-based desserts because it is easy to make and obsessively crunchy and satisfying!
Latest Recipe Video!
Perfect for kids lunch boxes and snack bags, these graham crackers will come in handy anytime you or a loved one has a craving for a healthy snack. Pack these crackers with you while you run errands, hike or camp, or have a picnic with the family. We like to make a batch of these crackers to keep out on the counter all week long because they are so yummy and easy to enjoy!
Nabisco Original Grahams were one of my favorite childhood snacks, but after making these vegan crackers, you'll never go back to store bought again! They're THAT good!
🧈 What Graham Crackers Are Vegan?
Not all graham crackers are vegan, but there are a few vegan options at the grocery store. Some popular varieties include Nabisco Original Grahams, Teddy Grahams, Keebler Graham Crackers, and Nairn's Gluten-Free Oat Grahams. We'd often buy one of these vegan graham cracker options before we started making these easy vegan graham crackers at home!
One thing to note - while none of these brands include animal ingredients, if you are a very strict vegan you may want to call to ensure that the sugar they use is vegan sugar, as some sugar can be processed with animal bone char to make it whiter in color!
👩🏽‍🍳 Why This Recipe Works
Healthy: Made with whole grain wheat flour and dairy-free milk, this plant-based recipe is perfect if you're looking for a less processed option than you'd find at the grocery store. You will love
Easy: This vegan-friendly graham cracker recipe is simple to make and turns out perfectly every time. If you've never made homemade crackers, this is the perfect introductory recipe!
Versatile: One of the benefits of making your own graham crackers is that you can customize this recipe easily to suit your preferences! See variation suggestions below.
Family-Friendly: Toddlers, kids, teenagers, and adults will swoon over these crackers because they are perfectly crunchy and delightful. Perfect for mid-morning and late-afternoon snack times!
🥘 Ingredients
This recipe calls for simple ingredients that can be found in your pantry or at any well-stocked grocery store! For the full recipe and nutritional info, see the recipe card below.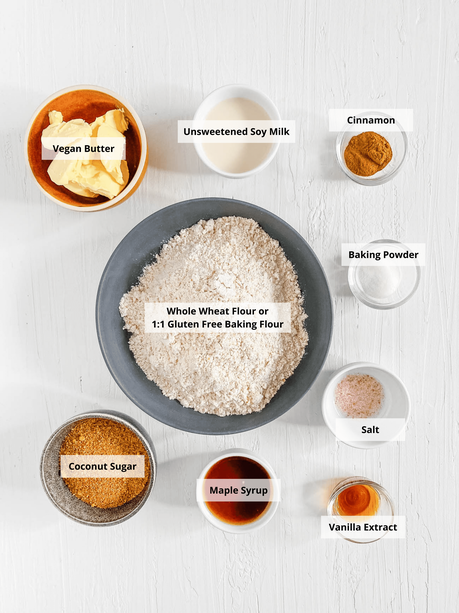 Flour: Instead of all-purpose flour, I recommend using regular whole wheat flour for more healthy whole grains.
Sugar: We like to keep things refined sugar-free by using coconut sugar. With a low glycemic index, coconut sugar is a delicious natural sweetener to add to baked goods.
Kosher Salt and Ground Cinnamon: Adds a spicy sweetness to this vegan version!
Baking Powder: Don't skip this! Essential for helping the crackers rise while they bake.
Vegan Butter: Use your favorite vegan butter for this recipe - we like to use Miyoko's Butter. Make sure to use cold butter!
Milk: We used soy milk for this recipe because it is neutral and perfectly creamy. Any unsweetened non-dairy milk would work though.
Sweetener: A touch of maple syrup replaces the honey in this recipe. You could also use agave or vegan honey!
Pure Vanilla Extract: Rich vanilla extract is used to give these homemade graham crackers perfectly balanced flavors that are sweet and mouthwatering.
🍽 Equipment
📖 Variations
Want to switch things up? Customize your cinnamon graham crackers with these easy substitutions.
Gluten-Free Graham Crackers: Instead of whole wheat flour, use your favorite 1:1 gluten-free flour. I haven't tried this recipe with oat flour, almond flour or tapioca starch but I'd imagine it would work with those alternatives too!
Milk: Use coconut milk, cashew milk, oat milk, almond milk, or hemp milk for these crackers. If you are not vegan or dairy-free, then regular skim milk will work.
Sugar: Instead of coconut sugar, use your favorite vegan brown sugar, monk fruit, or date sugar.
Vegan Graham Cracker Crust Recipe: If you're making vegan cheesecake and plan to make a homemade crust, use this easy graham cracker recipe for the graham cracker crumbs used in the crust!
Chocolate Graham Crackers: To make rich chocolate chip graham crackers, add cocoa powder and dairy free dark chocolate chips to satisfy your sweet tooth.
🔪 Instructions
Follow these easy steps to make your own vegan graham crackers, and you will have the most crispy crackers ready in no time!
Whisk Dry Ingredients: First, in a large bowl, whisk the flour, coconut sugar, cinnamon, baking powder, and salt.
Add Butter: Add the vegan butter and rub it into the flour mixture until it resembles bread crumbs. Set aside.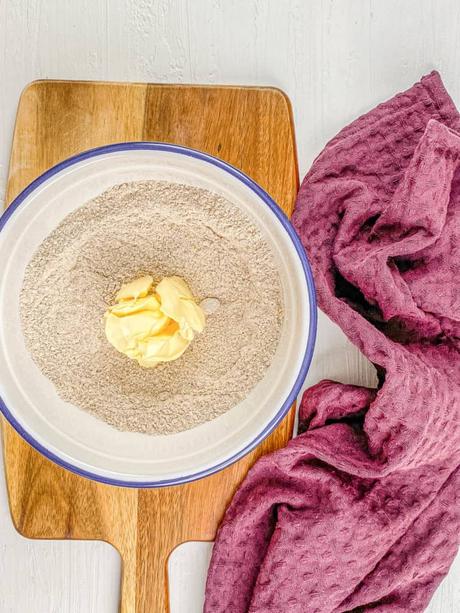 Mix Wet Ingredients: Next, in a small mixing bowl, mix together the soy milk, maple syrup, and vanilla extract.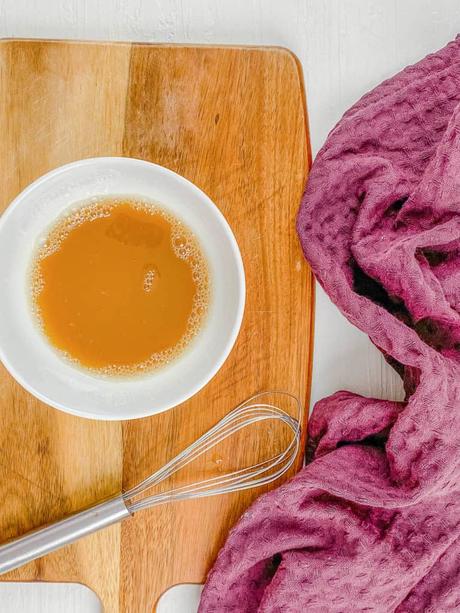 Add to Dry Ingredients: Add the milk mixture into the bowl of dry ingredients and mix to form a dough.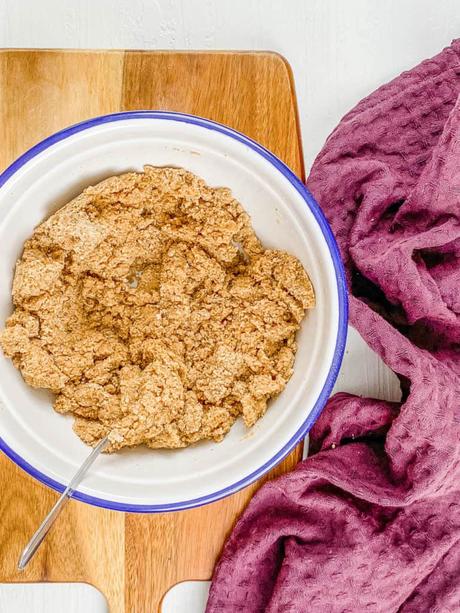 Shape Dough & Chill: Place the dough on a floured work surface, cutting board, or baking sheet, and shape it into a ball. Wrap the dough in plastic wrap and allow it to rest in the refrigerator.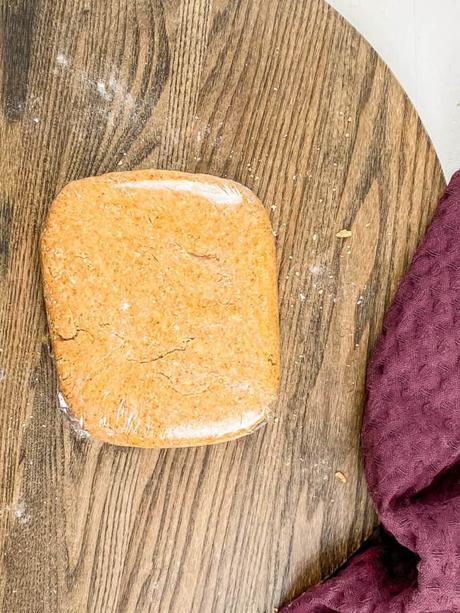 Preheat the Oven & Divide Dough: Next, preheat the oven to 320 degrees Fahrenheit and remove the dough from the fridge. Cut into four pieces.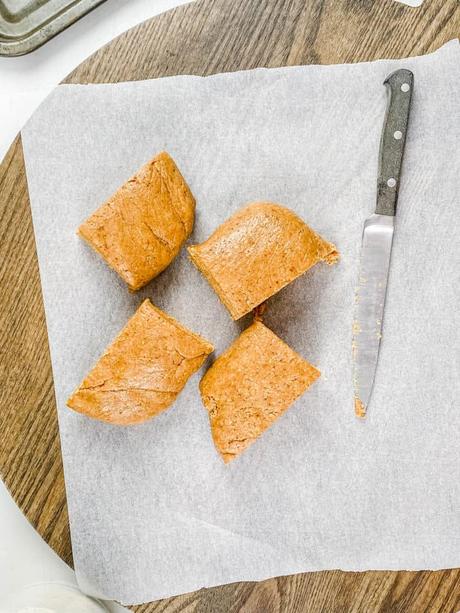 Roll Dough: Place one piece of the dough onto a piece of parchment paper and place another sheet on top of the dough. Roll the dough out with a rolling pin.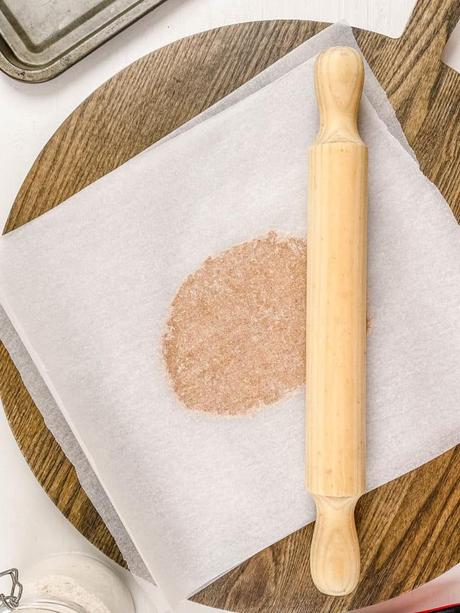 Cut Into Crackers: Using a pizza cutter, cut the edges to form a rectangle. Remove the edges and re-roll them to make more crackers.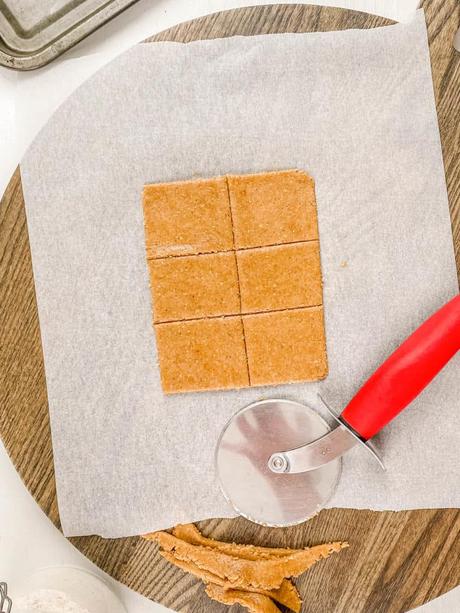 Make The Cracker Shapes: Cut the dough into squares and pork holes into the tops of each cracker.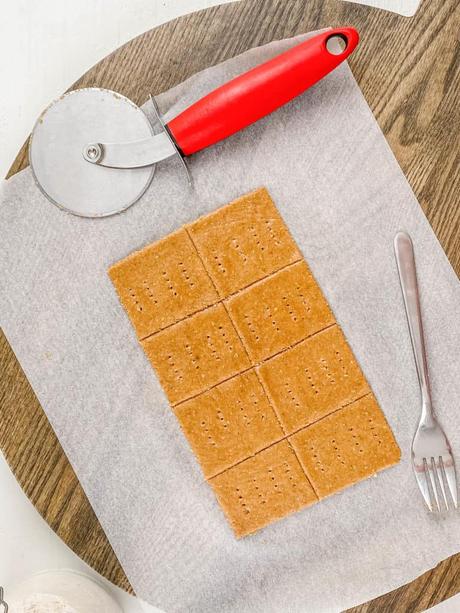 Bake the crackers in the oven for 10 to 15 minutes.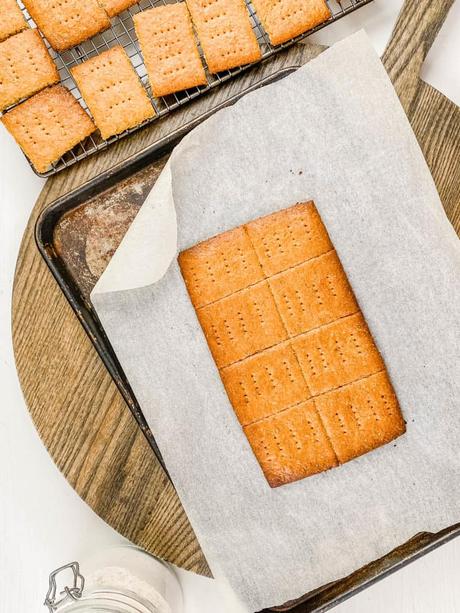 Cool: Allow the crackers to cool on the baking sheet for five minutes before transferring to the wire rack to cool completely. The crackers will get more crispy as they cool. Make sure they cool for at least 1 hour (up to 2 hours) before serving!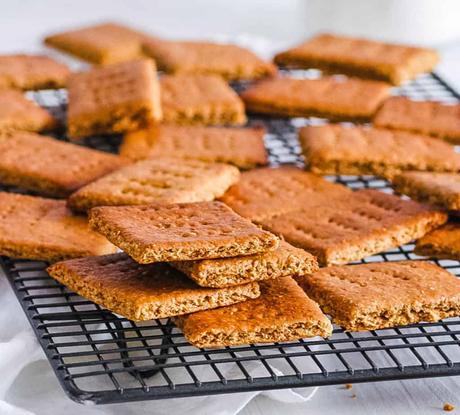 ❓Recipe FAQs
Are Annie's graham crackers dairy-free?
Yes, Annie's graham crackers are dairy-free and also offer delicious gluten-free options. You can also find a variety of flavors such as chocolate and birthday cake graham crackers too!
Are Honey Maid Graham Crackers healthy?
Unfortunately no they aren't! Honey Maid Original Graham Crackers (and all of their varieties) are packed with processed ingredients and sugar. I'd consider them more of an occasional treat than a healthy snack.
Are Honey Maid Honey Graham Crackers Vegan?
Honey Maid is one of the most popular brands of graham crackers, and they have a variety of options. Unfortunately, their honey graham crackers is made with real honey, and so it is unfortunately are not vegan. But you can add vegan honey to this vegan graham cracker recipe if you are craving the flavor of honey graham crackers!
Are Scooby Doo Graham Crackers Vegan?
Scooby-Doo Graham Crackers are not vegan because they contain honey. You can always double-check by reading the ingredients list on the packages!
🧊 How To Store
Room Temperature: Store these crackers in an airtight container at room temperature for up to one week. If you leave them out of a sealed container, then they will get soggy.
👨‍👩‍👧 How To Serve
Serve these vegan graham crackers with your favorite sweet dips and sauces.
Enjoy these crackers with ice cream for ice cream sandwiches.
Pair as a snack with your favorite fruit such as orange slices, banana, apple slices, or sliced kiwi.
Serve this healthy graham cracker recipe with your favorite nut butters such as peanut, cashew, or almond. For nut-free versions, pair with sunflower butter.
Serve with a glass of your favorite dairy-free milk or with any of these smoothie recipes.
💭 Expert Tips
Depending on which type of oven you use, cooking times may vary.
Always make sure the butter is really cold.
Rub the vegan butter into the flour mixture with the tips of your fingers. Make sure it well-incorporated.
To prevent chewy crackers, avoid overworking the dough.
Don't forget to allow the dough to chill in the refrigerator before using, that will make it easier to work with.
Add a little bit of water to the dough if the mixture is too dry.
Work in batches of the dough to ensure the crackers evenly cool.
As they cool, the crackers will become more crispy - so make sure they cool completely before serving!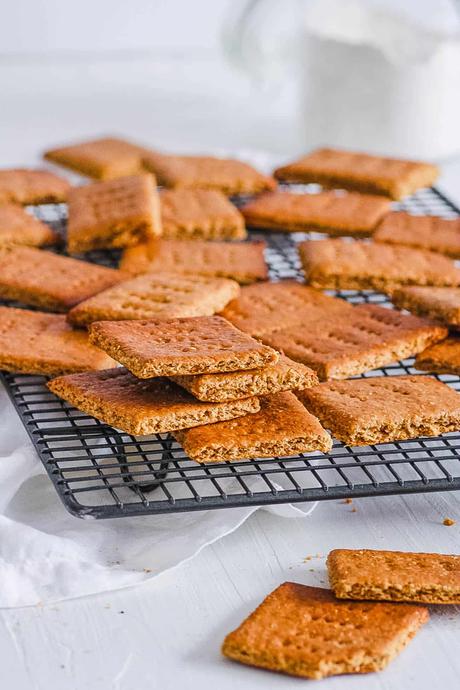 🍪 More Vegan Desserts!
📋 Recipe Card
Easy Vegan Graham Cracker Recipe (No Honey!)