Golden Milkshakes are smooth, creamy, and refreshing, and they're loaded with anti-inflammatory turmeric and other health-boosting spices. This easy drink recipe is one you'll love sipping on hot days! This post is sponsored by Silk.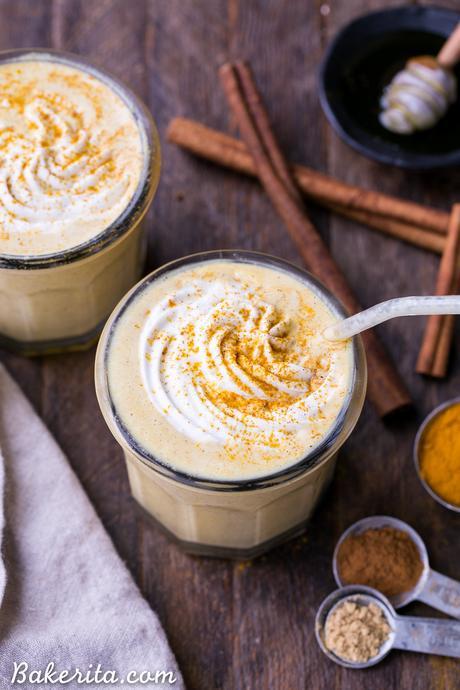 Oh man, you guys. It feels like it's been a while since I wrote a post, since I dropped off the face of the Internet for the past week! I mentioned that I was heading off the Lightning in a Bottle music festival last week, but I assumed I'd have a way to charge my phone and some service while I was there.
Wellll…turns out, my phone died as soon as we arrived, and my charger didn't work, so I embraced the opportunity and just went phoneless from Wednesday to Monday. It was liberating, to be honest, and a much needed break from my very phone and technology-centered life.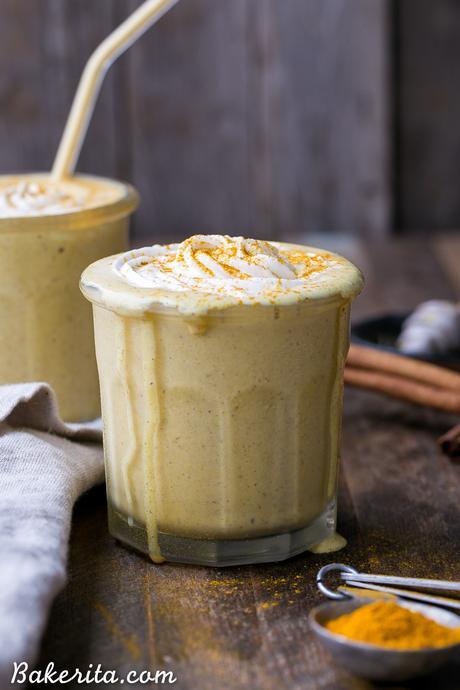 It allowed me to really experience the festival, without distractions, and to just be in the moment. If you haven't heard of Lightning in a Bottle, it's not your typical music festival. In fact, my boyfriend Jesse and I barely spent any time at any of the main stages, where the big performers were playing.
Instead, we were often found at the Craft Lodge, listening to talks about everything from minimalism to essential oils, or watching poetry and speakers in the Beacon, or posted up at one of my favorite spots: the Learning Kitchen! Yes, a music festival with food and cooking classes. Amazing, right?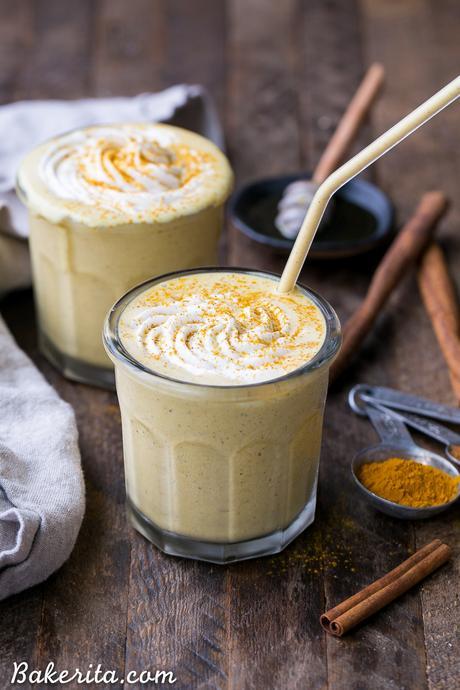 Oh, and you guys, THE FOOOOD. I was so worried about not being able to get healthy food while there and I should sooo not have been worried at all. There was gluten-free and vegan EVERYTHING – from GF/Vegan ice cream sandwiches, pizza, coconut yogurt parfaits, and delicious vegan curry bowls (of which I think I ate four over the course of the weekend).
So many of the food vendors and culinary classes at the Learning Kitchen had my mind reeling with new ideas, and I learned SO much about new herbs and adaptogens that I'm itching to incorporate into some new treats. One of the classes we went to was a hands-on Pickles 101 class, where we made our own deliciously spiced pickles!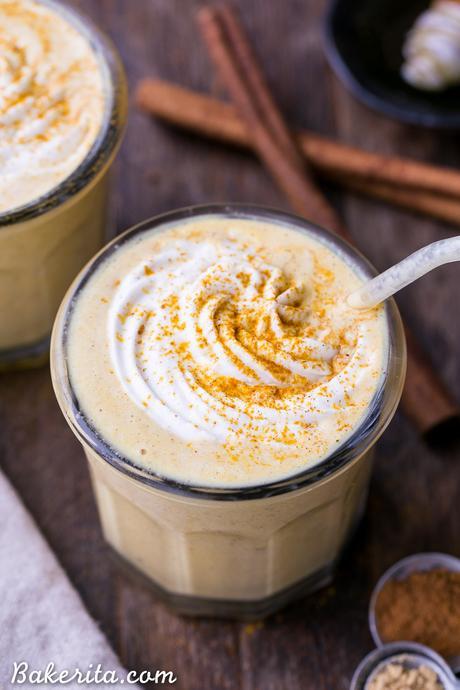 As Jerrod from Juniors Pickles highlighted turmeric as one of the ingredients we were using, I got to thinking about the many health benefits of turmeric, and it's active ingredient, curcumin. Curcumin has been shown to have amazing anti-inflammatory and antimicrobal properties, and it's even been shown to have potent anti-cancer properties. You can read more about it's amazing benefits here.
When I got home from the festival and pretty immediately started feeling under the weather, all the superfoods I had just learned about popped into my head. I had made golden milk before, and with the hot weather, my brain immediately went from golden milk…to golden milkshake. Uh, YES please. It's as tasty as it sounds, and I'm sure it gave my immune system a needed boost.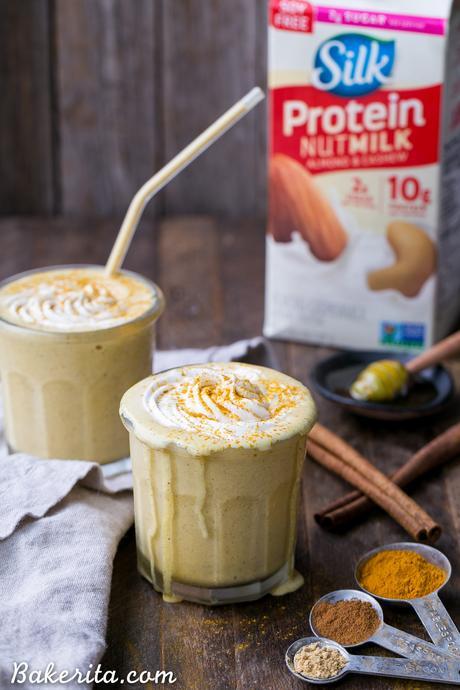 For the base of the milkshake, I turned to Silk's new Protein Nut Milk. It's made with a blend of cashews and almonds, two of my favorite nuts for milks, and has a dose of vegan-friendly pea protein for an extra boost. It's super creamy and absolutely delicious, and the original version only has 2g of sugar per serving!
Since I prefer my milkshakes super thick and creamy, I poured the nut milk into ice cube trays and gave them a quick freeze. If you don't have time for that, a few ice cubes blended in will do the trick to help get you a nice, thick shake.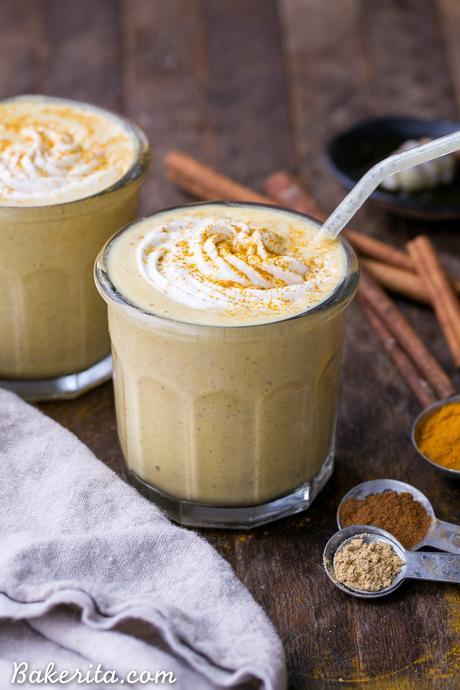 Of course, it's not golden without a dose of turmeric. I supplemented the turmeric with ginger and cinnamon as well, along with a pinch of black pepper – the black pepper helps the turmeric absorb more easily. Turmeric is also fat-soluble, so I added some coconut oil and almond butter to assist in absorption, as well as add a little bit of extra creaminess.
I kept the sweetness in my milkshake pretty minimal, with just a tablespoon of raw honey to sweeten. However, if you want a sweeter shake, add a few more tablespoons to your taste. Maple syrup or another sweetener can be used instead as well, to keep it vegan. Topped off with a swirl of whipped coconut cream, these golden milkshakes are nothing short of irresistible.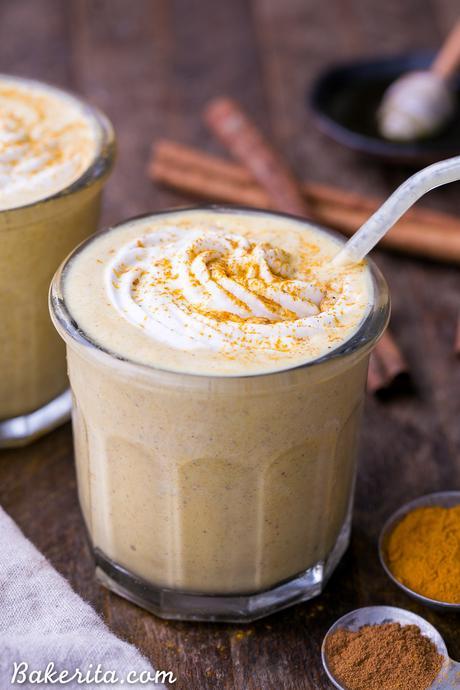 I sucked mine down super quickly, and the flavor was warm and spiced, while the cool and creamy texture made my sore throat feel a whole lot better. This is a treat that's going to be blended up a lot this summer – can't go wrong with a good-for-you milkshake, right?! Enjoy!!
Facebook | Instagram | Twitter | Pinterest | Snapchat
Remember to #bakerita if you try the recipe!
Golden Milkshakes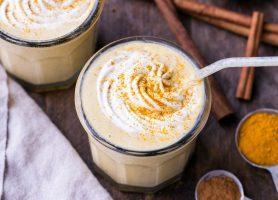 Save
Print
Prep time 5 mins Total time 5 mins   Golden Milkshakes are smooth, creamy, and refreshing, and they're loaded with anti-inflammatory turmeric and other health-boosting spices. This easy drink recipe is one you'll love sipping on hot days! Author:
Rachel Conners
Serves:
2 milkshakes
Ingredients
2 cups Silk Protein Nut Milk (or non-dairy milk of choice)
2 tablespoons almond butter
1 tablespoon virgin coconut oil
2 teaspoons ground turmeric
1 teaspoon cinnamon
½ teaspoon ground ginger
Pinch of black pepper
1-3 tablespoons maple syrup or raw honey, to taste (I used honey, but use maple syrup to keep vegan)
Directions
For a thicker milkshake, pour your nut milk into an ice cube tray and let freeze until hardened. Alternatively, you can add a few ice cubes to your shake to help thicken it up.
In a blender, combine all of the ingredients, starting with just one tablespoon of sweetener. Blend until smooth, and add more sweetener to taste.
Pour into two glasses and serve immediately, preferably with coconut whipped cream on top! Enjoy.
3.5.3226

This is a sponsored conversation written by me on behalf of Silk. As always, all opinions are my own. Thanks for supporting the brands that support Bakerita!
There's more where that came from!
Apple Cinnamon Skillet Cookie (Gluten Free + Paleo)

Chocolate Cherry Tart with Toasted Almond Crust (Gluten…

Paleo Carrot Bread

Apple Cinnamon Oatmeal Cookie Bars

Coconut Sugar Cookies (Gluten-Free, Vegan, Refined Sugar…

Chocolate Chip Cookies + YOGA Tablet 2 Pro