Since becoming mostly vegan, I noticed just how many bottled sauces and manufactured products find a way to squeeze in animal products.
Normally, I try not to fret over these kinds of issues.  It's not worth losing sleep or wasting energy driving to a million different places for a vegan friendly option.  So I usually opt to leave the sauce out or try to make my own.
I've had a difficult time trying to find a vegan friendly enchilada sauce (not that I really looked that hard…if it's not at Trader Joe's it's off my radar).  So instead of searching every grocery store known to man to try to find an alternative version, I decided just to make my own.
And while I was at it, I figured I would give the sauce a nutritional boost with some nutritional yeast.  I've talked about nutritional yeast on here before but for you newbies nutritional yeast is a great way to add nutrients and protein to your dish for relatively few calories.
If you don't have any nutritional yeast in your home or you don't like it, feel free to sub flour in its place.
Vegan Enchilada Sauce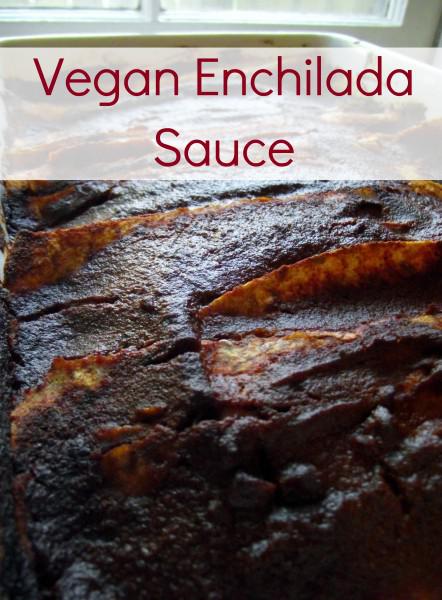 Ingredients:
2 tablespoons vegetable oil
2 tablespoons nutritional yeast
¼ cup chili powder (or less if you like a milder sauce)
1 8 ounce can tomato paste
2 ½ cups vegetable broth
1 teaspoon cumin
1 teaspoon garlic powder
1 teaspoon dried oregano
1 teaspoon onion powder
½ teaspoon smoked paprika
¼ teaspoon salt
Method:
Heat oil in saucepan on medium heat.  Add nutritional yeast and whisk together.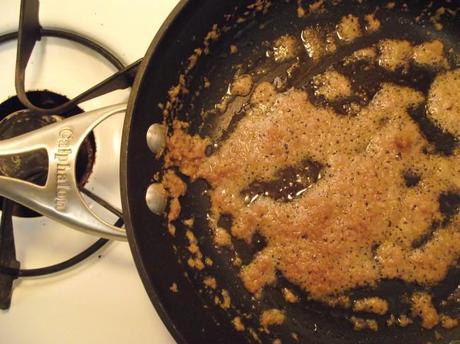 Continue to heat oil and nutritional yeast until the yeast turns light brown.
Add in the remaining ingredients (chili powder, broth, cumin, garlic, oregano, onion, paprika, and salt).  Whisk until incorporated.
Turn heat to low and allow the sauce to cook for 15 minutes.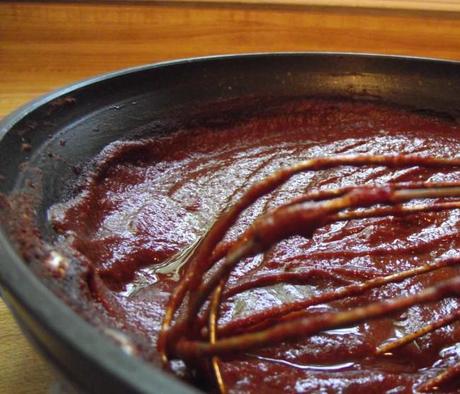 Tada, you have a delicious sauce ready for your enchiladas.
This sauce will be a little chunkier than your typical store bought version. If this bothers you, you can add the sauce to a blender to smooth out the texture.  Since I don't have a texture aversion and I hate unnecessarily dirting kitchen supplies, I opted to use the sauce as is.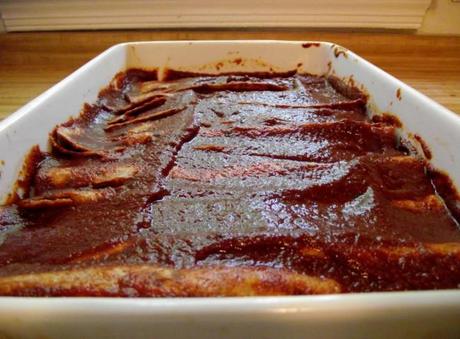 This sauce was the perfect addition to the summer squash enchiladas I shared yesterday.
It would also make a great addition to the white bean enchiladas I shared awhile back.
What's your favorite thing to add enchilada sauce too?