Looking for authentic Thai flavours, vegan-friendly dining and sumptuous surroundings in Leeds? Read on to find out more about the gorgeous vegan dishes available at Sukhothai Leeds.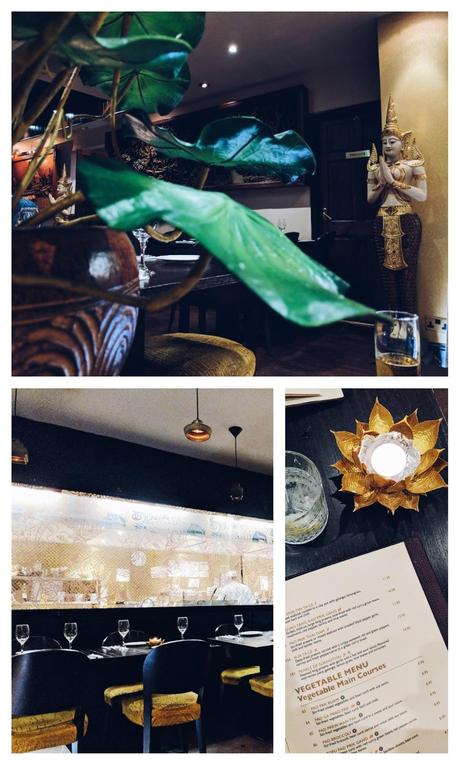 Are the aforementioned authentic Thai flavours and sumptuous surroundings your kind of thing? Mine too!
I absolutely love Thai food and its big-yet-delicate spices and, in my opinion, Sukhothai is probably the best spot for Thai food in Leeds.
Sukhothai has various locations in Leeds, Harrogate and just down the road from me in Chapel Allerton. In fact, it's been one of my favourites since I first moved to Chapel Allerton five years ago. The first thing you can't help but notice when you go into Sukhothai is how gorgeous the interior is; I'm pretty sure every time I go I spot something I haven't noticed before.
Thai restaurants can be tricky as a vegetarian or vegan as some places add fish sauce or shrimp pasta, despite labelled the dishes as veggie (there are some others in Leeds who are guilty of this..!). Fortunately, this isn't the case in Sukhothai and the staff are knowledgeable about the ingredients too. The menu has a whole section of vegetable starters and vegetable mains, and the staff can explain what is suitable for vegans.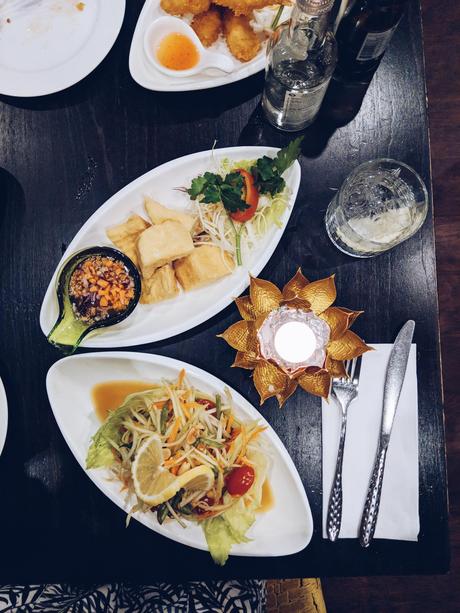 On my most recent visit, to begin I ordered the vegan-friendly som tum (green papaya salad) and tau hu tod (fried tofu). The satisfyingly spicy som tum is a great healthy option and the tau hu tod is served with a gorgeous chilli and crushed peanut sauce.
Moving onto main courses, there's a huge range of vegan options in Sukhothai and more that can be adapted into vegan dishes. For my main course, I opted for a tofu panaeng curry. A few years ago (cough, ten years ago – how did that happen?!), I took a cookery class in Chiang Mai in Thailand and tried panaeng curry for the first time; it was love at first bite! I can safely say the one in Sukhothai has to be the best I've had outside of Thailand – although possibly one of the best full stop.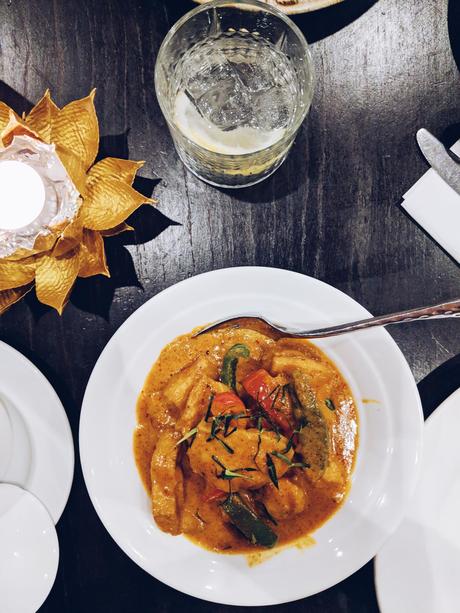 Overall, the food was of impeccable quality, as was the service, and I'd recommend Sukhothai as a great spot for vegan Thai food in Leeds. I think it would be nice to see more labelling of the vegan options, so you don't need to explain your dietary requirements to each member of staff who serves you, but everyone who did serve me was exceptionally helpful.
Thank you to Sukhothai for inviting me along to try and share their current vegan offering. Find out more about Sukhothai at sukhothai.co.uk
Pin this post for later: