Helloooo!  So close to the big day now!  Are your kiddos bouncing off the walls?  Are you? ;)
I'm not sure how I did it, but I think I'm
mostly
ready for Christmas.  Not entirely, as I have a good bit of food shopping and prepping to do.  But, otherwise, not doing too bad.  The house is a bit upside-down in places, and we're still missing some things in boxes.  But, I don't care!  It's okay.  I've come to see that our children are so happy and enjoying the simple things of Christmas, like making our Gingerbread Folks, playing with friends in our house, and decorating the tree all on their own... that
that's
what the holidays are about.  Not having the house in tip-top order and decorated in some immaculate fashion as if Martha is coming for dinner.  Because she ain't!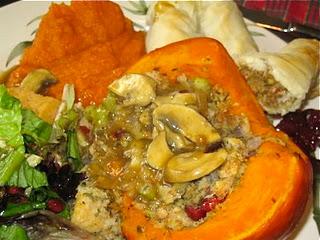 More's the pity for her, because our Christmas dinner is not just "a good thing", it's fabulous!  And, those of you that have been with me for these last six years of blogging already know my traditional Christmas dinner.  I've been making it since hubby and I were first married.  I thought "
why go to our parents for dinner when I can host and invite them for dinner?
".  It made sense, because being vegan we wanted to celebrate with a full vegan dinner, and our parents were getting older and making those big dinners is a helluva lot of work, and it's a good feeling to give them a break.
My menu is based on flavors and ingredients that were (somewhat) traditional from my childhood.  I say somewhat because there are parts of my Newfoundland food heritage that I didn't care for and don't try to preserve (salt beef, boiled cabbage).  But, the elements I loved - like dried savory in a moist breadcrumb based 'dressing' I did love.  So, I have reinvented some dishes in more compassionate, healthy - and flavorful ways, plus added my own menu components.  Indeed, both my mom and my parents-in-law have said that our vegan dinner is tastier than their traditional turkey dinners (and that they feel better after eating it).
Our parents are both in Newfoundland while we live in BC.  It's too bad, because I always enjoyed sharing this big feast with them.  But, we do share the meal with my older sister, her husband, and their (now grown) son.  So, the tradition continues.  Our menu includes: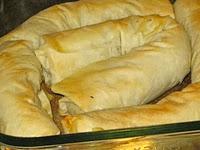 Phyllo Rolls w/ Rawesome Nut Dip
Main Dish
First off, we don't do Tofurky.  I'm not criticizing Tofurky.  It's a good alternative for people that want something that resembles that main dish on Christmas.  But for us, we became vegan before these alternatives were available.  We didn't try to replicate meat in the beginning, and so now we don't look for those meaty replacements.  Our main dish uses phyllo pastry (and you can buy whole-wheat and spelt-based versions).  Either a layered phyllo casserole (which looks so pretty!) or phyllo rolls.  I've played with fillings, originally I used the
Spiced Mushroom Phyllo Pie
recipe from TEV.  More recently, I've made my 
Rawesome Nut Dip
from
ed&bv
, and tucked that inside the phyllo.  It is very easy to prepare, and tastes delicious inside those flaky pastry layers. This year, I'm thinking of making the filling from my
Festive Chickpea Tart
 to layer in the phyllo.  Might double the batch to make extra rolls!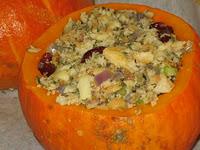 "All-Dressed Squash"
"Dressing"
I know there are regional differences whether you call it stuffing or dressing.  We called it dressing growing up, and it will always be that for me.  But, why stuff a bird-bum when you can stuff a gorgeous, fresh winter squash?  Butternut, kabocha, red kuri... take your pick, then stuff it silly!  (Plus, you can always make extra stuffing and bake in a covered dish.)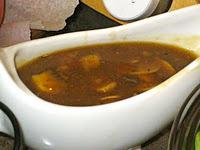 Gravy:
For years I made my
Mushroom Gravy
from
TEV
.  Last year I used my new recipe,
Rosemary Gravy
, that will be
LTEV
.  It is SO easy.  Not that the mushroom gravy is difficult, just requires some chopping.  But, it's still delicious, and worth making... until you get the Rosemary Gravy for next year!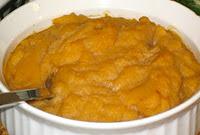 Side Vegetables 
The side veggies might be my favorite! My secret is roasting the root veggies, not boiling.  Growing up, our parents boiled the veggies.  Just sucked all the flavor out and made them mush.  And, you needed plenty of butter and gravy to make them taste like anything!  Roasting concentrates the flavors and caramelizes the natural sugars for the best flavors in your root veggies.  The pureed roasted rutabega are spectacular, with cinnamon added like my mom used to do. :)  And, then we have pureed roasted sweet potatoes, roasted parsnip/fennel/carrots/shallots.  And, sometimes I'll do a mashed potatoes for the girls as they love them!
Greens:
 I either to a fresh mixed greens salad, kept very simple with some thinly sliced red pepper, cucumber, green onions, and pomegranate seeds, and topped with a sprightly dressing (like
Lemon Zinger Dressing
from Vive), or some sauteed kale or collards.  I tend to prefer the mixed greens for this meal, just to add some fresh, non-cooked veggeis to the menu.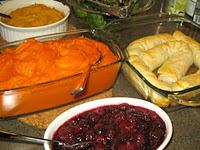 Cranberry Sauce
Roasted Pureed Sweet Potatoes
Cranberry Sauce
Can't forget the cranberry sauce.  Forget ocean spray, it takes mere minutes to make your own fresh cranberry sauce using the simplest of ingredients.  My
Traditional Cranberry Sauce
is easy and excellent, try it!
Dessert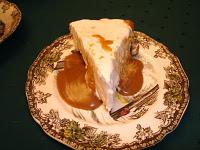 Egg-Nog Ice Cream Pie
w/ Butter Rum Sauce
photo: gemusings.wordpress.com
Dessert varies every year.  Shockingly, I don't make a chocolatey dessert, because my brother-in-law cannot eat chocolate.  (Ack!)  So, I either make homemade ice creams (Pumpkin Pie; Egg-Nog) and a caramel sauce and whipped cream so we can do parfaits.  Or, a pie of sorts - I think I've done
Pecan Pie
,
Orange Spice Cream Pie
,  (ice cream pies are great because you can make them in advance, and I have ice cream pie/cake recipes in each of my books).  But this year, I'm making my
Pumpkin Pie Custards
(with whipped cream), as per my middle girl's request.  If you DO want something chocolatey, I'll recommend
Chocolate Pumpkin Pie
.  Oh yeah.
Missing out with a vegan Christmas dinner?  I think not!  Get the recipes here.  I hope you make some (or all)! and enjoy with your loved ones.
Merry Christmas everybody! xo