This Vegan Chocolate Pecan Pie is everything you want in a holiday pie: luscious, rich, easy to make, and totally irresistible. Tucked into a crisp, buttery gluten-free pie crust and loaded with pecans and dark chocolate chunks, it's the perfect holiday pie recipe. It's also grain-free and paleo-friendly.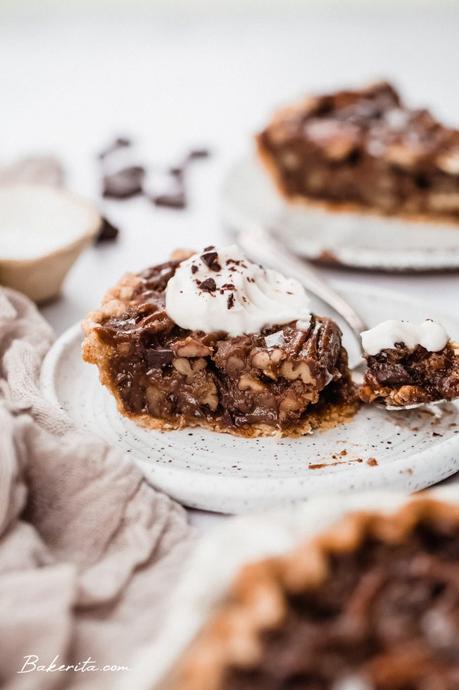 I love a good pecan pie - but that hasn't always been the case. Growing up, the pecan pies I had were not good, even for a sugar lover like me. Too much sugary goo, not enough pecans. I always assumed I just wasn't a pecan pie person...until I tried making one myself.
When the ratio of sweetness to pecans is on point, pecan pie becomes one of my all-time favorites. In this Vegan Chocolate Pecan Pie recipe, we use unrefined sugars ( maple syrup and coconut sugar) along with a hearty dose of bittersweet chocolate to minimize the sugary goo, maximize the pecan flavors, and make sure the texture is spot on.
The final result is a vegan chocolate pecan pie that is all the things: gooey, crunchy, chocolatey, not-too-sweet, easy-to-make, well-balanced, and of course - absolutely delicious.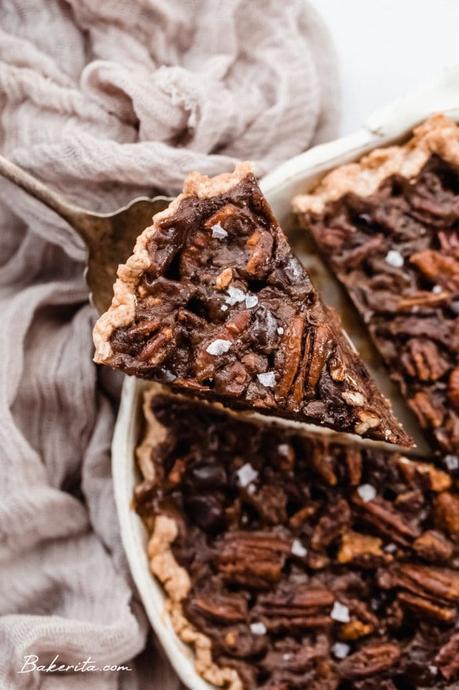 What do I need to make this Vegan Chocolate Pecan Pie?
Coconut Sugar: this adds such a lovely depth of flavor here with its caramelly flavor.
Pure Maple Syrup: the coconut sugar & maple syrup combo provides the perfect level of sweetness and depth of flavor for this pie.
Coconut Oil: I prefer using refined coconut oil here, which has no coconut flavor.
Dairy-Free Milk: any dairy-free milk works well here. I used unsweetened cashew - I'd recommend unsweetened so it doesn't add any extra sugar or flavor to the recipe.
Ground Flax Seed: this is used to help thicken the pie.
Tapioca Flour: also a thickener! Between this and the flax seed, we get the perfect gooey texture.
Vanilla Extract: a must in all baked things!
Sea Salt: the sea salt helps balance out the sweetness in this pie. Don't skip it!
Chopped Pecans: obviously a MUST for a pecan pie! I used chopped because I find it helps the pie cut more easily. I recommend toasting them before using for maximum flavor!
Dark Chocolate: I like using chopped bittersweet chocolate in this recipe. The chocolatey bites help cut through the sweetness.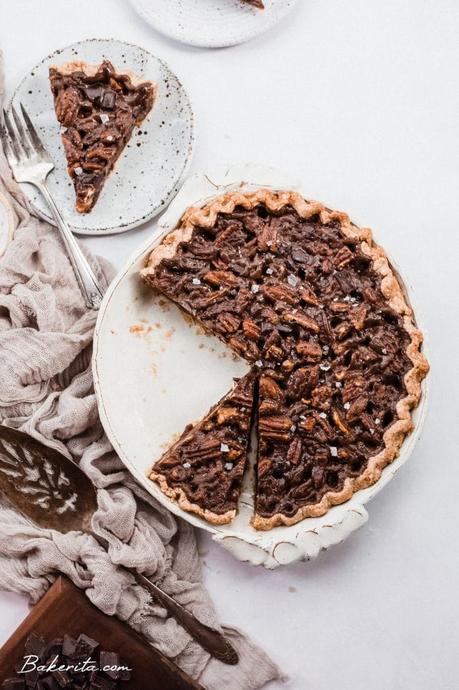 Cook together the coconut sugar, maple syrup, and refined coconut oil. You'll make a quick caramel-like mixture with these ingredients to dissolve the coconut sugar. Simmer for 3 minutes, and then let cool slightly.
Mix together the dairy-free milk, flax meal, tapioca starch, vanilla extract, and salt. The mixture will thicken after a few minutes, and then you'll mix it into the slightly-cooled sugary mixture. It will thicken as your stir it all together.
Stir in your pecans. After you stir them in, make sure the mixture isn't too warm - you don't want the chocolate to melt. Let cool for a few more minutes or pop into the fridge for a bit if needed.
Add the chocolate! Once the mixture is cooled, stir in your chocolate.
Pour into your pie crust and bake. I used this gluten-free vegan pie crust, par-baked, and it works SO well for this recipe!
Cool completely before cutting and serving. I love serving this with a scoop of coconut whipped cream, ice cream, or coconut yogurt.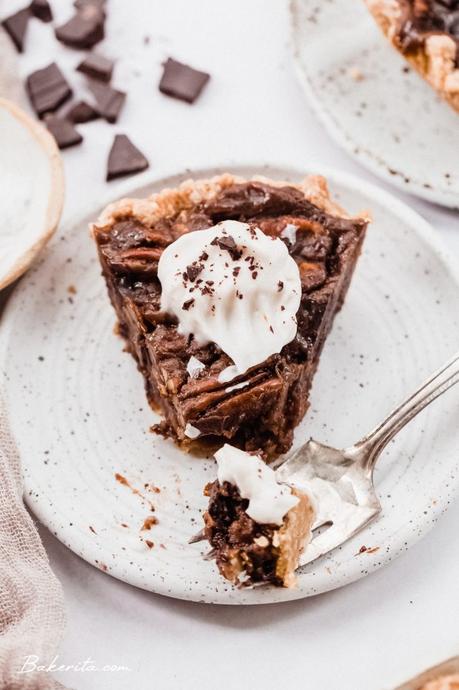 How do I make it?
Can I make this pie ahead of time?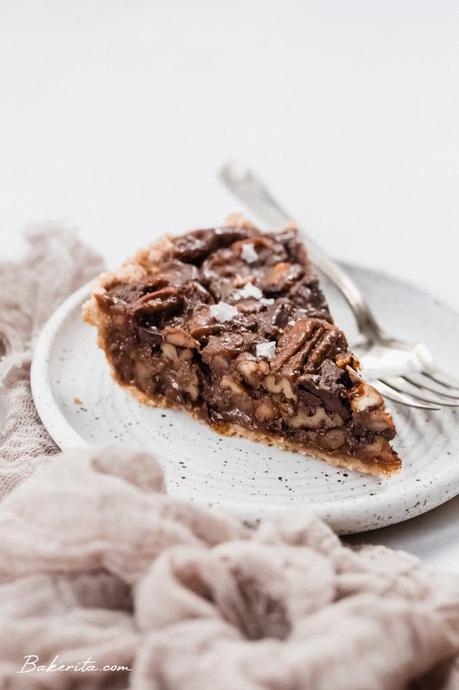 Shop what you need for this recipe!
YES! Pecan pie is perfect for baking the day before you need it because it needs to cool completely before cutting anyways. I wouldn't recommend making it too far ahead of time, though, because the crust is definitely better fresh.
You can definitely prepare the gluten-free vegan pie crust ahead of time, though. I recommend rolling the dough out, putting in the pan, wrapping it up, and then freezing just like that until you need it to make things super easy for your future self.
I hope you love this pie as much as me and my family did! I shared it with family and friends who eat all the things (AKA they're not gluten-free vegans, like me) and they all loved it. Lots of comments about how it's super well balanced between the sweetness and the chocolate and the salt, and a lot of love for that buttery crust.
If you decide to try this recipe, I'd love to hear what you think in the comments below! If you decide to post your version on social media, please tag me @bakeritablog on Instagram and # bakerita so I can see it! Nothing makes me happier than seeing your recreations 🙂 enjoy!!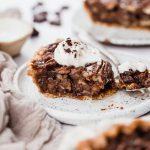 Vegan Chocolate Pecan Pie