This post may contain affiliate links. Please read my disclosure.
This curried, vegan butternut squash soup with coconut milk is healthy, easy, and packed full of flavor. With warm spices like ginger and curry powder, and a secret ingredient to add creaminess and protein (without cream!) this is the best butternut squash soup you'll ever make!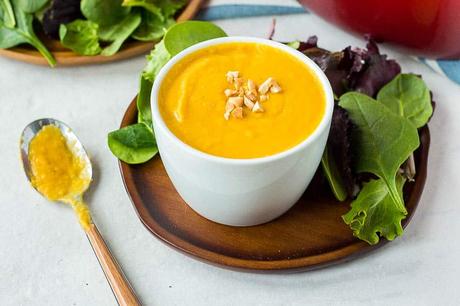 Soup is one of my go-to meals no matter the season, but as we head into fall soup becomes totally irresistible to me! I love making soup because it's an easy, one-pot recipe, it's healing, warming and nourishing - in addition to tasting delicious! And this vegan butternut squash soup is no exception. It's so easy that it'll be ready in just 30 minutes, and with the help of an immersion blender, you'll end up with a perfectly creamy soup with absolutely no cream!
How to make Butternut Squash Soup with Coconut Milk and Ginger - step by step
Step 1: Add onion, ginger, garlic and olive oil to a large pot over medium heat. Saute until onions are translucent - about 5 minutes.
Step 2: Add beans, butternut squash, curry powder, thyme, coconut milk, salt, coconut sugar and vegetable broth. Bring to a boil, reduce to simmer, covered, about 10-15 minutes until squash is soft.
Step 3: Puree with an immersion blender until smooth. Serve with crushed cashews or peanuts on top and pita chips on the side!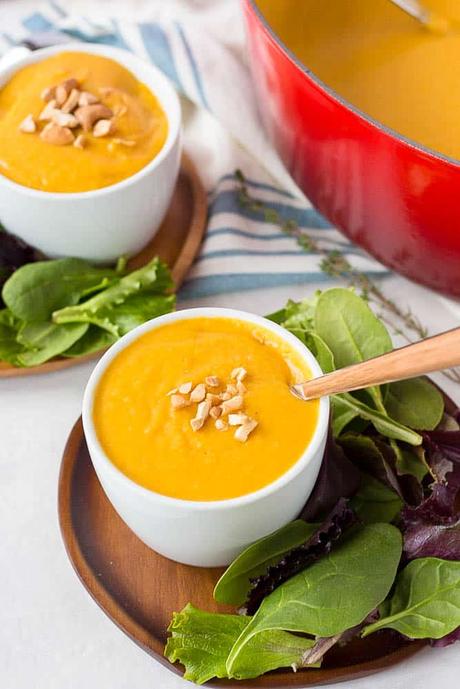 What makes vegan butternut squash soup healthy?
This soup is really well balanced - with 260 calories, 9g fiber and 10g protein per serving. That means you can go back for seconds and feel really full and satisfied after you're done! Butternut squash is an amazing vegetable, it's full of fiber, potassium, vitamin E, thiamin, niacin, vitamin B6, and folate. Paired with the protein-rich white beans - this soup becomes a one pot meal! Additionally, the light coconut milk + white beans give the soup a richness and creaminess without the fat content of heavy cream.
Is butternut squash soup kid friendly?
Absolutely! The spices in this recipe: ginger, garlic and curry powder are pretty mild and add flavor without heat. And the coconut milk adds a nice sweetness along with making this soup rich and creamy (which kids tend to love). If you have a curry powder that's especially "hot", I'd recommend adding less of it to the pot when you're cooking the recipe, and once you have served it to the kids, add more curry powder for the adults!
Can you freeze this vegan butternut squash soup?
Yes! This soup freezes really well and will keep in the freezer in an airtight container for up to 4 months. I use these quart-sized eco-friendly freezer bags or these freezer-safe glass containers to store soup in the freezer.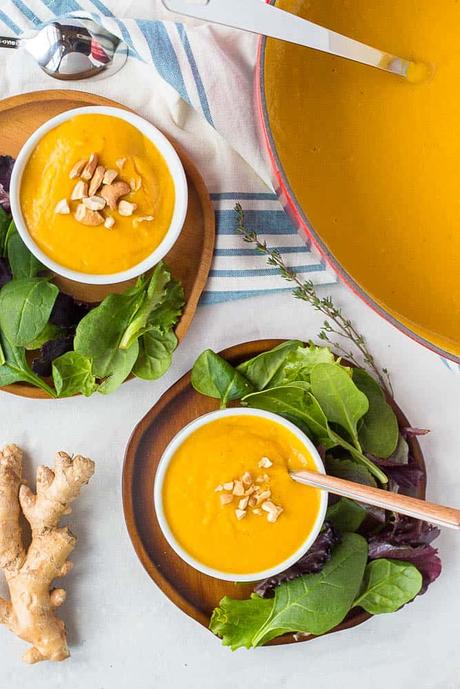 Top tips for making Vegan Butternut Squash Soup with Coconut Milk and Ginger
The soup will keep well in the fridge for a few days and is easily frozen. If you're using a freezer bag to store your soup, freeze it flat so that you can stack the frozen bags to save space. Also, make sure your soup is cool before freezing and if you plan to reheat only some of it at a time, store it in pre-portioned containers.
If you want to add even more veggies into this soup, I'd recommend adding 8oz frozen cauliflower (at the same step you add the butternut squash).
Butternut squash is harvested in the Autumn, so if you're making this soup out of season, buy frozen butternut squash to take advantage of all those nutrients!
For garnishes, I like fresh cilantro, chopped nuts (like cashews or peanuts) and whole wheat pita chips for dipping! You can also serve this with a side salad of fresh greens for additional veggies.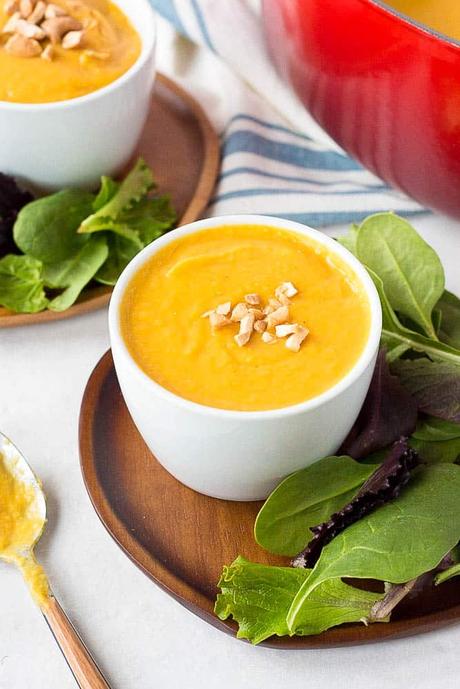 If you have tried this butternut squash soup with coconut milk recipe, or any other recipe on my blog, then please rate it and let me know how it turned out in the comments below! You can also FOLLOW ME on FACEBOOK, TWITTER, INSTAGRAM and PINTEREST to see more delicious, healthy, family friendly food!
Be sure to check out these other delicious and healthy soup recipes!
Vegan Butternut Squash Soup with Coconut Milk and Ginger