Blogging Marathon# 25: Week 4/ Day 3
Theme: Breakfast on the Run
Dish: Tofu Broccoli Scramble & Home Fries
After 2 days of indulging in
something
sweet
for breakfast, I thought it was time to have a spicy breakfast and that too a Vegan Diner brunch style. Of course the whole meal comes together in less than 30 minutes. Recipes are from
Vegan Brunch
cookbook by Isa Chandra.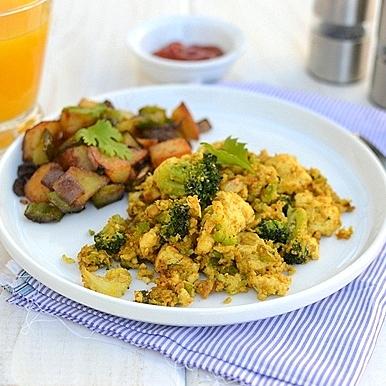 Any vegetable that is usually added to an egg scramble can be added to tofu scramble, so there are endless variations to this dish. Mushrooms, spinach, grated carrot, onions etc are all great in this dish. Addition of nutritional yeast made this dish extra special for me. It makes the scramble creamy and oh-so delicious. So if you can get your hands on some nutritional yeast, definitely add it and see what I'm talking about.
Tofu-Broccoli Scramble
:
Ingredients
: Serves 2-3 Extra firm Tofu - 1 lb block, drained  Broccoli - 1 cup, cut in florets
Garlic cloves - 2, minced
Nutritional Yeast - ¼cup
Pepper - to taste
For the Spice Blend
:
Ground Cumin - 2tsp Turmeric - ½tsp Kitchen King Masala - 1tsp Salt - to taste
Method
:
Drain tofu well by pressing on it. If you have time put some weight on it and leave it out for at least 10 minutes to get a drier tofu. Then break the tofu into big chunks.
Blend all the spices in a small bowl in 3tbsp water. Set aside.
Microwave broccoli florets for 2-3 minutes or until just tender. Set aside.
Heat 2tbsp oil in a heavy bottomed pan, non-stick pan would work great, over medium-high heat. Saute the garlic for about a minute. Add the tofu and saute for about 10 minutes, stirring often. Get under the tofu when stirring and scrape the bottom, and don't let it stick to the pan. Cook until tofu turns slightly brown on at least one side. Tofu should start to dry out. 
Add the cooked broccoli and the spice blend. Cook for 2 minutes.
Next add nutritional yeast and pepper. Cook for about 5 minutes. Serve warm.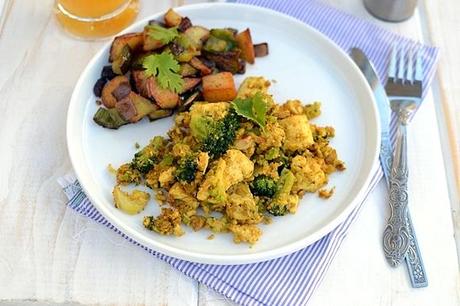 So for my diner inspired Vegan breakfast/ brunch, I served my spicy tofu scramble with some home fries. Home fries are nothing but American version of Potato fry/ Alu fry. I added some peppers and onions to my fries. This dish needs very little hands on time and can be made simultaneously while the tofu is cooking.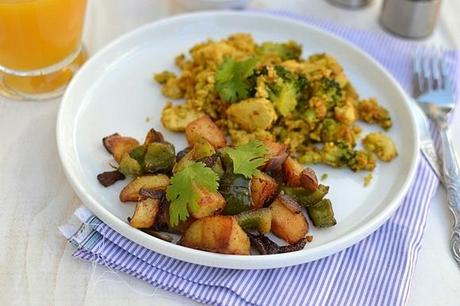 Home Fries
:
Ingredients
: Serves 2
Yukon Gold Potatoes - 2 medium, cut into 1" cubes
Green Pepper - 1 small, cut into 1" cubes
Onion - 1 small, cut into 1" cubes
Salt and Pepper - to taste
Method
:
I microwaved the potatoes until tender to speed up the process. Alternately boil the potatoes until tender. Drain and set aside.
Heat 2tbsp oil in a non-stick pan or a cast iron pan, add the potatoes and mix to coat the pieces with oil. Cook on medium-high flame undisturbed for 3-4 minutes; they should be lightly browned, turning occasionally to brown on all sides.
Add peppers, onions, salt and pepper, cook for another 4-5 minutes, stirring often until onions and peppers are cooked. Serve hot.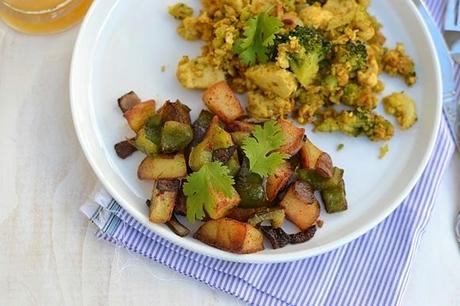 Lets check out what my fellow marathoners have cooked up today for
BM# 25
.