Made with tofu scramble "eggs" and soy chorizo, these Vegan Breakfast Tacos are a filling and protein-packed breakfast you'll love! Ready in 20 minutes with only 10 ingredients, including toppings. Each taco has over 13g of protein!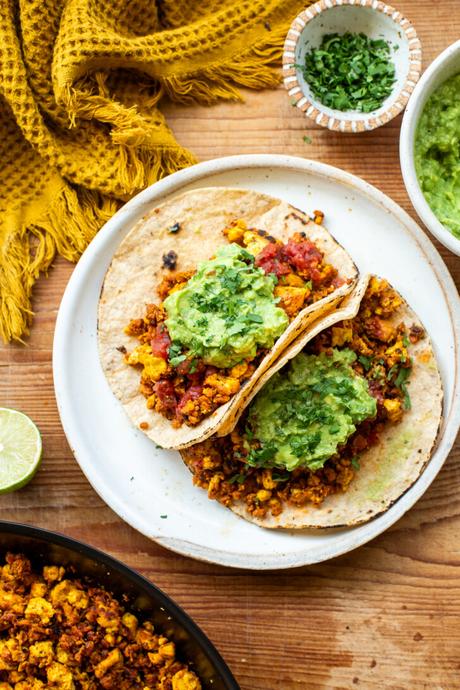 I recently went on a road trip with my partner. We took his trailer and traveled all over California for two weeks, and I cooked a whole bunch of our meals along the way. We ate our way through a Vegan Lasagna (prepped this before we left!) and my favorite super simple 5-Minute Peanut Noodles. We ate lots of big and of course, I brought some ingredients along so I could throw things together, too. These simple vegan breakfast tacos were created one morning on that trip, as a protein-packed breakfast to fuel our long hikes and exploration, and have remained a staple breakfast ever since.
They're so simple and even more delicious. Ideally, I love serving them with both salsa and guacamole, but they're good without either of those too. The tofu scrambled eggs are so flavorful, they work as a taco filling all on their own. The filling only uses 7 simple ingredients, but the result is fantastic.
Need some lunch or dinner taco ideas? I love this easy Vegan Taco Meat and if you want a vegetable taco, I can't get enough of these Cauliflower Tacos!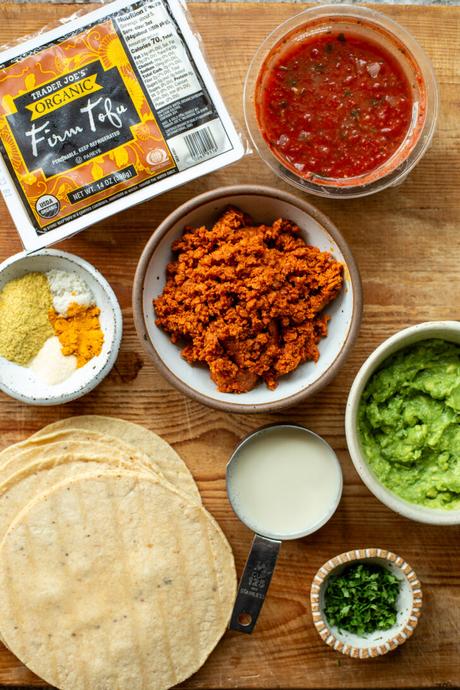 What you need to make the tofu egg & soy chorizo filling
Firm Tofu: extra firm tofu also works, but I find the firm tofu is the perfect texture.
Nutritional Yeast: it adds umami and richness to the scramble. Feel free to skip if you don't have it on hand.
Turmeric, Salt, Garlic Powder: each of these add flavor, and the turmeric gives that classic "eggy" color.
Vegan Chorizo: I use Trader Joe's Soy Chorizo. There are other vegan chorizo options as well that can be found at most grocery stores in the plant-based section.
Creamy Unsweetened Dairy-Free Milk: This adds a creamy softness to the scramble and helps hold everything together so it isn't crumbly. I usually use a creamy oat milk.
For the toppings
My favorite toppings are the following, but feel free to add your favorites! Cabbage slaw, hot sauce, lettuce, chopped tomatoes, and vegan cheese would all be delicious.
Salsa: I use a simple mild salsa
Avocado Slices or Guacamole: I makesimple guacamole with just lime and salt
Cilantro & Lime: optional, but delicious flavor additions!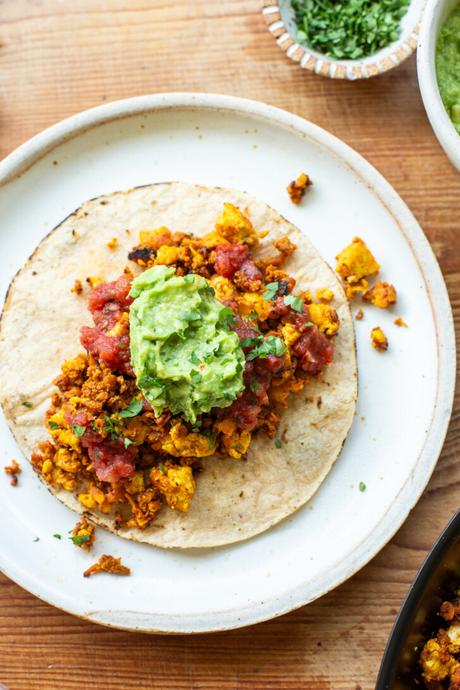 How to make these vegan breakfast tacos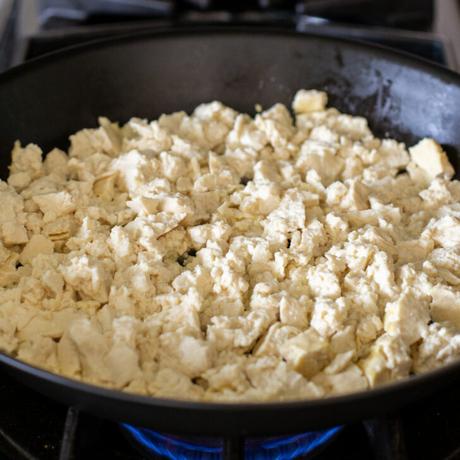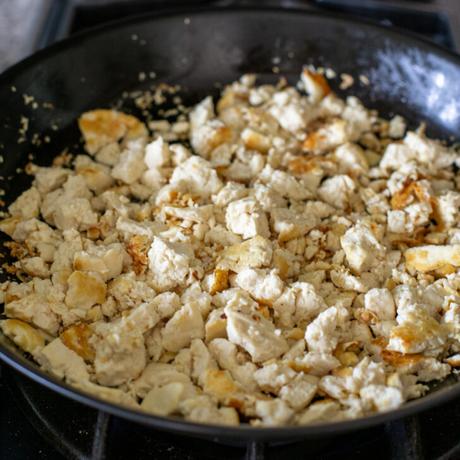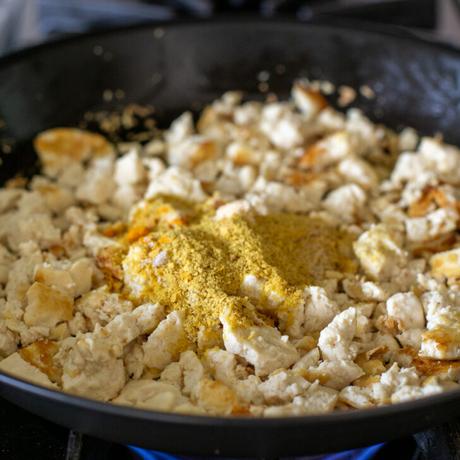 Drain and dry the tofu. Crumble it into chunks.
Saute the tofu in a little bit of oil until golden brown. I recommend using a large saucepan so the tofu isn't too crowded.
Add the nutritional yeast, turmeric, garlic powder, and salt and mix into the tofu.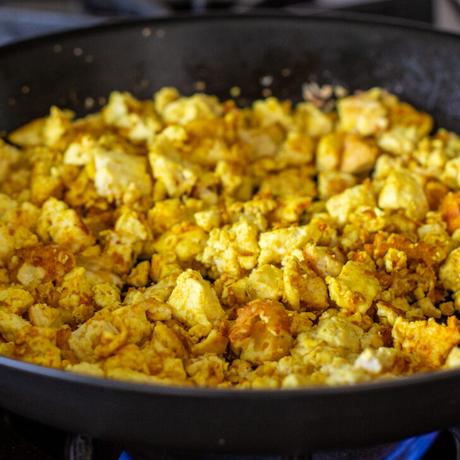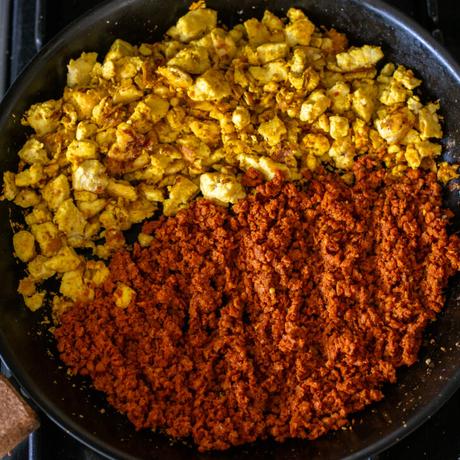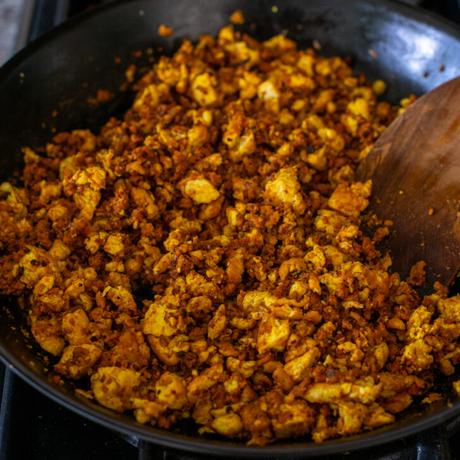 Scoot the tofu to the side and add the chorizo. Cook the crumbled soy chorizo for about 4 minutes, until cooked through before stirring into the tofu.
Add the creamy dairy-free milk and cook for 30 seconds to 1 minute 30 seconds, depending on how creamy or dry you like your vegan "eggs".
Assemble your tacos! I like warming my corn tortillas over the gas stove to char them slightly. Top with about 1/2 cup of the tofu egg scramble, drizzle with salsa, and add a scoop of guacamole. Sprinkle with cilantro and lime juice if desired and enjoy immediately!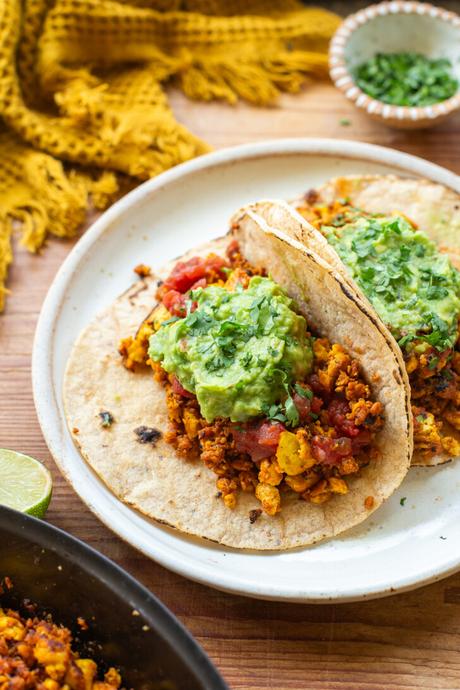 Can you make the tofu scramble ahead of time?
Yes, this is a great make-ahead vegan breakfast recipe!
You can prep the tofu & chorizo filling and store it in an airtight container in the refrigerator for up to 4 days. Simply reheat in the microwave or with a splash of dairy-free milk in a saute pan.
You can also use the vegan tofu eggs for...
It makes a great topping for a breakfast bowl with black beans, rice, greens, guacamole, and salsa.
Use it as a protein to top your favorite vegan nachos!
You can also use it to top tostadas or fill enchiladas.
It's a fabulous vegan egg scramble on its own, too! Just serve with toast and avocado.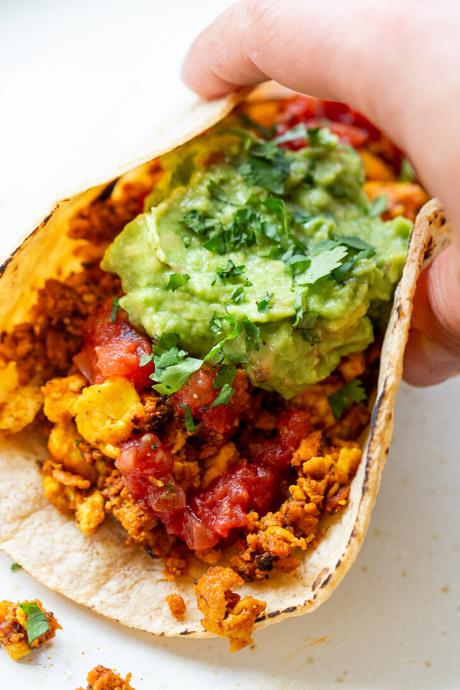 Want more vegan taco ideas?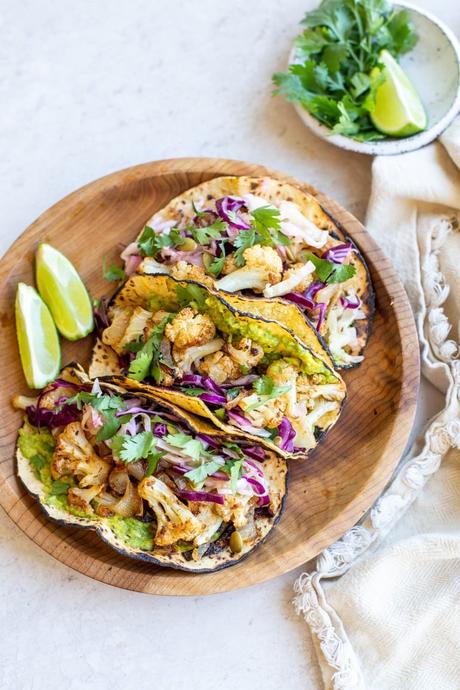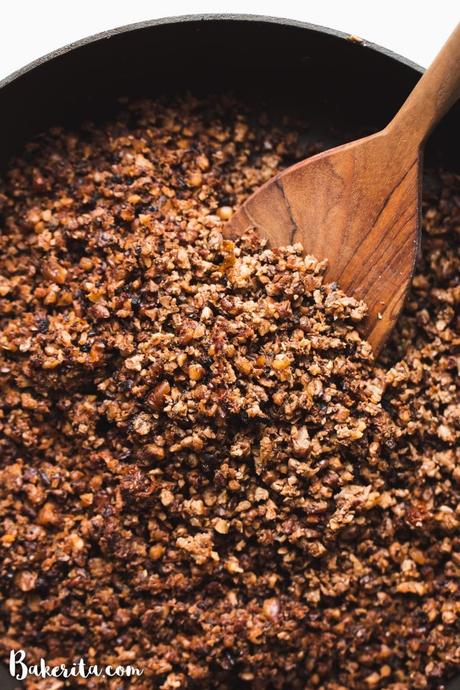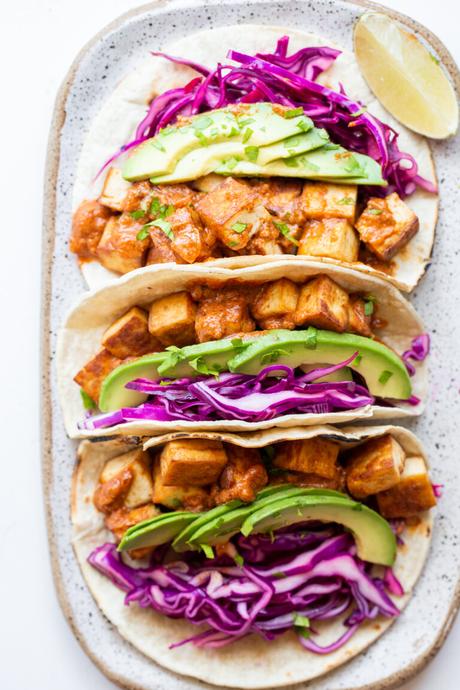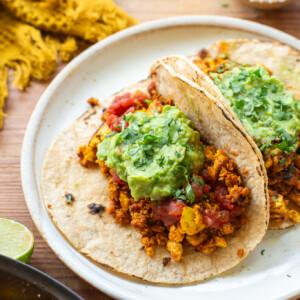 Tofu & Chorizo Vegan Breakfast Tacos