This post may contain affiliate links. Please read my disclosure.
This hearty and healthy vegan bolognese with lentils has great texture with the addition of walnuts and celery. It's an easy family friendly weeknight meal that's done in 30 minutes!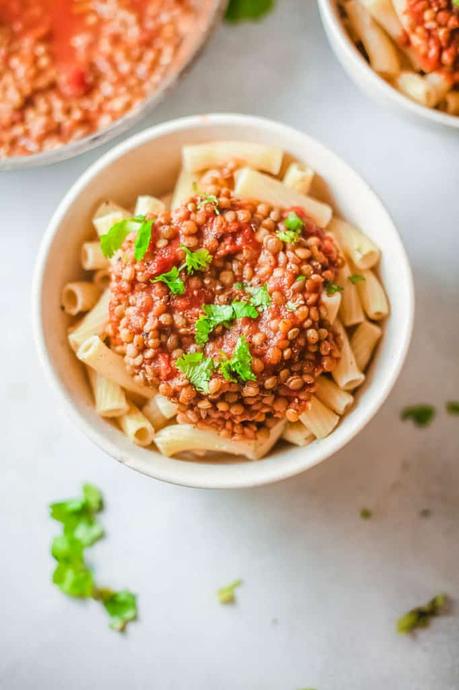 A classic bolognese is a meat based Italian sauce. In Italy, it's often served with wide noodles such as tagliatelle, pappardelle or fettuccine.
In many recipes a bolognese sauce can take hours. One recent recipe I came across had a total preparation time of 4 1/2 hours!
While I love a good slow cooked recipe, most of the time I need something that's quick, delicious, and family friendly in under 30 minutes.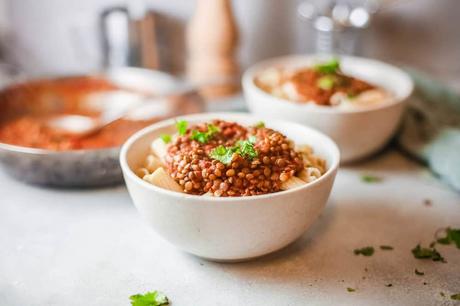 This recipe is a vegan version of the classic making it suitable for every type of eater. It's hearty and healthy made with lentils, onions, walnuts, celery, and mushrooms, giving this sauce a great meaty texture.
This vegan bolognese is full of heart healthy protein, fiber, and veggies and is the perfect 30 minute, one-pot meal!
Tools and Equipment You'll Need
How to Make Lentil Bolognese - Step by Step
Step 1: Cook your lentils according to package directions. Drain and set aside.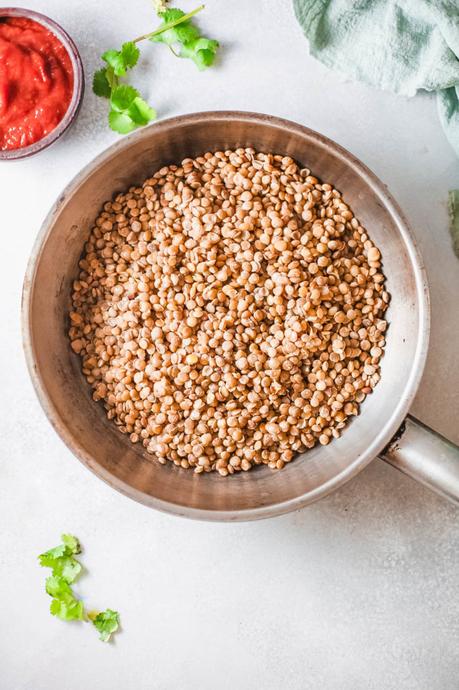 Step 2: In a large pot, heat the olive oil over medium-high heat. Add the red onion and sauté until transparent, around 4 minutes. Add the garlic and cook until fragrant, or 1 more minute. Add the carrots, celery, mushrooms, and walnuts, and sauté for 5 more minutes until tender.
Step 3: Add in the garlic, Italian seasoning, paprika, salt, and red pepper flakes and stir to combine. Pour the crushed tomatoes and stir. Bring to a gentle simmer. Cook for 5 more minutes and transfer to a food processor. Pulse until chunky.
Step 4: Add the lentils back into the pan and warm through for 1-2 minutes. Pour the sauce and the seasonings and stir. Bring to a simmer and cook for 10 minutes until the sauce thickens a bit and the flavors combine.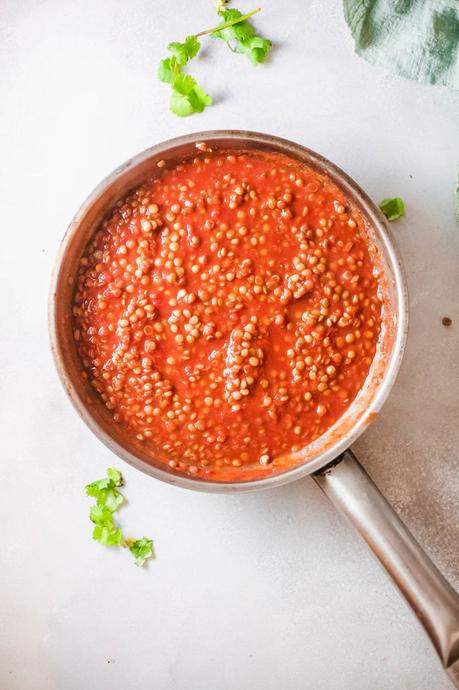 Step 5: Serve warm, with your favorite pasta.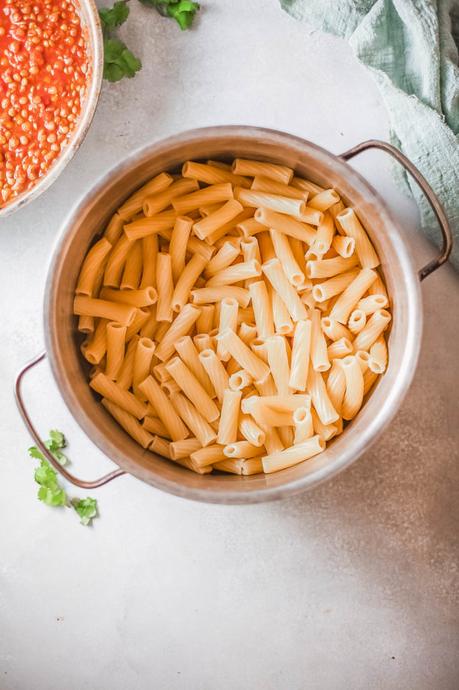 What makes this Lentil Bolognese healthy?
High in Fiber: Fiber is important for healthy digestion, and it also slows the rate at which sugar is absorbed into your blood stream (helping to keep your blood sugar steady). This recipe has over 7g fiber per serving, about 23% of your daily fiber needs.
High in Plant Protein: Ounce for ounce, lentils have as much protein as steak (with less than 10 percent of the fat!) One serving of this sauce has over 7g protein, and that's not counting the pasta you serve it with. If you serve this bolognese with a chickpea or legume based pasta, your meal would end up around 20g protein per serving!
Vitamins and Minerals: Lentils are rich in iron, folate, B vitamins, potassium and zinc. Carrots provide Vitamin A, potassium and biotin. And mushrooms are rich in B vitamins making this a nutrient packed dish.
Will kids enjoy this vegan bolognese?
Most kids love pasta and red sauce, and the mild flavors in this lentil bolognese mimic red sauce really well! If you have picky eaters, feel free to puree the sauce entirely - your kids won't "see" the veggies but will still get the full benefits of it!
What type of lentils are best in bolognese?
I recommend a sturdier lentil that will hold up well against the pasta and sauce. Brown and green lentils would both work great in this recipe. You can also use smaller brown de puy lentils if you want the lentils themselves to blend into the sauce more.
I wouldn't recommend using red lentils or yellow split peas in this recipe (since both tend to get mushy very fast).
What pasta should I use in this bolognese?
Any pasta would work, but I prefer either whole wheat, chickpea or other legume based pastas for this recipe since they are healthier and still taste just as good as white pasta!
Typically bolognese is served with more noodle like pastas: spaghetti, tagliatelle, linguine, fettuccine - but this sauce will taste great with any pasta shape. I've served it over a noodle-like pasta and smaller pastas (penne, rigatoni, fusilli) and they all work well.
How to Store and Keep
This vegan bolognese sauce will keep in the fridge for up to 4 days.
To freeze, transfer to a freezer safe, air-tight container and freeze for up to 3 months.
To reheat, just pop it into the microwave and use the defrost setting to heat it slowly without making it mushy or runny.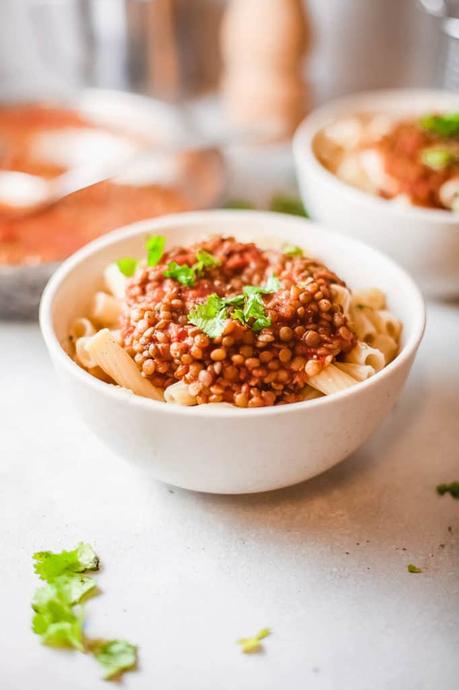 Top Tips for Making Vegan Bolognese
Pre-cooking the lentils is key! That way you can control how soft your lentils become and it avoids the sauce from getting too mushy.
For some extra veggies, you can also add spinach to the sauce. If you choose to add spinach, I recommending adding it at the same time you add the carrots/celery/etc. so that it melts into the sauce and cooks down well.
Serve this bolognese with whole wheat, chickpea or legume based pastas to add some extra plant protein to your meal
Don't overprocess the sauce! When you add it to the food processor, make sure to keep it a little chunky so you still get that great meaty texture.
This recipe will keep in the fridge for up too 4 days, or in the freezer for up to 3 months.
CHECK OUT THESE OTHER Vegan RECIPES!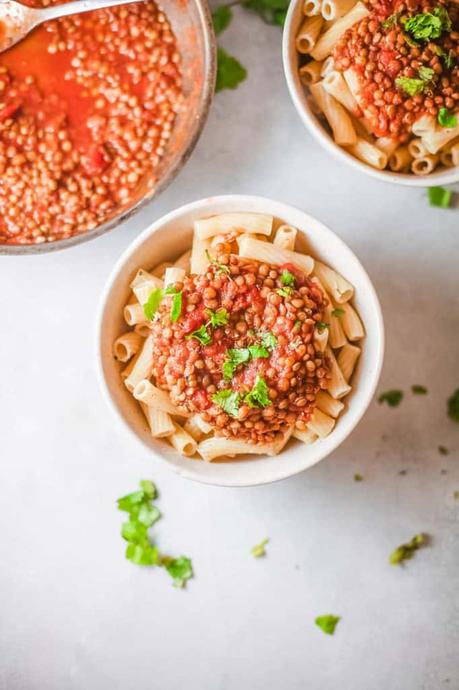 If you have tried this vegan bolognese recipe, or any other recipe on my blog, then please rate it and let me know how it turned out in the comments below! You can also FOLLOW ME on
FACEBOOK
,
TWITTER
, INSTAGRAM and
PINTEREST
to see more delicious, healthy, family friendly food!
Vegan Bolognese with Lentils